Can Liberals Claim Wisconsin Supreme Court Majority? God, We Hope So!
Courts
February 15, 2023 12:33 PM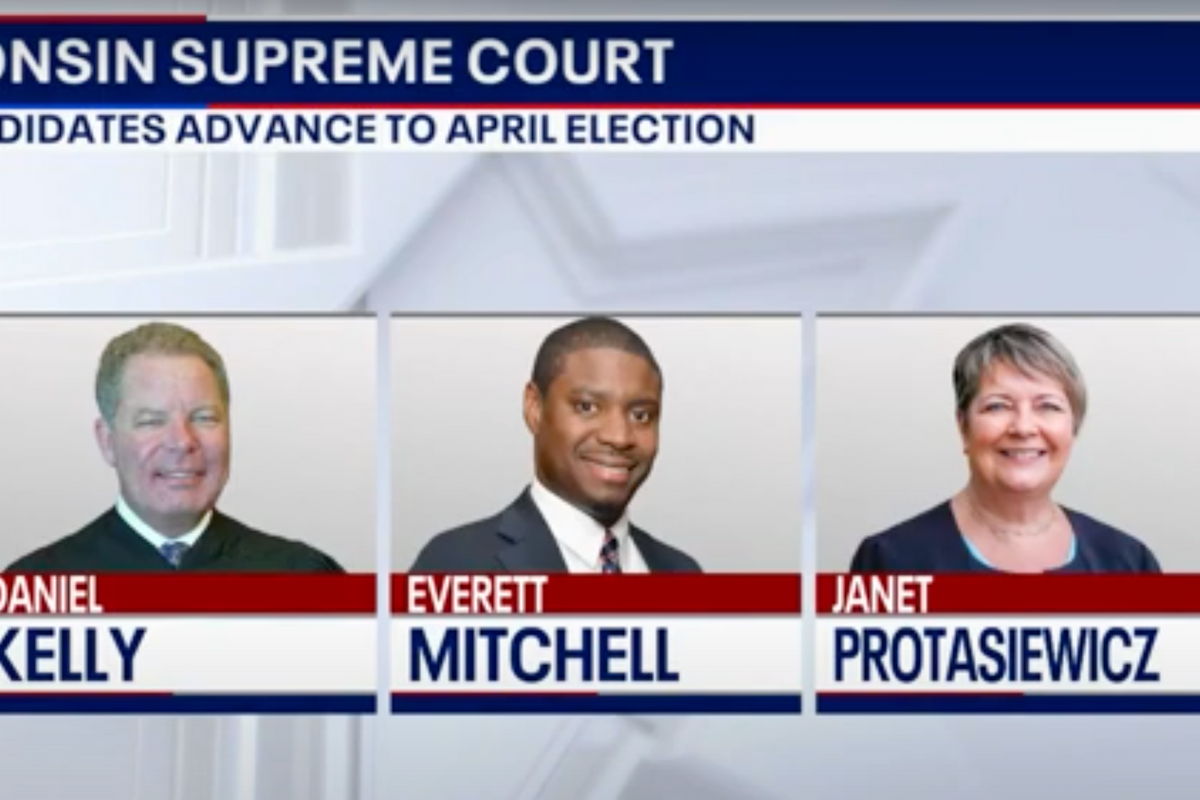 Voting has already begun for a key Wisconsin Supreme Court race, and this is possibly the most important election in America right now.
Conservatives at present have a four to three majority on the court, and they've delivered some awful rulings that overtly benefitted their fellow Republicans in the gerrymandered state Legislature.
PREVIOUSLY:
What The Hell Is Happening In Wisconsin?
Vote And Die! Democracy According To The US Supreme Court And Wisconsin Supreme Court
Patience Roggensack, one of the conservative justices, is retiring at the end of her current term this year, and ... oh, wait, you want an explanation for the name "Patience Roggensack"? Or maybe an easy joke about how she sounds like the new Defense of the Dark Arts instructor? Sorry, can't help you.
---
Roggensack has served on the court since 2003 and was chief justice of the court from 2015 to 2021. During oral arguments in a case challenging Democratic Gov. Tony Evers's stay-at-home order, Roggensack dismissed the idea that an outbreak in Brown County was actually community-wide.
"[The surge] was due to the meatpacking — that's where Brown County got the flare," Roggensack said. "It wasn't just the regular folks in Brown County."
Democrats suggested that Roggensack's use of "regular folks" was perhaps a little racist. The court would later strike down Evers's stay-at-home order, claiming it was "unlawful, invalid, and unenforceable." Roggensack, in her majority opinion, said Wisconsin DHS Secretary Andrea Palm had no authority to enact the order.
Although the court refused to hear Donald Trump's baseless lawsuit attempting to overturn his loss in the state, Roggensack was among the conservative dissenters. She said she would've taken the case and referred it to lower courts for factual findings (there was nothing factual in Trump's suit). She did concede that Trump's requested remedy of outright disqualifying more than 221,000 ballots in the state's two biggest Democratic counties "may be out of reach for a number of reasons." That's a fairly banal way of saying "blatantly anti-democratic coup attempt."
So, we won't miss Patience Roggensack, and now liberals have a chance to flip the control of the Wisconsin Supreme Court. Wisconsin's Supreme Court elections are officially non-partisan, unlike North Carolina's overtly partisan elections, but University Wisconsin-Madison political science professor Howard Schweber notes that the campaigns now have an aggressively partisan bent that leaves no confusion.
"Even 15 years ago, Wisconsin judicial elections really were kind of genteel affairs," Schweber said. "And then they got very, very viciously partisan, primarily because Republicans and conservative groups made a very concentrated effort to capture the court, through what in Wisconsin, at least, were really unprecedented styles of campaign ads, highly partisan appeals."
The cost of this single Supreme Court race is expected to top $6 million. The primary election to determine the top two candidates from a field of four is February 21, and Milwaukee County Judge Janet Protasiewicz, who is backed by Democrats, has raised almost $1.9 million. The other Democratic-backed candidate, Dane County Judge Everett Mitchell, has reported raising about $221,000, which is less. C'mon, don't do a brother that way. The major conservatives running include Waukesha County Judge Jennifer Dorow, who's raised $720,000, and former Supreme Court Justice Dan Kelly, the other conservative in the race, who's raised a total of $415,000 since launching his campaign.
The two top voter getters in the technically nonpartisan primary will advance to the April 4 general election. The outcome of the race will determine control of the court through the 2024 presidential elections, where if Trump reprises his role as Republican nominee, he'll once again try to cheat his way back to power.
As Ben Wikler, chairman of the Wisconsin Democratic Party, explained, "Wisconsin's been the tipping point state in the last two presidential elections" and "is the only state where four of the last six presidential elections came down to less than one percentage point. Which means that small shifts in the rules around voting can have a decisive effect in presidential elections."
Wikler also supports my not-entirely hyperbolic lede: "Wisconsin's supreme court race on April 4 is the most important election in the country before November 2024," he said.
Follow Stephen Robinson on Twitter if it still exists.
Did you know SER has his own YouTube Channel? Well, now you do, so go subscribe right now!
Subscribe to the Wonkette YouTube Channel for nifty video content!
Click the widget to keep your Wonkette ad-free and feisty.
Stephen Robinson
Stephen Robinson is a writer and social kibbitzer based in Portland, Oregon. He writes make believe for Cafe Nordo, an immersive theatre space in Seattle. Once, he wrote a novel called "Mahogany Slade," which you should read or at least buy. He's also on the board of the Portland Playhouse theatre. His son describes him as a "play typer guy."