Canada Also Thinks Scott Walker Is A Idiot
Featured
September 01, 2015 04:15 PM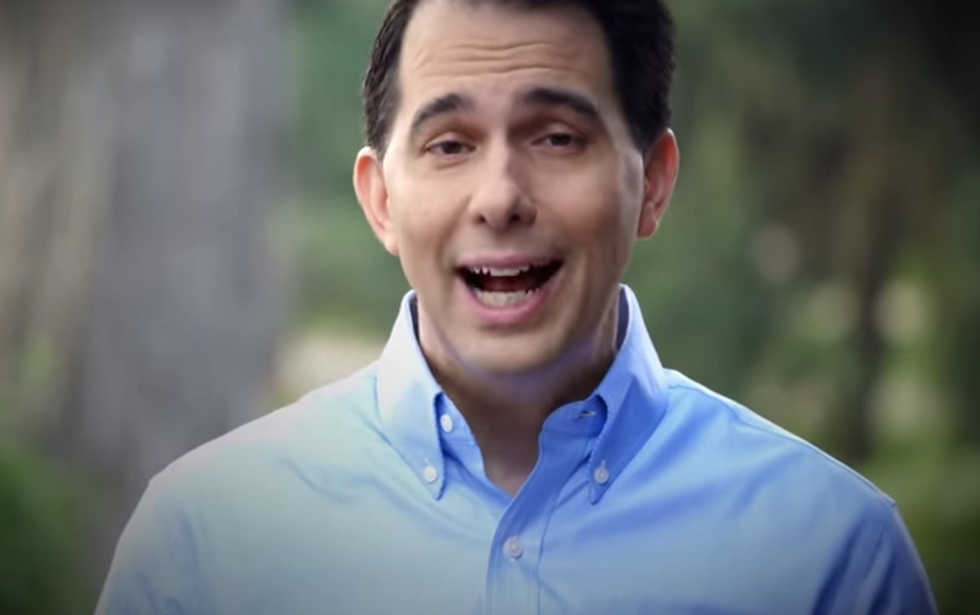 Yeah we think he's dumb too
---
Fresh off his disgraceful appearance on "Meet the Press," during which Gov. Scott Walker claimed discussions about the 14th Amendment are mere distraction from legitimate issues, like whether we should build a Mexican fence on the Canadian border, the United States of Canada has responded by saying that Scott Walker guy is one stupid fuck, eh? Christine Constantin, a spokeswoman for the Canadian Embassy in Washington DC, responded by rolling her eyes for about 13 hours, chortling, "Gag me with a hockey stick," and finally explaining:
It is a fact that no terrorists have been successful in attacking the United States coming through the Canadian border. All of the terrorists responsible for 9/11 were in the United States with visas issued by the U.S. government.
She also said Walker's wall to keep out Canadians like Ted Cruz sure sounds pretty fuckin' stupid too, because that is not how countries do border security, dumbass:
[S]he noted that the border is "jointly managed through strong information sharing and intelligence cooperation between our two countries" and that "our shared border services the world's largest trading relationship."

She added, "As neighbors, partners and allies, Canada and the United States will continue to be there for one another in time of need. A threat to one country is a threat to the other."
The country's Minister of National Defense Jason Kenney also vigorously rolled his eyes in Walker's general direction, saying that his adorable little maple leaf of a nation would "vigorously oppose any thickening of the border." He also suggested Walker do his homework on how America is actually a greater threat to Canada's security:
"I would remind that governor or anyone else in the United States of the enormous progress that we have made beyond the [border] agreement that Prime Minister Harper signed with President Obama, which massively improves continental perimeter security," he said. "As you know, we often find there are some American political actors who are not aware of the progress that has been made on continental security."

"So we'll continue to remind our American friends that Canada has taken extraordinary efforts to ensure the joint security and you know I don't think—quite frankly I can tell you as the former minister of immigration, that Canada has a much greater legitimate concern about the northward flow of illegal migration than the United States does of a southward flow of illegal migration," Kenney said.
"For fuck's sake," he probably added, "please don't make us have to deal with President Walker."
Because Scott Walker has never met a position he's not afraid to change or retract entirely, his campaign denied on Monday that Walker meant we should build a wall between us and Canada when he said it was a totally legitimate issue to talk about whether we should build a wall between us and Canada:
"Despite the attempts of some to put words in his mouth, Gov. Walker wasn't advocating for a wall along our northern border," Walker spokeswoman AshLee Strong said in a statement.
Golly, we'd hate to put words in Walker's mouth so let's flashback thingy to what the words in his mouth were, when Chuck Todd asked him if he loves border walls so much, how come he doesn't want to put one at the top of America, HUH?
Some people have asked us about that in New Hampshire. They raised some very legitimate concerns, including some law enforcement folks that brought that up to me at one of our town hall meetings about a week and a half ago. So that is a legitimate issue for us to look at.
Anyway, Canada, sorry about that. We have a metric-system shit ton of Republican idiots saying a bunch of crazy stuff and causing all kinds of international crises for us, with Sen. Tom Cotton losing Twitter wars with Iran and Mexico ACTUALLY-ing Donald Trump about who is going to pay for the Great Trump Wall. Don't worry, though, we promise you will not have to deal with President Walker. He guarantees it.