Carly Fiorina's Blue Dress Caked With Extramarital Jizz Too
US of America News
January 15, 2016 09:15 AM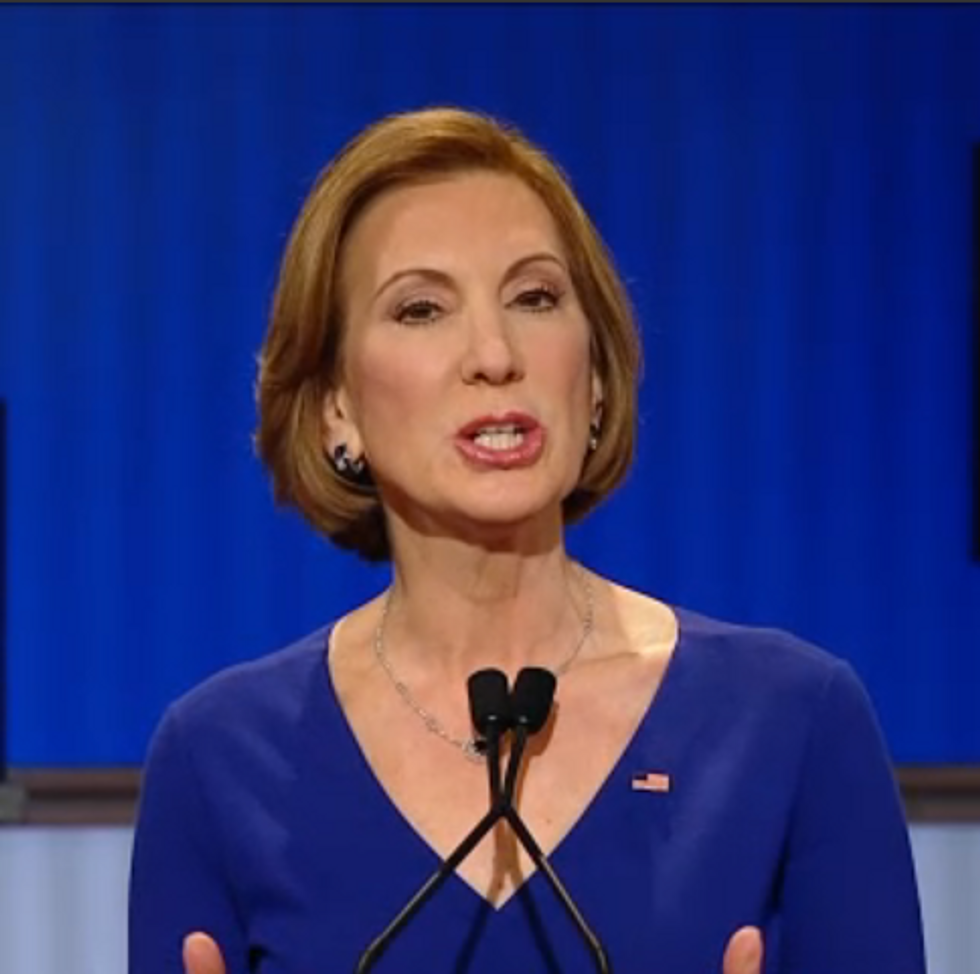 Go on ...
---
Carly Fiorina is a terrible person. She's a pathological liar (see here and here and here and here and here, and be sure not to miss here); she is petty and mean; she is incapable of admitting error even though her name is synonymous with failure. And as Donald Trump said, and polls have indicated, she's got one hell of an unelectable persona.
Fiorina wasted precisely zero seconds demonstrating these bugs she's convinced are features at Thursday's Republican undercard debate for sad dead-enders who refuse to believe their single-digit polling. OK, maybe she wasted 10 seconds before she got right to the nasty, in her opening statement:
You know, I'm not a political insider. I haven't spent my lifetime running for office. The truth is I have had and been blessed by a lot of opportunities to do a lot of things in my life.

And unlike another woman in this race, I actually love spending time with my husband.
Subtle! Like others before her (hey Mr. and Mrs. Al "separated and no longer smoochy-facing since 2010" Gore; how ya doin', Mr. and Third Mrs. Newt Gingrich?), she's wink-winking to the voters that she will bring a happy marriage to the White House, unlike those Clintons, whose 40-year marriage is a burning trash pile because evil secret lesbian Hillary is too busy hiding Vince Foster's body and killing Americans in Benghazi to give her horndog husband a hummer every now and then.
Like every other string of gratuitous bile spewed from Carly's face, it's not quite true. And not just because she insisted last fall that she only makes fact-based attacks on Clinton's record:
"We as women, especially in presidential politics, need to play by the same rules as the men. If we want to play this game as equals, we need to play by the same rules, and that means our track record is relevant," Mrs. Fiorina said in the magazine. "And so I never make a personal comment about Hillary Clinton – my criticism of her is fact-based, based on her actions and track record. And that is fair game."
Fiorina has no idea how Hillary feels about Bill, and the "track record" of the Clintons' marriage is personal and irrelevant -- and bitchy as hell. (And yes, we mean that in the most gender-neutral way possible.) But in boasting about how her marriage is so much better and thus somehow qualifies her for the presidency (it doesn't), she left out one tiny detail: which of her husbands she enjoys spending time with.
Because according to her first husband, Todd Bartlem, Carly Fiorina drove her first marriage into the ground like it was a tech company and she was the CEO of it:
From Bartlem's perspective the marriage began to founder as Carly became more and more fixated with power, the corporate world - and Frank Fiorina.

He said of her career: 'That became her whole life because of the power thing that went with it, and, at the end of the day, everything got judged according to how useful it was towards allowing her to get ahead.

'I assume Frank was useful.'
That would be Frank Fiorina, Carly's second husband, whom she met when they both worked at AT&T, the one whose company she presumably enjoys these days. Says ex-husband Todd, she certainly didn't enjoy spending time with him, which is why their marriage ended after seven years:
The reason, according to Bartlem, was that Carly had begun an affair with Frank Fiorina, a divorced man with two children. She moved out and filed for a divorce. Bartlem says he asked her to go for counseling; she refused. She ceased all contact.
Naturally, Carly Fiorina's version is different. She only started banging her current husband after he had divorced his first wife and after she had left her first husband. Really! But, since Fiorina is a pathological liar and a terrible person, we are not inclined to give her the benefit of the doubt at all.
We are inclined to note, however, that questioning and attacking and gossiping about the Clintons' marriage has never been an effective strategy for any Republican. And the terms of their decades-long partnership remain, as ever, none of our goddamned business.
We know Bill Clinton has done sex things with other women during the course of his marriage. We also know that they are still married, still standing, still power-coupling after all this time. But the details? The long hard conversations and struggles that every single married couple in history has? We don't know. We never know. Marriage is hard. Sometimes too hard. (For Fiorina it certainly was.) That's why speculating about and judging any other marriage makes you look like a petty dumb asshole who doesn't understand the first thing about marriage. Or how to be a decent human being.
So we don't actually give a good goddamn about the details of Carly Fiorina's various marriages either. Except to point out that she's got a hell of a lot of nerve trying to holier-than-thou herself about Hillary Clinton, yet again, when she seems to have some strangely similar skeletons and forbidden semen stains in her own closet.
[WSJ / Daily Mail / Vanity Fair]