Catholic Church Messes With Texas, In Its Gun Parts
Guns
January 13, 2016 03:00 PM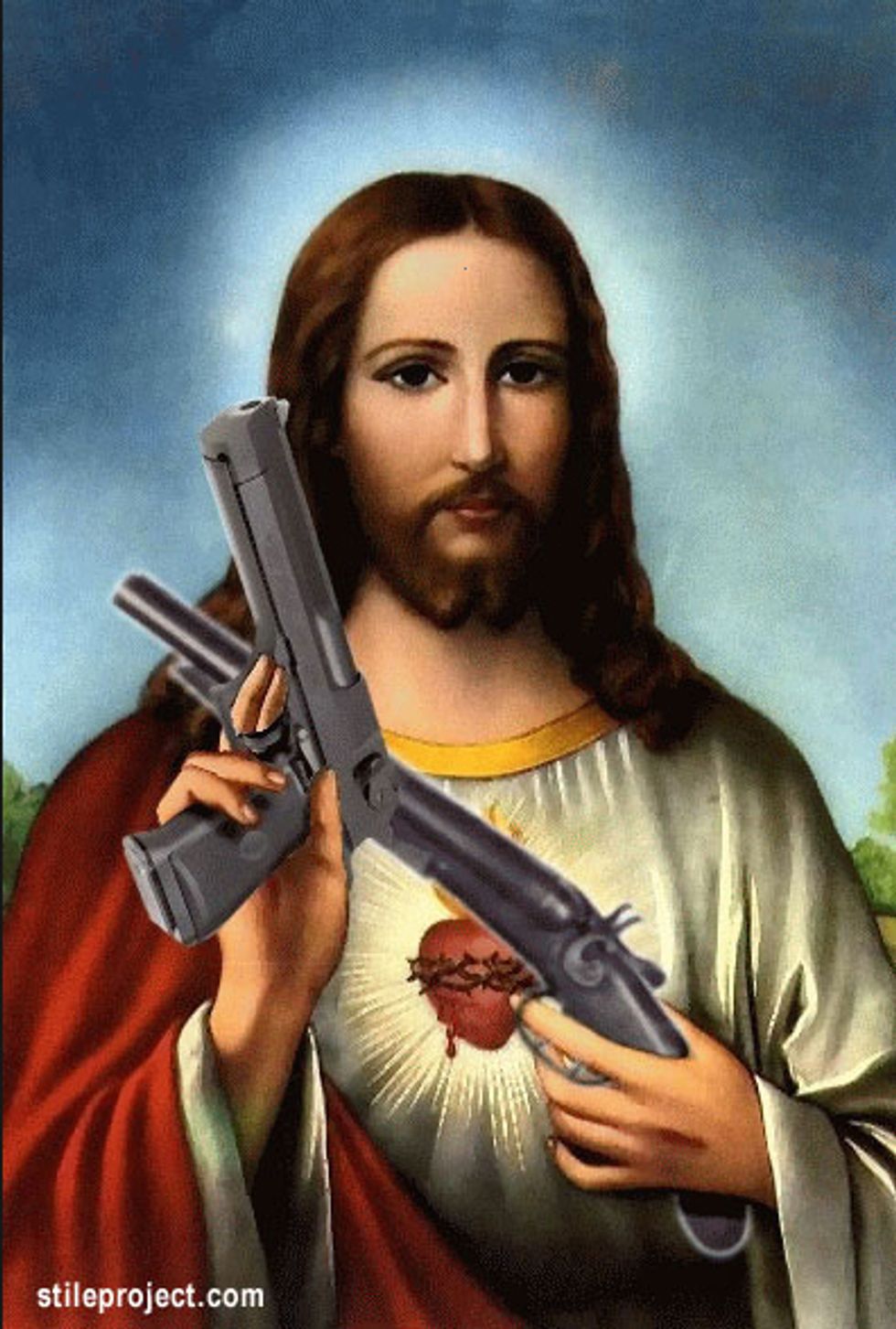 Not intended to be a factual illustration
---
Texans are about to face their most challenging challenge yet. It's a real moral quandary. See, now that the state's More Guns Everywhere In All The Places (including psychiatric facilities, because what could go wrong with that?) open carry law is in full effect, the God-fearin' patriots of the United States of Texas must decide what they love more: guns or Jesus.
A Catholic diocese in Texas is taking a stand against the state's new open carry laws by banning guns in churches — even if they are publicly displayed — and putting up "no guns" signs on religious buildings.
Oh, we know what you're thinking. Turning houses of worship into liberal gun-free zones is like rolling out the welcome mat for bad guys with guns to come on in and shoot the place up. First they came for the guns, you know, and you don't want to just surrender and end up all Holocausted like some kind of wimpy Jewish. Those churchgoers are going to be kneeling ducks if they can't arm themselves against the tyranny of Big Government. Or Big Jesus. Demanding people respect the separation of church and the right to kill people (but only in self-defense, or in the name of "life," of course!), is just asking for trouble.
Unfortunately, gun-grabber Patricia Fierro, chancellor of the El Paso Diocese, doesn't see it that way:
Her office received complaints from parishioners expressing concern that their fellow worshippers were now attending mass with firearms, prompting diocesan leadership to decide last week to ban guns in churches.

"We've always talked about having a safe environment [in church]," Fierro told ThinkProgress. "We just thought that most of our parishioners would want to go to mass without fear that the person next to them is carrying a gun."
[contextly_sidebar id="DyojBoAn1Yev3HxUZzVWdvZCC9QShORH"]Stupid Chancellor Fierro and her buncha pussies parishioners. Don't they know the only thing that can stop a bad guy with a gun in church is a good guy with a gun in church? Are they really supposed to rely on the all-knowing, all-powerful Big Guy & Son to keep them safe if they're unarmed and therefore begging to be shot? Everyone knows Jesus ​totally packed heat and loved the hell out of the Second Amendment, but everyone also knows He had terrible aim, and even He can't protect you from a crazy lone gunman murderer who's been corrupted by society's hippity-hop rap music songs and gay abortions.
[contextly_sidebar id="as6AWGuSeMpgJvFf3IFAbmFmJfO5mnG5"]While the diocese has the right, under the new law, to post "NO GUNZ HERE/PLEASE COME SHOOT US, WE ARE UNARMED" signs on its properties, we imagine the good people of Texas who know there's no such thing as too many guns won't stand their ground for such anti-Second Amendment nonsense. So for you El Paso Catholics who have the courage of your convictions and know that God wants you armed at all times, may we recommend you consider converting and moving to Kentucky? We hear they have some real nice Baptist churches there where guns are encouraged, and even given away for free, just like it says in the Bible.