Trump Idiots Know Who To Blame For Trump's Baby Jails: DEMOCRATS!
Right Wing Extremism
July 08, 2019 04:00 PM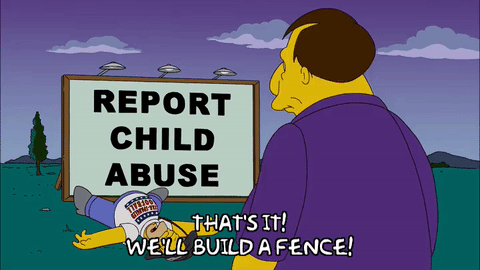 After Mother Nature pissed all over Trump's wannabe-dictator attempted hijacking of the Fourth of July, the Sunday shows got back to discussing the Trump-created humanitarian crisis at the southern border. Not the influx of asylum seekers fleeing from horrible conditions in Central America (made worse by Trump cutting off aid to them), but the way our country has decided to cage them in concentration campsinternment camps ... um ..."happy fun time summer camps"? After a visit by a congressional delegation and the Trump Administration's own DHS Office of Inspector General (OIG) report provided video/photographic/written evidence of the deplorable conditions occurring in our name, it was time for Trump officials to deal with the real culprits: Democrats!
---
On ABC's "This Week," Acting (aren't they all?) Homeland Security Secretary Kevin McAleenan tried to polish the turd. Host Martha Raddatz began by outlining the failures of Customs and Border Patrol (CBP), as illustrated by this graphic: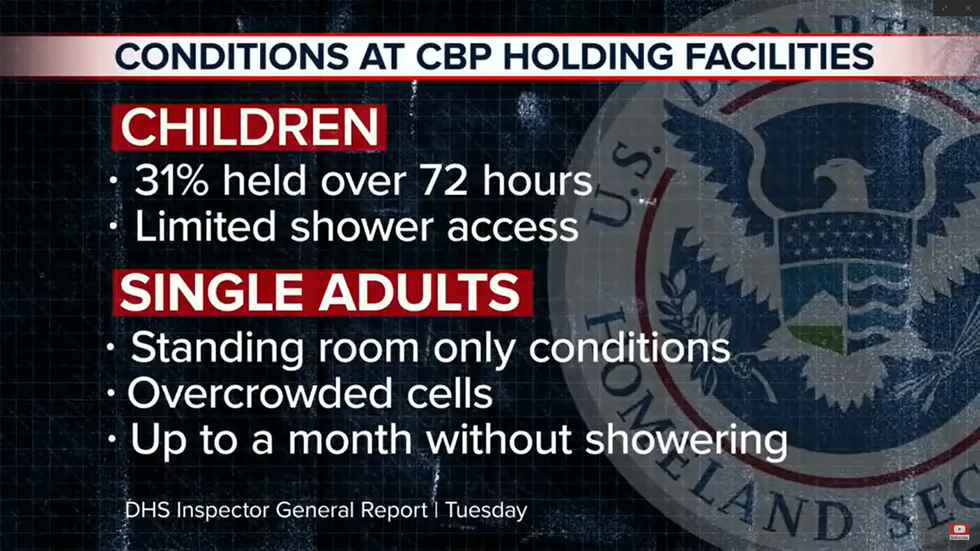 When asked for an explanation for this, McAleenan explained how he tried to sound the alarm. Raddatz pressed McAleenan and further outlined the horrific conditions revealed in the New York Times report about the Clint facility in El Paso, Texas. McAleenan defended the "tremendous amount" of work they've done. It seemed that, for once, a Trump official was taking responsibility. But that was short-lived after Raddatz played tape of McAleenan, in a press conference last week, saying the accurate reporting from AP and NYT was "unsubstantiated."
RADDATZ: The New York Times report is talking specifically about the Clint facility.
MCALEENAN: Right.
RADDATZ: Why did you call those allegations unsubstantiated?
MCALEENAN: Because there's adequate food and water, because the facility's cleaned every day, because I know what our standards are and I know they're being followed because we have tremendous levels of oversight. Five levels of oversight.
RADDATZ: So you don't believe The New York Times report?
MCALEENAN: So, you're asking --
RADDATZ: "The stench of children's dirty clothing was so strong it spread to the agent," they had scabies, chickenpox. Why did you say unsubstantiated?
MCALEENAN: You just referenced three things that were unsubstantiated: inadequate food, inadequate water and unclean cells. None of those have been substantiated. What I have an office of professional responsibility, independent office that oversees our operations report who went to Clint station in the same time period. We have the juvenile coordinator --
RADDATZ: Do you still think they're unsubstantiated, given the New York Times and the El Paso Times report, these specific allegations?
MCALEENAN: So I don't know which specific allegations you're referencing, but let's be very clear, Martha -- RADDATZ: The ones I just read.
So the conditions are real but they are "unsubstantiated." They are putting in a "tremendous amount" of work and sounding the alarm about the situation BUT it's also all "allegations."

OK, sure, you bet.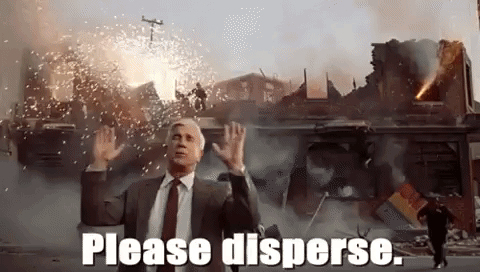 A goverment full of unfunny Leslie NielsensGiphy
Raddatz then asked McAleenan about what current and former CBP officials have been doing/saying on their "internet tough guy" secret Facebook pages. Don't worry, it was just a few (thousand) bad apples:
MCALEENAN: […] I don't think it's reflective of the men and women we have...
At this point, we think they need to start flipping the apple carts.
Here's the full McAleenan inteview.

Meanwhile over on CBS's "Face The Nation," Acting Director of U.S. Citizenship and Immigration Services (USCIS) Ken Cuccinelli blamed Democrats who just were sworn in to Congress in January. Host Margaret Brennan pointed out what a stupid thing to say that was:
BRENNAN: I understand you're new to the job, but you were just pointing out the Democratic-controlled House hasn't acted on asylum laws. Why didn't the Trump administration do anything on this when Republicans were in control of two Houses?
CUCCINELLI: Oh, I think-- I think the effort--
BRENNAN: Why didn't President Trump and Leader McConnell do it?
CUCCINELLI: Yeah, I think the effort was being made and Congress wasn't responsive.
BRENNAN: Leader McConnell wasn't able to get this done?
CUCCINELLI: Well, and right now you see the only effort arising out of Senator Graham working with Senator Durbin is the discussion I observe.
Cuccinelli expects everyone to believe that it's the new Democratic House that's keeping this crisis going, and that poor "powerless" Mitch McConnell, with a Republican House AND Senate just couldn't fix it for two years. He wants people to believe that the man who stole a Supreme Court seat, pushed an "alleged" sexual assaulter into another Supreme Court seat by blowing up the filibuster and tried to destroy Obamacare SOMEHOW couldn't pass an immigration bill in two years.
OK.
Watch the interview below to see how he tries to blame everyone but his boss for this.

That's it for today! Hope you have a great week! I know I will since the Women's US Soccer team won the World Cup, in time for my birthday, while making Piers Morgan and Donald Trump eat their words.

Hopefully, we can keep the positive momentum going until next Sunday!

Wonkette is fully funded by reader donations! If you love Wonkette, SUPPORT WONKETTE!
Michael Mora
Your friendly neighborhood Puerto Rican Political Freelance Writer for @wonkette. Pop Culture observer, Amateur Movie reviewer & Comics fan. Former Active Duty Marine. All opinions are mine only.