Central Park Karen Amy Cooper Is Back In The Most Predictable Sequel Ever!
White Nonsense
May 27, 2021 09:26 AM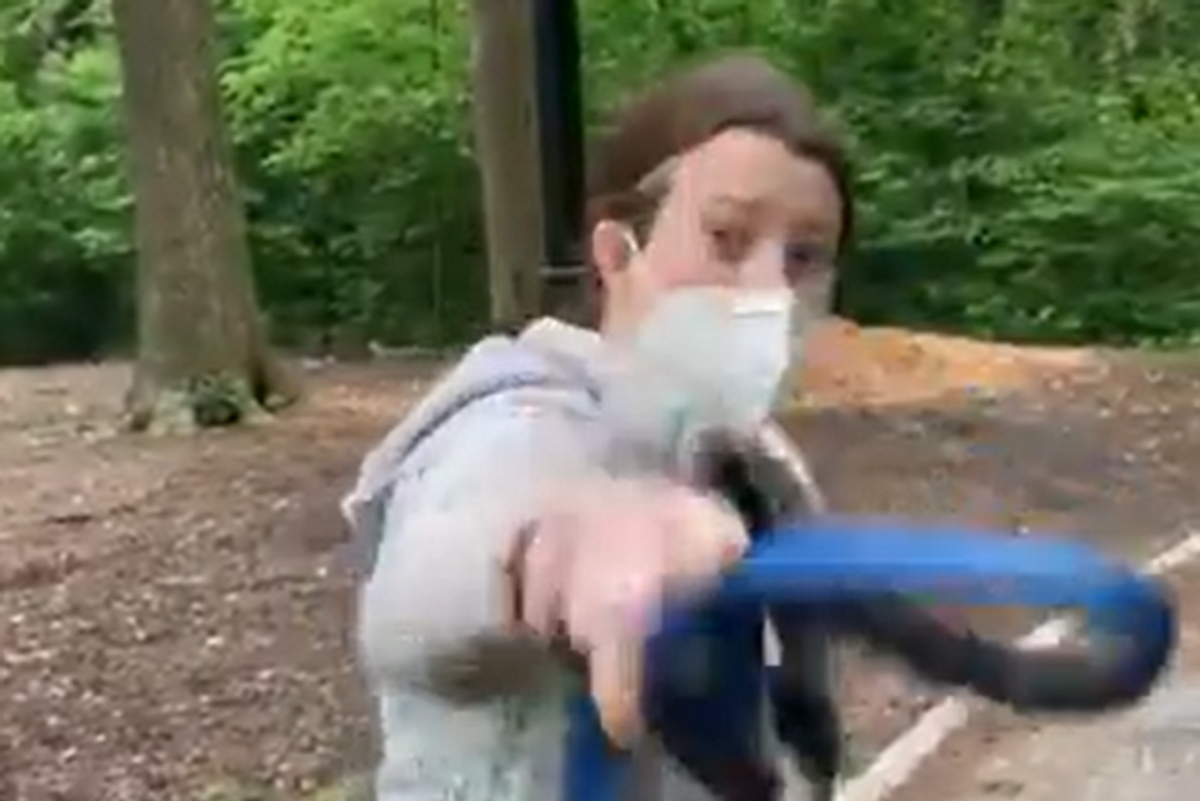 Last Memorial Day, Amy Cooper sicced the cops on Black birdwatcher Christian Cooper (no relation) after a confrontation in Central Park where she was strangling walking her dog. She called 911 and falsely claimed that an "African-American man" was "threatening" her. She repeatedly mentioned his race while raising her voice to slasher film victim decibels. Mr. Cooper recorded the whole incident on his phone, and after the video went viral, Ms. Cooper lost her job, her dog, and access to the outside.
Well, a full year has passed, and is a humbled, repentant Amy Cooper busy filming anti-racism PSAs? LOL, no, Cooper wants to forget the whole thing happened and resume her fulfilling life as a terrible person. She's suing her former employer Franklin Templeton for discrimination because the company fired her sorry ass after the incident that was all over the news during the same week George Floyd was murdered.
From Bloomberg:
Amy Cooper said the May 25, 2020, incident was spurred by her fear of the birdwatcher, Christian Cooper, who she says had a history of "aggressively confronting" dog owners for walking their dogs off-leash. He similarly initiated the dispute with her in the same aggressive manner while she was walking her dog alone, causing her "to reasonably fear" for the safety of her and her pet, Cooper said.
---
Oh, when Karens take a walk with their dogs off leash in the famous Bramble in NY's Central Park, where it is clear… https://t.co/zFb3O0cClz

— Melody Cooper (@Melody Cooper) 1590426192.0
Cooper further claims that Franklin Templeton impugned her obviously impeccable character when the company described her racist actions as racist. The suit hilariously alleges that this characterization was "created and nurtured, in whole or in part," by Franklin Templeton's public statements. I repeat: The video went viral and Franklin Templeton went into damage control because knowingly associating with racists is bad for business unless you're the Republican Party.

Last year, Cooper apologized ... sort of. Here's her original statement, so strap on your hip waders.
I sincerely and humbly apologize to everyone, especially to that man, his family. It was unacceptable and I humbly and fully apologize to everyone who's seen that video, everyone that's been offended…everyone who thinks of me in a lower light and I understand why they do.

When I think about the police, I'm such a blessed person. I've come to realize especially today that I think of [the police] as a protection agency, and unfortunately, this has caused me to realize that there are so many people in this country that don't have that luxury.

I reacted emotionally and made false assumptions about his intentions when, in fact, I was the one who was acting inappropriately by not having my dog on a leash. I am well aware of the pain that misassumptions and insensitive statements about race cause.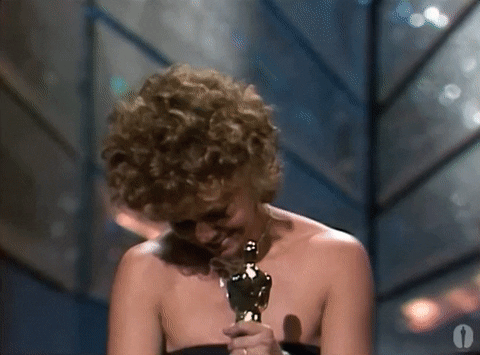 Giphy
The performance apology was delivered under duress, apparently. Cooper claims that Franklin Templeton only spoke with her in the aftermath of the incident when she was still "palpably distraught and fearful of her safety."
She argues further that Franklin Templeton only really investigated her, their actual employee, when they should have delved into Christian Cooper's sordid history, which she has taken the past year digging up and is happy to share with the world. He might end up banned from Central Park before she's done.
She claims that Christian Cooper terrorized other innocent dog walkers, including another Black man who allegedly told the media that Christian Cooper freaked him out, as well, "because of his body language and screaming" when confronting him about walking his dog off leash in the park.
[Franklin Templeton] also never tried to obtain the full versions of her 911 calls to the New York City Police Department, Cooper said. The company instead broadcast her firing on Twitter in terms that implied she is a racist, Cooper said.
This was Franklin Templeton's tweet, which did not identify her by name.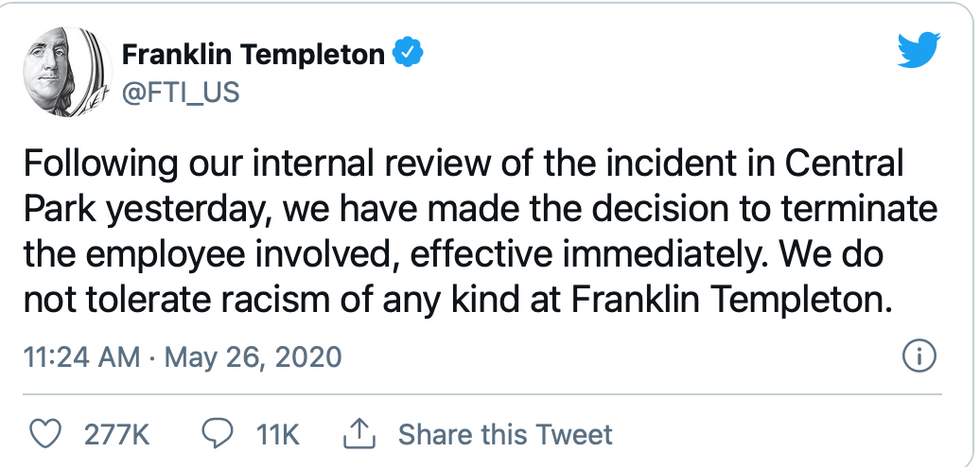 Twitter
As you can see, "implied" is doing a lot of heavy lifting. The company says it won't "tolerate racism of any kind," which is not the same as calling (or "implying" that) Cooper herself is racist. Cooper blames Franklin Templeton for all the publicity that made the incident "international news as a racial flashpoint." She also feels like she was "misportrayed" as a privileged white woman.
Franklin Templeton would have conducted a proper investigation before firing her if she was of a different race or a different gender, Cooper said.
Privileged white woman says what?
Christian Cooper, whom she's publicly dragging in her suit, refused to cooperate with the Manhattan district attorney when Amy Cooper was charged with falsely reporting an incident. Christian Cooper got all noble in a Washington Post op-ed when Black folks have at least 300 more years of justified pettiness about shit like this.
I must err on the side of compassion and choose not to be involved in this prosecution.

Considering that Amy Cooper has already lost her job and her reputation, it's hard to see what is to be gained by a criminal charge, aside from the upholding of principle.
Not to say I told you so, but I did make it very clear at the time that letting Amy Cooper off the hook was a chump move. She's so convinced she's the victim and not the villain of this story that she's going after Franklin Templeton like it's Tom Hanks's evil law firm from Philadelphia. She's demanding "back pay and lost bonus." C'mon, even if she'd kept her job, she shouldn't have expected a bonus. It was 2020. She was lucky to finish the year employed. Also on her wish list: "loss of unvested funds and other benefits; reinstatement of front pay; compensatory damages for emotional distress; punitive damages; attorneys' fees and costs."
Franklin Templeton thinks she's full of crap.
"We believe the circumstances of the situation speak for themselves and that the Company responded appropriately," Franklin Templeton told Bloomberg Law on Wednesday in an email. "We will defend against these baseless claims."
Amy Cooper is exactly who she was on that viral video. If we've learned anything from this latest episode, it's that when dealing with racists, don't be a chump.
Follow Stephen Robinson on Twitter.
Keep Wonkette going forever, please, if you are able!
Stephen Robinson
Stephen Robinson is a writer and social kibbitzer based in Portland, Oregon. He writes make believe for Cafe Nordo, an immersive theatre space in Seattle. Once, he wrote a novel called "Mahogany Slade," which you should read or at least buy. He's also on the board of the Portland Playhouse theatre. His son describes him as a "play typer guy."