Chris Christie Aides Eated All The Guilty Verdicts In Bridgegate Trial
Courts
November 04, 2016 01:55 PM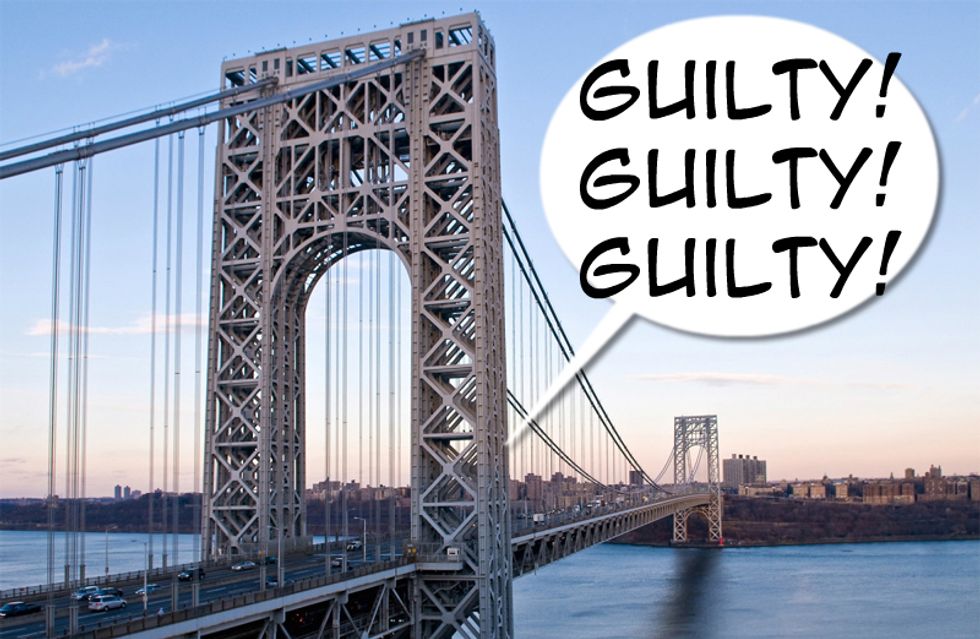 How's that presidential transition team working out for ya then?
---
Oops, it's starting to look like Chris Christie may never become the president of the United States, although in the post-Trump era we shouldn't rule anything out (except for House Republicans behaving like grownups, of course). Two of his former aides, Bridget Anne Kelly and Bill Baroni, were found very, very guilty this morning by a federal jury in their trial on charges of conspiracy and wire fraud resulting from the Stupidest Political Revenge Scheme Ever, also known as Bridgeghazi. A third aide, David Wildstein, had previously pleaded guilty in exchange for his testimony, which helped fit the two bureaucrats for orange jumpsuits. We bet they're going up the Hudson River for a long, long time, huh?
The crimes carry a maximum sentence of 20 years in prison, but the United States attorney for New Jersey, Paul J. Fishman, said before the trial that there was "no way" his office would recommend that Ms. Kelly and Mr. Baroni serve that long. Federal sentencing guidelines suggest a sentence of from one year to three years.
Okay, we can live with that, as long as they agree in writing not to call themselves "political prisoners" or make any bad movies with Dinesh D'Souza.
Ms. Kelly was Christie's deputy chief of staff, and is famous for sending the infamous smoking gun email that said "Time for some traffic problems in Fort Lee. P.S., This gun is really smoking here." Baroni had been Christie's top appointee to the Port Authority, and testimony during the trial showed he had ignored multiple messages from the mayor of Ft. Lee, Mark J. Sokolich, asking why lanes on the George Washington Bridge had been shut down and complaining the lane closures were "an urgent matter of public safety," tying up school buses and emergency vehicles in huge traffic jams.
Both Kelly and Baroni had testified that Wildstein set them up, the bastard, fooling them into thinking the lane closures were part of a legitimate traffic study of what would happen if they snarled traffic in Ft. Lee for days as revenge for Sokolich's refusal to endorse Christie in his 2013 reelection bid. The results of the study were that everyone is going to jail except Gov. Christie, whose punishment is that he has to keep being Governor of New Jersey, a job he absolutely hates, and has to suffer as many lapdog jokes as everyone in America can think of as he kowtows to Donald Trump. Which is to say he got off easy.
Christie continues to insist he doesn't know nothing about closing no bridges, even though Wildstein testified he'd told Christie all about the hilarious prank at a 9/11 commemmoration while the lane closures were in effect, and Kelly testified the governor had given her the go-ahead before she sent the "Let's Go Do Some Crimes" email. Not that the "only following orders" defense did Kelly or Baroni much good:
[P]rosecutors had drawn the charges tightly around the specific crime of closing the lanes and then covering up the scheme. At their urging, the judge had instructed the jury explicitly not to consider why other potential co-conspirators were not on trial.
Not being on the jury, of course, we are left perfectly free to consider why other potential co-conspirators were not on trial, and to answer ourselves, "Forget it, Jake, it's Christietown."
[NYT]