Chris Cillizza Shits On Hillary Some More, Because What Else Is He Going To Cover? TAXES?
News
December 20, 2017 03:13 PM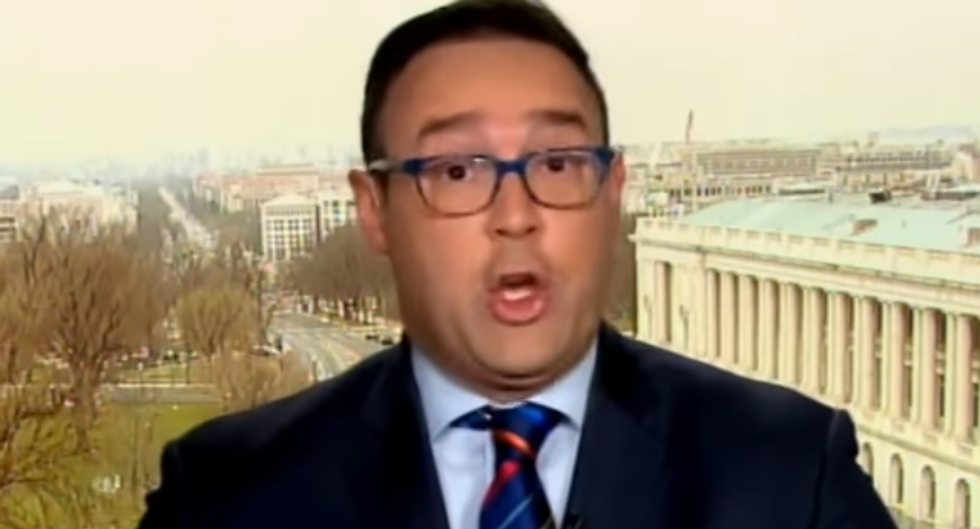 Tell us things!
---
WE. KNEW. IT. We saw this tweet Tuesday afternoon (hilariously retweeted by OURSELF, FOLLOW US ON TWITTER AND EXPERIENCE JOY) ...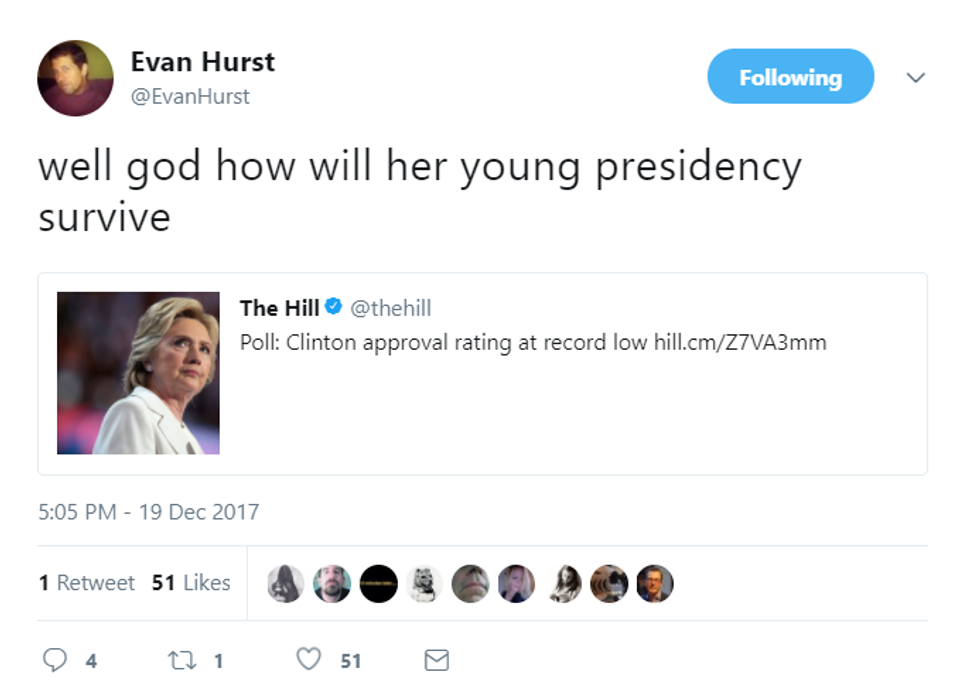 ... and we said to ourself, "Self? Bet you a dollar Chris Cillizza sees this and cannot resist the bait, and publishes some kinda horseshit 'analysis' of why Hillary Clinton sucks so bad and he hates her and OMG she is the worst." We figured this would happen because A) that's just about the only kind of article Cillizza can be relied upon to write on a consistent basis and B) he has such a bad sense of what's important in the news cycle that SURELY he would push everything aside to address the pressing matter of "Chris Cillizza Still Thinks Hillary Is A Bitch, Full Story At Eleven."
Glad we took that bet!
Hillary Clinton is historically unpopular.

Why?https://t.co/KI0TQ5Qveqpic.twitter.com/M9nAuJKSW7

— Chris Cillizza (@CillizzaCNN) December 20, 2017
Dunno Chris Cillizza, WILL YOU TELL US?
Cillizza identifies four reasons Hillary is still the worst, according to this very important poll, and here they are, paraphrased lovingly by Wonkette because you don't actually want to read his shit words:
Trump won't stop talking about her, therefore it's like we are in PERMANENT 2016 CAMPAIGN MODE, oh god, he actually may be right about that.
Hillary is the worst, like she won't even say she's sorry for sucking so much ass in the election and getting only three million more popular votes (translation: human votes) than Trump, how does she even sleep at night knowing how much she has disappointed Chris Cillizza and probably everybody else too?
Republicans have been saying she's the worst for 30 years, and she's the only Democrat left whom Republicans love to hate. In related news, sad news about the sudden and untimely deaths of Nancy Pelosi and Elizabeth Warren, who apparently don't exist anymore!
TOO SOON, HILLARY, TOO SOON! Cillizza's argument is that it's too soon after the 2016 election to expect people to like Hillary Clinton -- golly, Chris Cillizza surely still doesn't! Maybe if she goes away for a hundred years, people will forget why they hated her in the first place. (Chris Cillizza will not forget. Chris Cillizza is like A Elephant Who Never Forgets when it comes to why he hates Hillary, and that is why CNN pays him $$$$$.)
Oliver Willis over at ShareBlue suggests a fifth reason: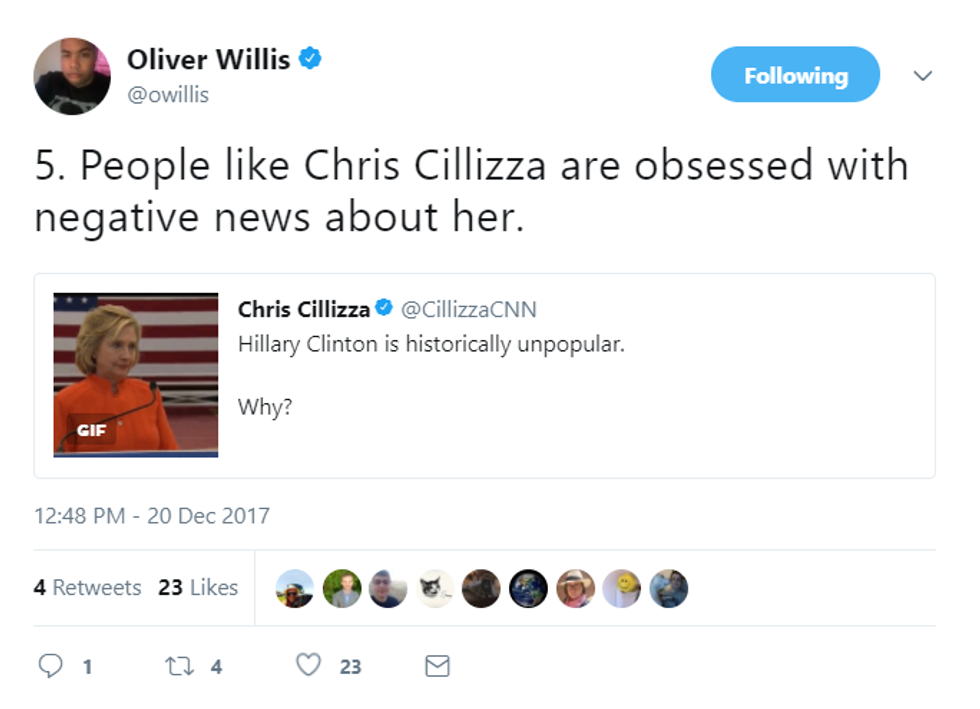 He is just saying.
Man, is it Christmas or something? We got to kick Axios in the ass this morning, now we've gotten to do the same to Chris Cillizza the same day. Quick, Maggie Haberman, be the absolute worst so we can make it a three-fer!
Follow Evan Hurst on Twitter RIGHT HERE.
Wonkette salaries, servers, and all of the things are fully funded by readers like you! If you love us, click here to fund us!
[CNN]
Evan Hurst
Evan Hurst is the managing editor of Wonkette, which means he is the boss of you, unless you are Rebecca, who is boss of him. His dog Lula is judging you right now.
Follow him on Twitter RIGHT HERE.