Chris Rock Slaps Back At Jada Pinkett Smith, Who Never Actually Slapped Anyone
Culture
March 13, 2023 10:35 AM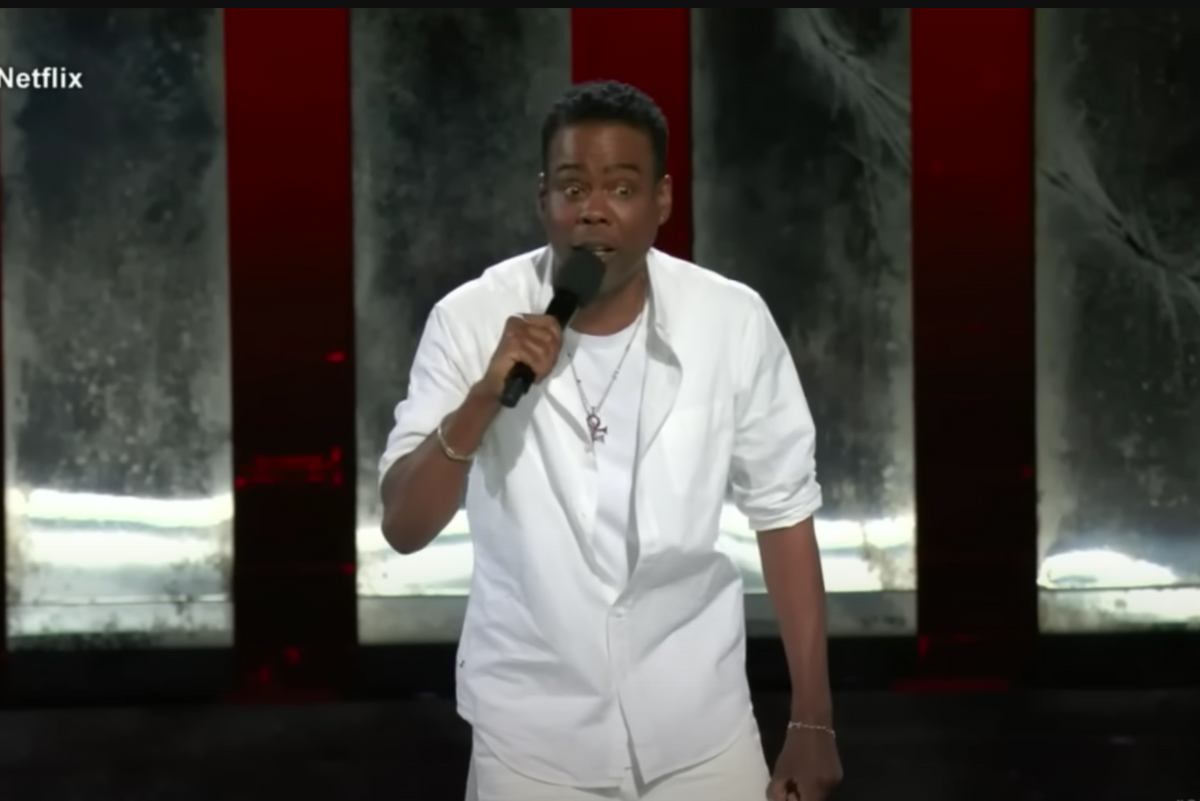 A year ago, at the Academy Awards, Will Smith slapped Chris Rock after he made a tasteless joke about Jada Pinkett Smith. It was not a stellar moment in Black history, but Rock survived and the Academy disciplined Smith with a Best Actor Oscar (they later went with a more appropriate 10-year suspension). You'd think we could move on, but Rock was clearly in no mood for healing in his new Netflix special, Selective Outrage.
I probably wouldn't forgive anyone who slapped the taste out of my mouth on live TV, but Rock seemed overly focused on Pinkett Smith, who didn't actually slap him. That's a good thing because it looked like she had some solid rings on her fingers. Those will leave a mark. Rock also chose to record the special in Baltimore, which is Pinkett Smith's home town. That's kinda creepy but, really, did you see the size of those rings that didn't hit Rock?
Rock roasting Smith — the person who slapped him — makes sense, but he really went all in on Pinkett Smith, who was just sitting there at time. Baltimore Banner columnist Leslie Streeter wrote: "[Rock] boiled her boycott of the 2016 Oscars, which had no Black acting nominees, down to being mad that her husband hadn't been honored for his work in Concussion, a bit he flubbed last night."
Rock never actually said Pinkett Smith's name during his comedy special. Instead, he referred to her as a "bitch," a "predator," and that specific racial epithet he also refuses to keep out of his mouth. When he calls Will and Jada the "n-word," there's no arguing that he's doing so "affectionately," as one can for most Richard Pryor routines (though Pryor famously stopped using the word). No, it's objectively a slur, intended to express contempt, just like the manufacturer intended.
---
ROCK: But Will Smith practices selective outrage, because everybody knows what the fuck happened, everybody really knows I had nothing to do with that shit. I didn't have any entanglements. I didn't. I did not have any entanglements. And for people that don't know, and everybody knows, Will Smith's wife was fucking her son's friend, OK? Now, I normally would not talk about this shit but for some reason these [n-words] put that shit on the internet. I have no idea why two talented people would do something that fucking low down. What the fuck?
Rock was referring to Jada's "Red Table Talk" show interview with Will, where she admitted to having an affair with August Alsina, their son Jaden's friend. The candid, harrowing conversation wasn't "low down." Sure, it got awkward as hell, but it's their business. And, no, discussing their relationship struggles publicly doesn't justify public, mean-spirited mockery.
It would also seem that Rock is guilty of "selective outrage." He is appalled that Will and Jada would have such a "real" conversation for everyone to see, but in his last special, Tamborine, he discussed his own divorce and "porn addiction." Why was that great comedy material and not "fucking low down"? His wife wasn't invited to join him on stage and offer her side, as Will did on Jada's show.
Rock perhaps has an issue with woman-led dialogues where real emotion isn't buried under scathing humor. After all, he suggested, without any self-awareness, that he was above crying about the "slap" to Oprah Winfrey or Gayle King, but he's fine with spending the climax of his special whining about the woman who wronged him ... with some occasional digs at the man who actually struck him.
I've seen the argument made that Jada sexually humiliated Will so he lashed out at Rock to prove his manhood. That's bizarre and wrong. Will admits the affair occurred at a point when he was "done with" her and they had practically split up. Yet, that's the foundation upon which Rock built his routine. Claiming Will and Jada perform "selective outrage" ignores the concept of consent, which is rightly selective.
When it comes to women and male violence, Rock has not matured much since his 1996 routine, "OJ I understand." He joked that Nicole Brown Simpson somehow deserved her brutal murder because she had mistreated Simpson — the man who beat and terrorized her during their marriage.
ROCK: So you gotta think about O.J.'s situation. (He's paying) $25,000 a month (in alimony), another man's driving around in his car and fucking his wife in a house he's still paying the mortgage on. Now I'm not saying he should have killed her ... But I understand!
Nicole Brown Simpson wasn't just slapped in public. She was stabbed seven times in the neck and scalp, and almost decapitated. This occurred barely two years prior to Rock's "Bring the Pain" special.
Rock similarly showed no compassion but loads of contempt for Meghan Markle, dismissing her claims that she'd endured racism as a Black woman who married into the Royal Family. He said, "Didn't she hit the light-skinned lottery? And she's still going off complaining?" She's clearly not "light-skinned" enough for the British tabloids. Rock even argued that "a white girl trying to be accepted by her Black in-laws" has it worse than Markle. I feel like Tucker Carlson would've mentioned it if a prominent African American family chased a white British woman out of the country.
Blackface comedy expert Megyn Kelly loved Rock's Markle remarks and raved "Chris Rock nails it!"

Twitter
During his Live On The Sunset Strip show, when he shared his epiphany about the n-word, Pryor said, "Oh my God, I've been wrong. I've been wrong. I've got to regroup my shit." When Megyn Kelly delights in your trashing of a Black woman, maybe it's time for a similar reckoning.
Follow Stephen Robinson on Twitter if it still exists.
Did you know SER has his own YouTube Channel? Well, now you do, so go subscribe right now!
Subscribe to the Wonkette YouTube Channel for nifty video content!
Click the widget to keep your Wonkette ad-free and feisty.
Stephen Robinson
Stephen Robinson is a writer and social kibbitzer based in Portland, Oregon. He writes make believe for Cafe Nordo, an immersive theatre space in Seattle. Once, he wrote a novel called "Mahogany Slade," which you should read or at least buy. He's also on the board of the Portland Playhouse theatre. His son describes him as a "play typer guy."