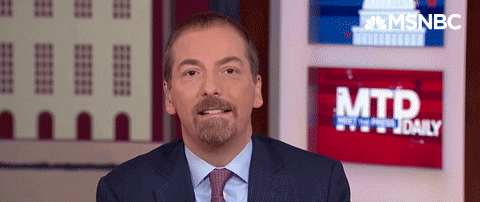 The Democratic Party passed a massive COVID relief bill and the Biden Administration has done much to increase the quantity of vaccines available and improve the logistics for getting that done. Getting people vaccinated was such a priority in the media that Chuck Todd, before Joe Biden was inaugurated, declared his presidency would be failure if they didn't meet his goal of vaccinating 100 million people in 100 days.
And he did it! On day 59!
Obviously the news media will now declare job well done and report on important things.
Just kidding!
---
The GOP spent the better part of a week trying to drum "border crisis" up into a real crisis, and the Sunday shows were there to chase the false premise like cats with laser pointers. While every Sunday show was bad, Chuck Todd really took the prize (although ABC's "This Week" was close with its "border roundtable").
Todd began "Meet The Press" with an intro that can only be described as the Zack Snyder version of "Both Sides" (overly long, completely bombastic and ultimately a waste of time).
Todd, in the first six minutes of the show, managed to outline the difference between the parties on immigration:

TODD: Look, conservatives want nothing less than a big wall and some stricter enforcement of the border. Progressives want nothing less than humane treatment for migrants fleeing violence, wherever it is, and a path to citizenship for those that are already here.
Then he pointed out the actual things Americans are focused on:
TODD: Americans largely approve of Mr. Biden's young presidency, and he wants to focus on vaccinations, COVID relief, infrastructure, voting rights, racial inequities and renewing America's image at home and abroad.
Then he confessed that news organizations are just gonna help the GOP manufacture its fake border crisis:
TODD: But he can't control the news cycle. Just last week an intelligence report reminded us of the threat from domestic terror groups Mr. Biden must confront, particularly after January 6th. Events and politics have a way of applying their own pressure points, and right now, that pressure is pointed directly at our southern border.
Is it, though? Did the domestic terroristinsurrectionists' actions on January 6 really make "border crisis" into a thing?
Todd unintentionally demonstrated what GOP bullshit this is, playing clips of Mitch McConnell, Rick Scott, Kevin McCarthy and John Kennedy basically repeating the word "crisis," so idiots like Chuck Todd could have their Pavlovian response.
Todd followed that utter waste of time with a panel on anti-Asian violence and racism. See if you can spot the problem:

And that is why Twitter started calling for Chuck Todd to be fired. This time.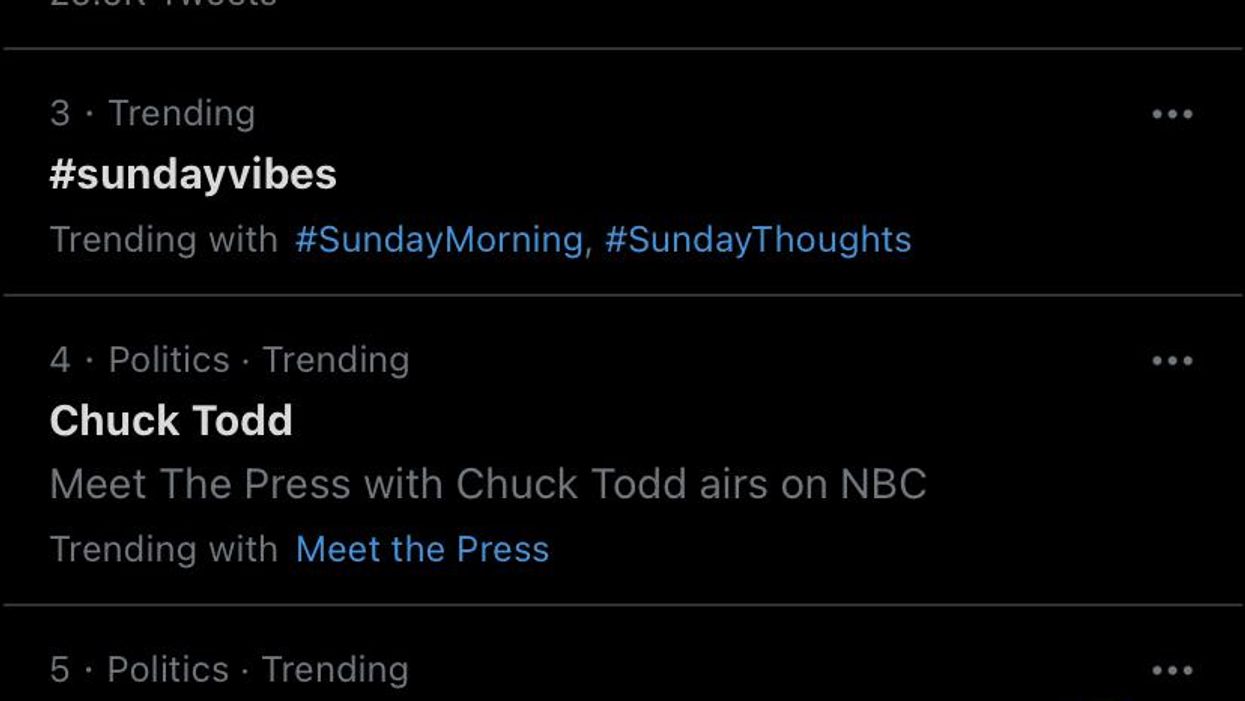 Before we move on, let's marvel at an actual qualified journalist for NBC News punching back on the narrative of a "border crisis," while also showing how to handle someone outright lying to their face.

Could Mehdi Hasan host "Meet The Press" from now on? In one fell swoop, he tore down seven days of GOP lies, using actual facts. Kinda hard to say the "border is wide open" when 72 percent of migrants apprehended were expelled straight away. Especially when your source is the same Customs and Border Patrol the GOP incessantly praises.
On CNN's "State of The Union", host Dana Bash interviewed Arkansas GOP governor Asa Hutchinson, who admitted Arkansas's new draconian abortion law is unconstitutional on purpose:
HUTCHINSON: Yes, that was the whole design of the law. It is not constitutional under Supreme Court cases right now. And I did prefer a rape and incest exception. I didn't get a vote on that. And so I signed it because it is a direct challenge to Roe vs. Wade. That was the intent of it. I think there's a very narrow chance that the Supreme Court will accept that case, but we will see. And, again, I would prefer -- it's been my historic position that the three exceptions would be rape, incest and the life of the mother. But this is a direct challenge to Roe vs. Wade. And that's the intent of the legislation.
This is absolutely the GOP's game on abortion right now, though it's wild to hear Hutchinson just say it out loud. They're throwing any insane case they can at SCOTUS in hopes the justices rammed onto the court by Trump and Mitch McConnell will gut Roe for them. You'd think that goes against the spirit of our justice system, but when have Republicans worried about that?
Have a week!
Wonkette is fully funded by readers like you! If you love Wonkette, fund Wonkette!
Michael Mora
Your friendly neighborhood Puerto Rican Political Freelance Writer for @wonkette. Pop Culture observer, Amateur Movie reviewer & Comics fan. Former Active Duty Marine. All opinions are mine only.