Hey, Louisiana Dipsh*t Congressman Idiot! We Found Michael Cohen's Boxes!
News
March 01, 2019 01:25 PM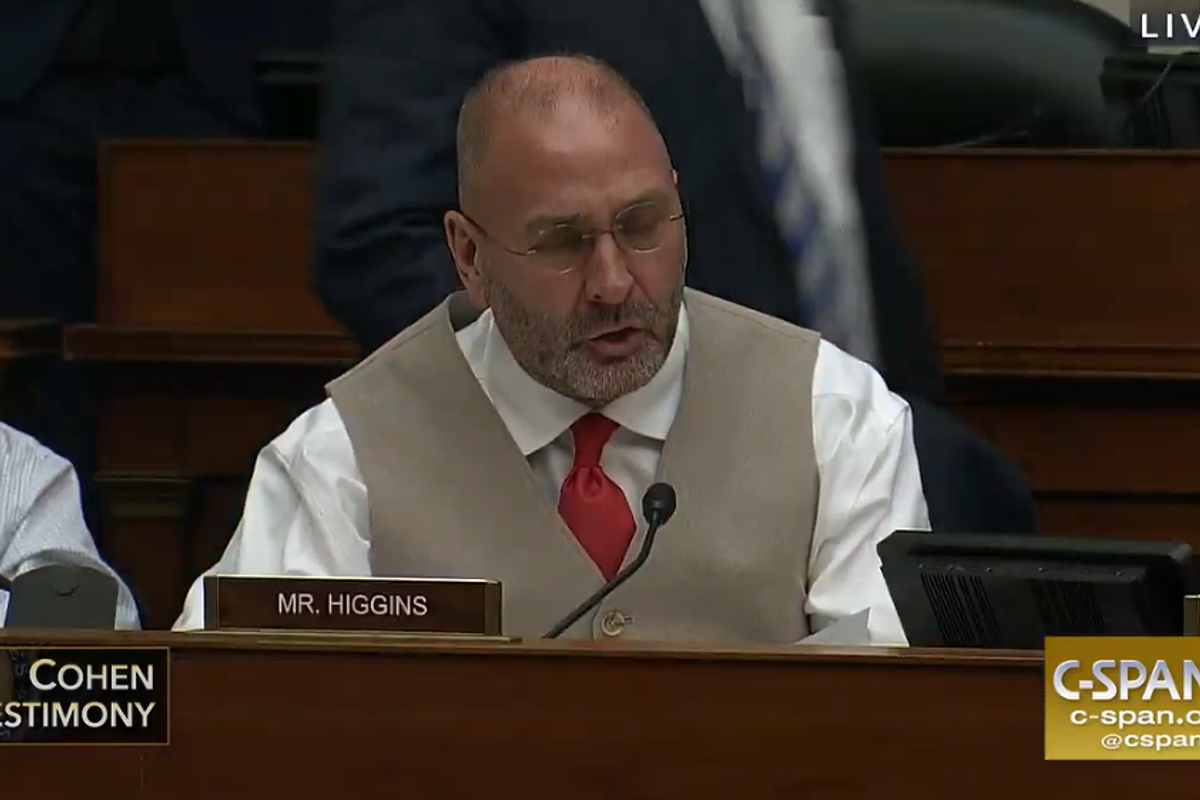 Hands down, our favorite part of the marathon Michael Cohen hearing Wednesday, aside from the times Cohen showed everybody evidence of Donald Trump's many criminal acts, was when GOP Rep. Clay Higgins of the great state of LOO-ZANER asked his questions. For Wonkette, there are few things better than discovering a new hayseed dumbshit Louie Gohmert-style Republican congressman, and Higgins? He is ... he is WOW.
Dressed in a vest that screamed, "I am your youth pastor, and you can trust me. Now just shut the door and tell me what's going on at home, on my penis," Higgins -- a huge bigot and former cop, and maybe a very dirty one at that! -- was pretty sure he was gonna GITCHA Michael Cohen, because Cohen brought evidence against Trump that he found in some boxes. What follows is a dramatic reading of the man formerly known as the "Cajun John Wayne," asking Cohen questions.
Good Lord, does this dude have brain damage. He's coming back for round two of this self-own? Does he have staff th… https://t.co/bl7r0GqRWU

— Josh Marshall (@Josh Marshall) 1551292474.0
---
HIGGINS: WHAR BOXES, GOOD SIR? WHAR BOXES? ARE BOXES IN YOUR GAAAAAAA-RAGE?

COHEN: Um, they're in storage?

HIGGINS: WHAR BOXES? WHY YEW NOT GIVE BOXES TO THE PO-LICE? WHY YEW HIDE BOXES? WHAR BOXES?

COHEN: They gave them back ...

HIGGINS: WHAR BOXES? GIVE MISTER HIGGINS DA BOXES! WHAR BOXES? BOXES IS BURIED TREAS-UH! WHAR YEW BURY BOXES OF TREAS-UH AND HIDE DEM FROM POOR MISTER HIGGINS?

COHEN: Chairman, this congressman is too stupid, may I have a different one?
And then, given another opportunity later in the hearing, Higgins did it again. WHAR BOXES? Higgins hereby demanded the feds go get the boxes they had seized and then returned.
He also presented a theory of what this Michael Cohen character was doin' up there in Congress that day.
Rep. Clay Higgins to Michael Cohen: "I didn't know who you were until today, really." Then why the hell are you in… https://t.co/K6RRLfLVR0

— Keith Boykin (@Keith Boykin) 1551292604.0
HIGGINS: YOU ARE JUST TRYIN' TO BE FAMOUS, MISTER COHEN!

COHEN: I mean, I've been going on TV for Trump since ...

HIGGINS: I NEVER HEARD UH YA IN MY LIFE! WHAR BOXES?
It was amazing. God really just opened a window for Wonkette right there, don't you think?

Clay Higgins mighta shoulda spent some more time during his cop days learning actual cop things, because he is very confused about what happens to evidence such as that collected in the Michael Cohen raid when the feds are done with it. If they took a bunch of random shit and they don't need it anymore, they tend to give it back! So the basic answer to Higgins's very smart questions is that, just like Michael Cohen tried to say one hundred times, they brought that shit back.
But Emily Jane Fox, the Vanity Fair reporter who specializes in All Things Cohen, decided to get to the bottom of the question of WHAR BOXES, and she came back with a pretty good story!
Turns out that in the prep for the hearing, Cohen's lawyers told him that his opening statement was PRETTY GOOD, but that GOP assholes were just going to call him a liar no matter what, so it would help if he found some evidence to back up his explosive claims. So he checked the couches and he checked the pantry and he checked his butt, until it dawned on him that the FBI had brought all these WHAR BOXES back to him, and that they were in storage down in the basement of the building where he lives, which is owned by Donald Trump, and where IVANKA AND JARED also have an apartment.
WHAR BOXES? Downstairs from Javanka in the Trump building!
So down Cohen went, probably muttering "WHAR BOXES" under his breath the whole time, having no clue why he was doing a Cajun accent or why he was asking WHAR BOXES when he already knew exactly where the fuck they were. The first box he found was TOO HOT! So Cohen moved on. The second box he found was TOO COLD! But the third box he found was JUST RIGHT, because it was just full of Trump crimes. Did the feds make any copies of all those documents when they had them? OH WE DUNNO.
"Oh my god," he said when he opened the third. He'd hit the mother lode. In the third box were three years of Trump's financial statements, from 2011 through 2013, which Cohen pointed to on Wednesday as evidence that the president had purposefully inflated and deflated his personal assets when it suited him—to secure bank loans or land a higher spot on the Forbes 400 list, for instance, or to lower his tax liability. There were also countless personal notes from Trump, scrawled across newspaper clippings, printed articles, and torn-out pages from glossy magazines. One note, written in Sharpie across an unflattering article, urged Cohen to call a reporter and threaten him with a lawsuit; another, on a story prominently featuring Cohen, read simply, "Michael, enjoy this while it lasts." [...]

The box also contained an e-mail with Trump Organization C.F.O. Allen Weisselberg, whose name came up almost as often as Trump's in the House hearing on Wednesday. The exchange had to do with how Cohen would be reimbursed for the $130,000 payment he made to adult-film actress Stormy Daniels, 11 days before the election, in order to keep her from going public with allegations of an affair with Trump.
And a couple trips to the bank later, Cohen had copies of checks to show to Congress, and it was just very good that he thought to go downstairs in the Javanka Trump building where he lives and look at those boxes.
Reached for comment (not really), a single tear rolled down Congressman Higgins's cheek, as he silently accepted that mere mortals may never truly know WHAR BOXES.
Follow Evan Hurst on Twitter RIGHT HERE, DO IT RIGHT HERE!
Wonkette is ad-free and funded ONLY by YOU, our dear readers. Click below to keep the lights on, please. We appreciate you, most of the time.

Evan Hurst
Evan Hurst is the managing editor of Wonkette, which means he is the boss of you, unless you are Rebecca, who is boss of him. His dog Lula is judging you right now.
Follow him on Twitter RIGHT HERE.