Cleveland Cops Think 'Pathetic' Athletes Should Stay Out Of Cops Killing Black Kids
News
December 15, 2014 11:01 AM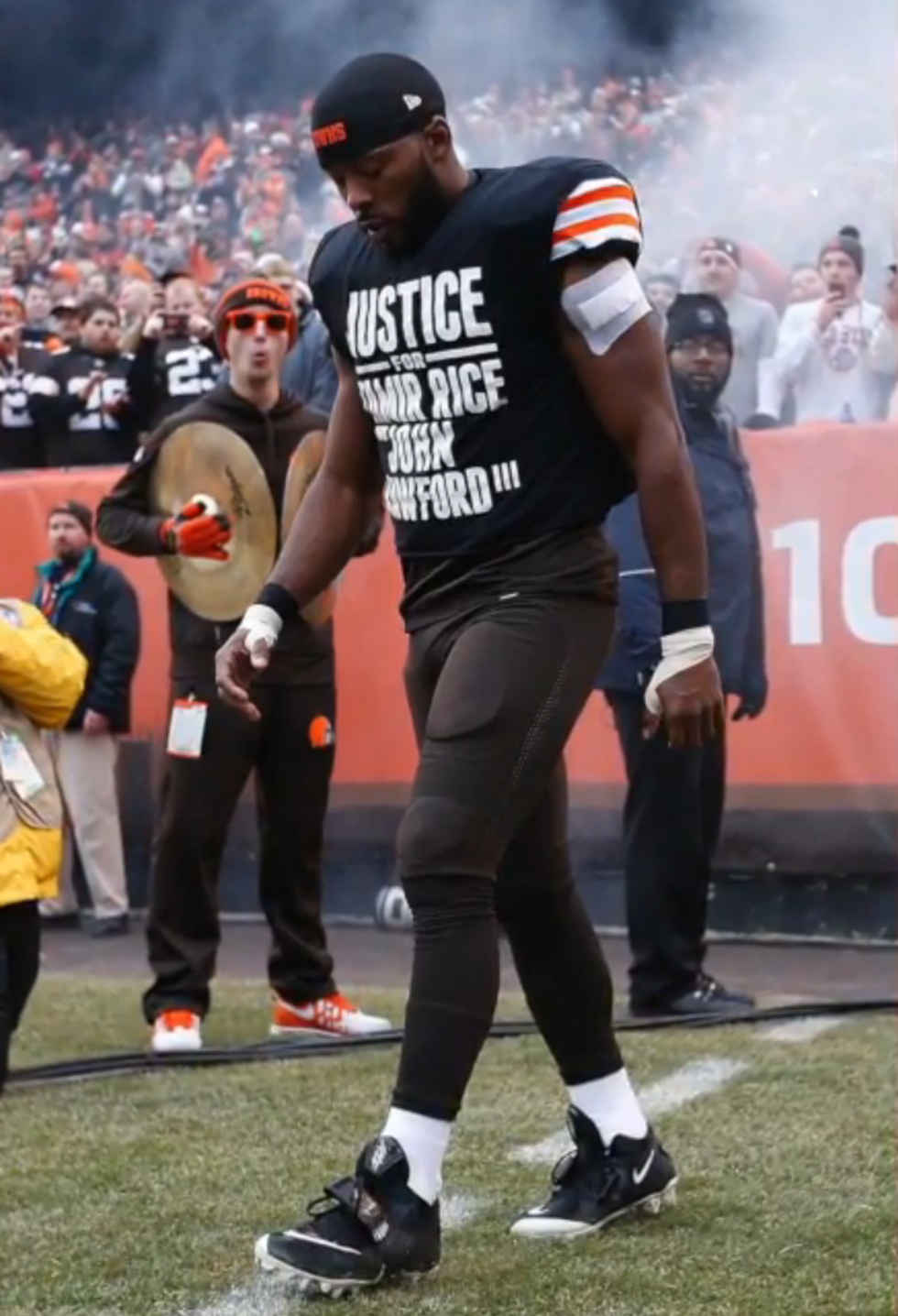 Unless you play fantasy football, you've probably never heard of Cleveland Browns wide receiver Andrew Hawkins, but the public relations geniuses at the Cleveland Police Union are doing their darnedest to change that. Hawkins took the field Sunday wearing a shirt that read "Justice for Tamir Rice and John Crawford," prompting this #HotSportsTake from the Cleveland cops.
---
In response, Jeff Follmer Police Patrolman Union President [sic] sent newsnet5 the following statement:

"It's pretty pathetic when athletes think they know the law. They should stick to what they know best on the field. The Cleveland Police protect and serve the Browns stadium and the Browns organization owes us an apology."
"They should stick to what they know best on the field," says the Cleveland cop who's definitely never screamed at his TV and wondered aloud which brainiac is callin' these plays. Thanks for that, Jeff! Next up, we've got Tom from Ashtabula, with a comment about the Browns' decision to get away from the run game in the third quarter, Tom, what's your take?
Look at that statement, issued by a man who is ostensibly a professional communicator. That statement is glorious, right down to the missing comma after "stadium." It is the kind of "'nuff said" remark you expect to read in the comments section at MeatStickSports.com, and y'know what? If the Cleveland Police Union wants to turn a national discussion about police brutality into sports talk radio, CHALLENGE ACCEPTED. Here goes:
Y'know, folks, it's nice to see Cleveland being willing to step up and compete with the other big-market teams in the Midwest. The Cleveland Police Union saw how their brother officers in Minneapolis threw down the gauntlet, and they knew they had to step it up and find a way to make plays.
I'm not sayin' that Cleveland's ready to compete for a title this year. The Cleveland Police Union still has a ways to go before they catch the division leaders in St. Louis, but their future could be bright if they give Johnny Manziel time to develop. They do need to get rid of Andrew Hawkins, though. Locker room cancer, that guy. Bad for the culture in the building. Hey, buddy, stick to what you know best: running a three-yard drag route, not being a black man in America.
Nope, that wasn't as much fun as we'd hope it would be. None of this is.
Update: The Browns have respectfully declined the request for an apology:
We have great respect for the Cleveland Police Department and the work that they do to protect and serve our city. We also respect our players' rights to project their support and bring awareness to issues that are important to them if done so in a responsible manner.
Good for them.
Follow Dan on Twitter.