Colin Kaepernick And Nike Trigger Some Dicks
Culture
September 04, 2018 10:30 AM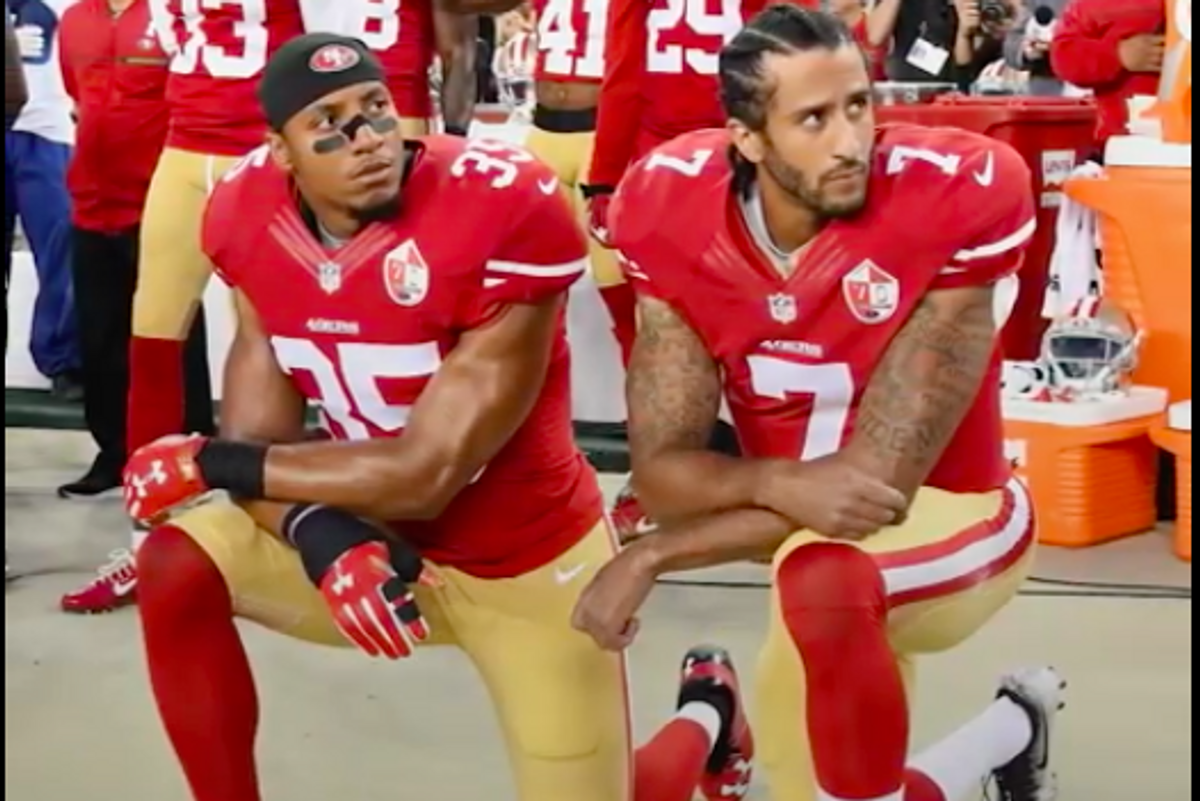 Colin Kaepernick, the former San Francisco 49ers quarterback who started the "take a knee" protests of racial injustice, revealed Monday that he's the face of Nike's 30th anniversary "Just Do It" campaign. It's a major deal: Kaepernick will have his own branded line including shoes, shirts, jerseys and more. It's a "star contract" worth millions plus royalties. That's impressive for someone who's not currently playing football. He's allegedly been blackballed from the NFL, and hopes to prove collusion (there's that word again) amongst team owners to keep him off the field.
People who considered Kaepernick literally kneeling during the National Anthem as somehow a giant middle finger at veterans, the flag, and apple pie are upset. They would've preferred Kaepernick remain unemployed or earn money in some "degrading" way they could mock like assholes. Nike had other ideas.
---
The new ad, which Kaepernick shared on social media Monday afternoon, features the message: "Believe in something. Even if it means sacrificing everything."

Nike signed Kaepernick in 2011 and kept him on its endorsement roster over the years. The company had not used him in the past two years.

"We believe Colin is one of the most inspirational athletes of this generation, who has leveraged the power of sport to help move the world forward," Gino Fisanotti, Nike's vice president of brand for North America, told ESPN.
The usual suspects responded with typical outrage. Janice Dean of "Fox & Friends" declared on Twitter that she certainly wouldn't sign Kaepernick to lucrative endorsement deals if she ran Nike (a stretch objective given she currently reads the weather off her phone to old people). No, Dean would've chosen J.J. Watts of the Houston Texans (is that a team name or a geography lesson?). She argues he's not controversial -- "just a good human being" -- and thus a more suitable (white) face for Nike. When reminded that Watts already has a deal with Reebok, Dean promised to start buying more of their fine (white) products.
Hey, that's at least almost how capitalism works. Some other defiant Americans seem confused over the whole process and want to just burn Nike products they already own. But Nike already has the money from those running shoes whether you set them on fire or just keep them in the back of your closet because your lazy ass never made it to the gym. Even if these morons are ignorant of history, surely they watch enough movies to know the people burning items deemed objectionable in a ritual show of conformity are almost always the bad guys.
Country music singer John Rich boasted that his soundman, a former Marine, cut the Nike Swoosh off his socks. But is he still going to wear the socks? Just get rid of the socks entirely if you're that POed. Now when you're out for a jog, people are gonna stop you and say, "Hey, nice socks! But the logo appears to be crudely cut off. Mind telling me the brand?" It'll get tiresome. That's probably why they invented the Swoosh. As someone who doesn't enjoy small talk, brand logos have proven a life saver.
But these protests are just as American as what Kaepernick and other black NFL players are doing ... only way dumber. Infuriating the anti-Kaepernick contingent even more was former CIA Director John Brennan, who praised Kaep's activism Monday.
Colin Kaepernick drew our collective attention to the problem of continued racial injustice in America. He did so n… https://t.co/OKRaNjbIzz

— John O. Brennan (@John O. Brennan) 1536025779.0
The NFL's alleged conspiracy to deny Kaepernick employment reminds me of the decision to prevent Muhammad Ali from earning a living in his profession at the same time he was fighting for his physical freedom in court. Refusing to serve in Vietnam was arguably more controversial than simply taking a knee.

The Ali ban was begun by Edwin Dooley, the president of the New York State Athletic Commission. During the afternoon of April 28, 1967, a few hours after Ali had formally refused induction but before he had been charged with a crime, Dooley announced that Ali's license to box in New York had been "indefinitely suspended" because "his refusal to enter the service is regarded by the commission to be detrimental to the best interests of boxing." Boxing commissions around the country quickly copied New York.
This cost Ali three prime years of his career, but he remained unbowed. After the not-yet Ali had defeated Sonny Liston to claim the heavyweight title, he bluntly told a flummoxed press, "I don't have to be what you want me to be." Back in 1964, the expectations for a black athlete weren't that different from what they are now: Be good, be compliant, and most of all be grateful. The people who are so infuriated over black players "taking a knee" on some level believe they have violated these unwritten rules.
Is Nike taking a bold political stand by backing Kaepernick? Or are they simply recognizing that despite its current government, the US is growing browner? Regardless of motive, it certainly seems a better bet to choose the side that Donald Trump isn't on. And yes, I know Nike has a sordid labor history, but for today at least, I will celebrate my brother cashing a big check. He certainly puts the money to good use.
Follow SER on Twitter.
Wonkette is ad-free and relies entirely on the kindness of strangers.
Stephen Robinson
Stephen Robinson is a writer and social kibbitzer based in Portland, Oregon. He writes make believe for Cafe Nordo, an immersive theatre space in Seattle. Once, he wrote a novel called "Mahogany Slade," which you should read or at least buy. He's also on the board of the Portland Playhouse theatre. His son describes him as a "play typer guy."