Come To Rio For Olympic Fever! The Kind That Leads To Death For Half Those Infected.
Science
June 14, 2016 11:23 AM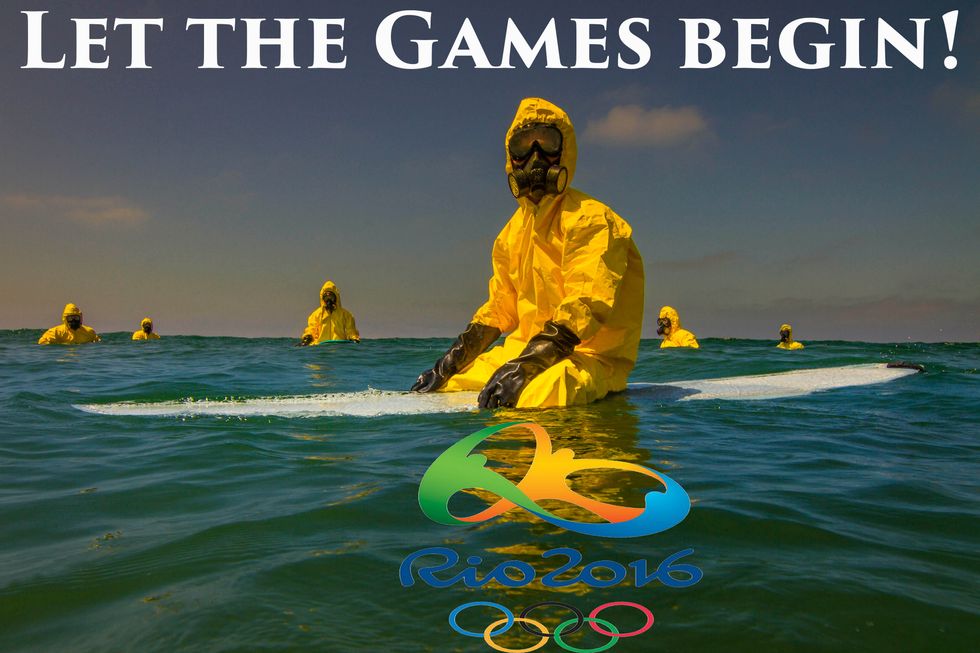 Live Your Passion!
---
The 2016 Rio Olympics are almost here, and Olympic fever is spreading! With symptoms that include blood infections, meningitis, and Hepatitis, it would seem like the Brazilian government isn't the only thing in Rio that's been corrupted by the spirit of the Olympics!
This year, as athletes from around the world set aside their politics and come together to compete in the greatest of athletic traditions, the world is finding out that it really is what's on the inside that counts. Recent CDC reports have confirmed the presence of super bacteria in five of Rio's beaches, including the Copacabana, Ipanema, Leblon, Botagofo, and Flamengo, with a separate study confirming the presence of super bacteria in the Rodrigo de Freitas lagoon, and in a river that empties into Guanabara Bay, areas that are not just host to open-water and triathlon swimming events, but also showcase beaches for tourists. Because "Olympic glory" now means that everyone should suffer in the quest for the gold!
The super bacteria can cause hard-to-treat urinary, gastrointestinal, pulmonary and bloodstream infections, along with meningitis. The CDC says studies show that these bacteria contribute to death in up to half of patients infected.
In the wake of this health handicap, a number of athletes from around the world, and at least one journalist, have decided to heed the warnings of the U.S. Olympic Committee, and not bring home life-threatening diseases along with their medals. Golfers Marc Leishman of Australia and Vijay Singhand of Fiji pulled out over concerns over Zika virus, as has NBC's Today co-host, Savannah Guthrie. A number of high-profile U.S. Olympic basketball team members including Steph Curry, Russel Westbrook, James Harden, Anthony Davis, Blake Griffin and LaMarcus Aldridge have pulled out over unrelated health concerns (but we all know it's because they just aren't AMERICAN enough). Shame!
Concerns over the wellbeing of Olympic athletes and tourists have come amidst several wide-spread political scandals that have threatened to destabilize what's left of Brazil. A massive money laundering scandal ousted former President Dilma Rousseff, and called into question the legitimacy of interim president Michael Temer. The crumbling economic and physical infrastructure of Brazil has led to doubts that Rio itself will be ready as some venues have yet to be completed, and the famed Guanabara Bay is filled with trash and raw sewage (we can just call them "obstacles").
Brazil has tried to calm the absolutely reasonable fears of contracting life threatening, anti-biotic resistant super bacteria by throwing its new health minister in front of a camera and stating that concerns over diseases like Zika are being overblown. While it's entirely possible that there's one honest government official left in Brazil, the WHO and CDC aren't taking any chances; they're issuing warnings and releasing a number of fact-sheets and a neato infographic for anyone traveling to affected areas.
Top recommendation? Don't.
[Reuters]
Dominic Gwinn
Dominic is a broke journalist in Chicago. You can find him in a dirty bar talking to weirdos, or in a gutter taking photos.