Congressdolt Louie Gohmert: Iraq War Was A Mistake Because Obama Has Boner For Our Enemies
Featured
May 21, 2015 08:30 AM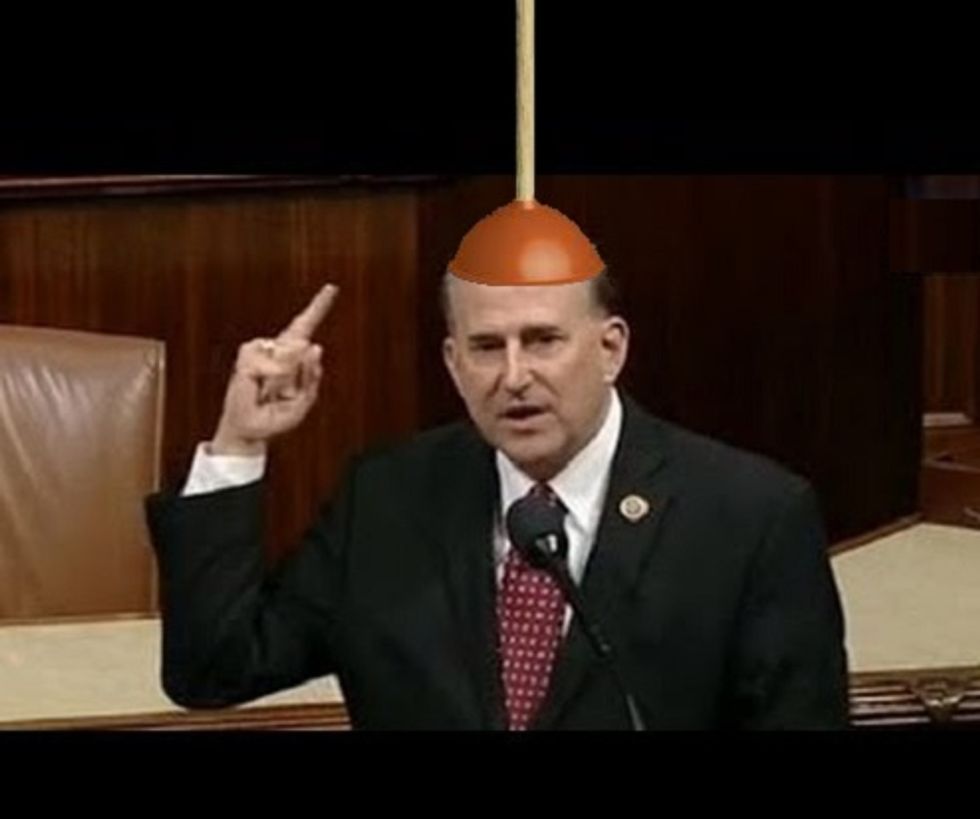 Texas congressoaf Louie Gohmert offered a new variation on this week's popular "Was The Iraq War A Good Idea" theme Tuesday, explaining that if George W. Bush had only known he'd be succeeded by the Very Bad President Barack Obama, he never would have invaded Iraq, because Barack Obama loves ISIS and wants to gay-marry ISIS and have a bunch of ISIS terrorist babies with ISIS.
---
[contextly_sidebar id="aSS3xcZHh1Eg4zsYMEbaiCpwdUFAkl8r"]
In an interview with rightwing Virginia radio talker John Fredericks, Gohmert explained that he wasn't about to support an Authorization for Use of Military Force (AUMF) against ISIS in Syria and Iraq, because Obama, Obama, Obama, and also Obama. You'd think that maybe a Constitutional scholar of Gohmert's caliber would actually be pretty big on exercising Congress's war powers authority, but no, Louie would rather that the President continue to pretend that the 2001 AUMF that authorized the wars in Afghanistan and Iraq also applies to the military actions that have been underway against ISIS since September.
[contextly_sidebar id="N4RxoDpd3yrFYvs8FNo3tACl9h44VuDZ"]
The new authorization, sponsored by Sen. Tim Kaine (D-Virginia), is simply not needed, Gohmert explained, because
"the president has all the authority he could possibly need" in the broad AUMF passed in 2001 and that the proposed new AUMF would "help tie his hands in ways a good president would not need."
But in addition to being too restrictive, a new AUMF would also give Barack Obama too much authority to do his dirty deeds, because he is just a sneaky guy like that! "I don't trust this administration, I don't want to give them any additional authority that Bush didn't have," Gohmert explained, with what passes for logic inside the titanium spheroid that comprises his cranial cavity.
The real problem, Gohmert pointed out, is that we have a President who isn't even on Our Side, and so we probably shouldn't even let him play with the tanks and planes and bombs at all:
So, thank you very much, Mr. Kaine, but you need to tell your buddy in the Democratic Party to actually start fighting our enemies and quit helping our enemies and help our friends instead and quit worrying about a new AUMF. He would be able to defeat ISIS if he just starts helping our friends and stops helping the enemies.
In fact, despite the existence of the War Powers Act, which requires Congressional authorization for military actions, Gohmert insisted that pursuing a new AUMF was nothing more than a distraction, because the real problem is that there's a Muslim in the White House: "That AUMF, it's a red herring, it's a crock," because "The problem is the president's on the wrong side. That's the real problem."
[contextly_sidebar id="AzzzfrV4VqmLVEKt3sHt3zSOSHOPtknl"]
Gohmert was on a roll now, and there was no stopping him, although he was remarkably nonspecific about who the "right people" and "wrong people" are in Iraq and Syria:
I mean, seriously, John, you think a new AUMF is all of a sudden going to give us a president that will fight with the right people over there and win over there, really?

Everybody else wants to ask that question of, "Gee, would you have gone into Iraq if you'd known what you know now?" And I think if President Bush had known that he would have a total incompetent follow him that would not even be able to negotiate a status of forces agreement with Iraq and start helping our enemies and just totally put the Middle East in chaos, then he would have to think twice about doing anything if he had known he would have such a total incompetent leader take over after him. That should be the question.
So apparently the right people are the government of Iraq -- which wanted US Troops out in 2010, so maybe they're the wrong people, too. And Obama's bombing ISIS, but not enough, plus there's a whole bunch of enemies that he's too cozy with, although Gohmert can't name them -- probably ISIS, because the bombings are just a clever ruse -- and if only Obama would show some leadership, the Middle East would be an orderly place, the way it used to be before Barack Hussein Obama took office.