Hero Conservatives Will Fix Stupid Framers' Dumb Constitution
Featured
January 16, 2015 09:05 AM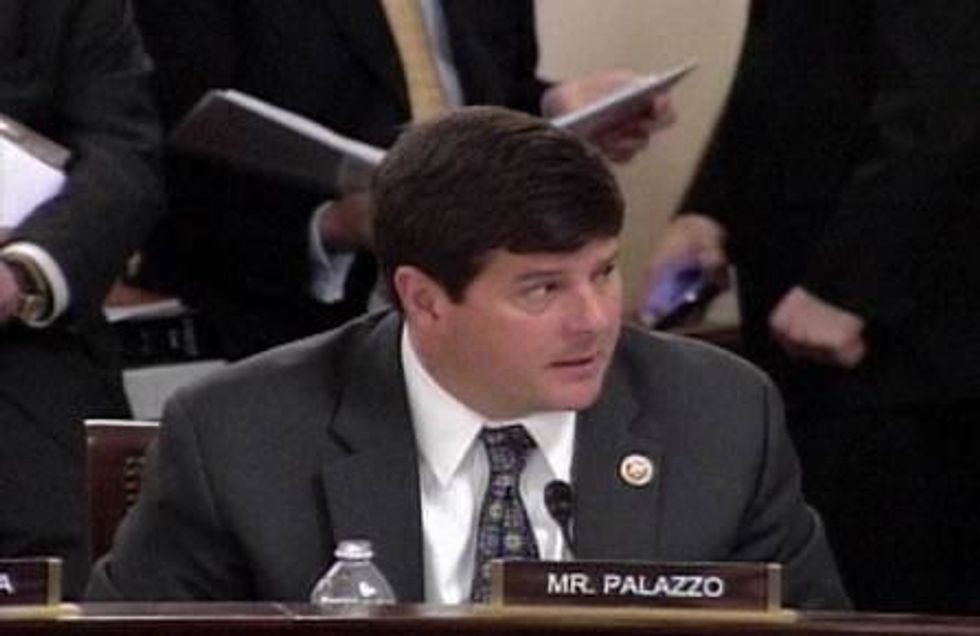 ---
Trivia question from the first week of the 114th Congress: What percentage of proposed changes to the United States Constitution were filed by members of the Constitution-waving, original intent-spouting, Founding Father-worshiping Republican Party?
If you guessed lower than 100 percent, you obviously underestimate the nuttiness of the GOP. Apparently they believe they were sent to Washington to uphold the Constitution by rewriting it.
Through Monday, 20 Joint Resolutions proposing Amendments to the United States Constitution had been officially filed. Every one was sponsored by a Republican.
Eight of them seek that old conservative standby, the balanced-budget amendment – clearly meant to protect Republicans from themselves, the party that has been primarily responsible for budget deficits. Rep. Bob Goodlatte (R-VA) and Rep. Vern Buchanan (R-FL) have each filed two versions, and Sen. David Vitter (R-LA), Rep. Bradley Byrne (R-AL), Rep. Leonard Lance (R-NJ), and Rep. David Schweikert (R-AZ) have also submitted proposals. Vitter has 10 co-sponsors in the Senate (all Republicans), and one of Goodlatte's has 41 co-sponsors in the House. A ninth proposal, from Tom McClintock (R-CA), would take a different approach, by requiring a three-fourths super-majority to increase the debt.
None of them have proposed an actual balanced budget, mind you, which would be their prerogative under the current version of the Constitution.
Another seven proposals go for Congressional term limits – another perennially popular idea for Republicans on the campaign hustings. At least, until they reach those limits; all the sponsors are seeking to rid Washington of those who have been there longer than they have. Rep. Andy Barr (R-KY) has 17 co-sponsors for his version, which would set caps at six consecutive terms in the House, and two in the Senate. Resolutions offered by Rep. Mick Mulvaney (R-SC), and Rep. Steven Palazzo (R-MS) would do the same. Rep. Mike Fitzpatrick (R-NJ) goes with four House terms; Sen. Mike Lee and Rep. Matt Salmon (R-AZ) say just three – . And Rep. Jim Bridenstine (R-OK) is noncommittal; his version would merely give Congress the authority to set term limits.
Surprisingly, only one proposal – so far – seeks to outlaw ObamaCare. That's Palazzo, who wants to add to the Constitution the line: "Congress shall make no law that imposes a tax on a failure to purchase goods or services." That's a direct attempt to overturn the Supreme Court's 2012 decision upholding the Affordable Care Act, which declared that the requirement to purchase health insurance is a tax on failure to purchase insurance (rather than a penalty). Palazzo thus far has just two co-sponsors, Rep. Gregg Harper (R-MS) and Rep. Doug LaMalfa (R-CA), agreeing with his plan to send the evil health care plan back to the hellfire from which it sprung. Speaking of whom: no word yet on whether the latest version of presidential candidate Mitt Romney supports this Amendment.
I would imagine that ultra-patriotic Romney would approve of the proposal from Rep. Steve Womack (R-AR), who goes for an old conservative stand-by: the scourge of flag desecration sweeping our nation's streets. Womack wants to amend the Constitution – and its silly First Amendment protections – to give Congress authority to prohibit physical desecration of the American flag.
But, I hear you asking, aren't any Republicans willing to take a stand for crazy conspiracy theories about jackbooted international police coming to seize guns under a clause in an international treaty? Fear not. Rep. John Culberson (R-TX), worried that the US is on the verge of ceding its sovereignty to international forces, would amend the Constitution to assert that "No treaty, Executive order, or any agreement with any nation or group of nations or any of the provisions of such agreements, shall be construed to diminish any of the rights or privileges guaranteed to citizens of the United States under the Constitution of the United States, and Federal law." Most legal experts will tell you that the Constitution already guarantees that, but they probably went to socialist law schools, so you can't be too careful.
But I'll give the last word, for now, to one of Wonkette's favorite Tea Party superstars, Rep. Steve King (R-IA). His proposal is a simple one: repeal the 16th Amendment. That's the one that gives Congress the authority to tax your income. Federal income taxes have had a good 100-year run, King figures.
If you don't see your favorite conservative attempt to rewrite the Constitution above, don't fret: This is only the first week's worth of filings. Plenty more to come.
Follow David S. Bernstein on Twitter (@dbernstein)