Corey Lewandowski, Who Has Absolutely No Skeletons In His Closet, May Run For NH Senate
Post-Racial America
August 15, 2019 12:53 PM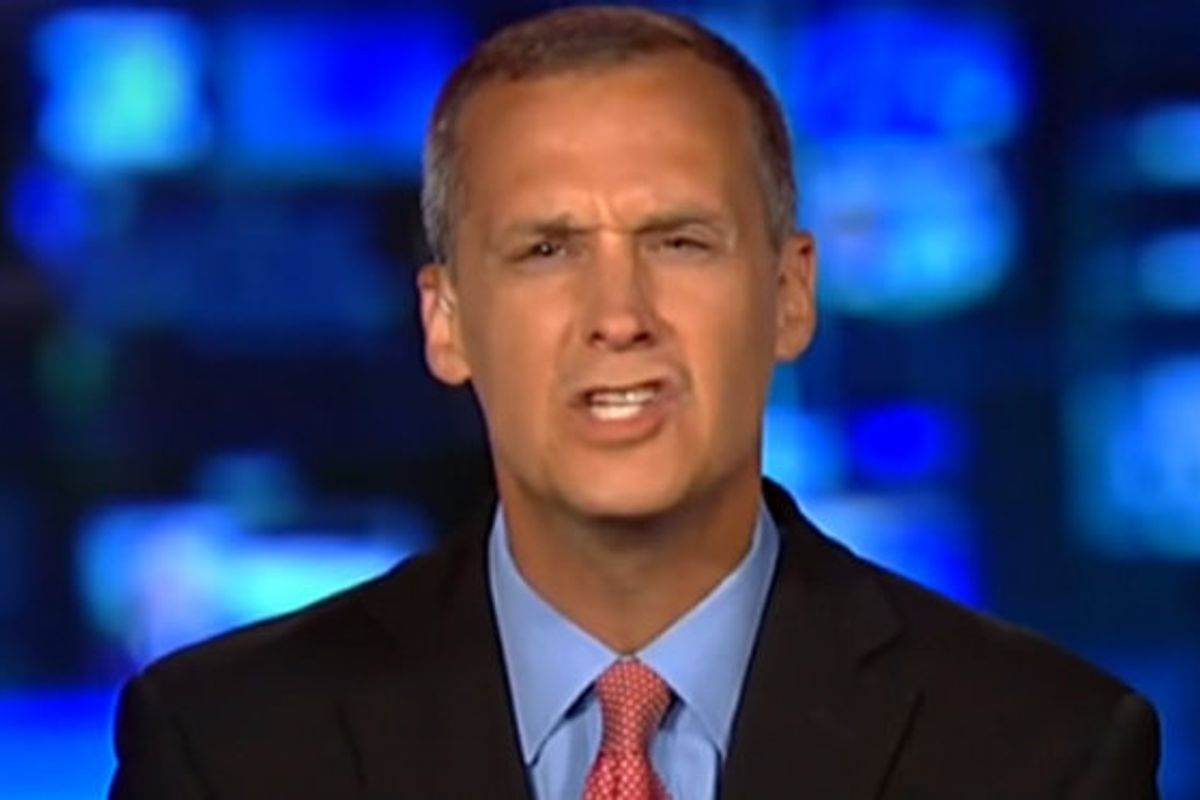 Fox News screenshot
Ye gods, not Corey Lewandowski! It would be so terrible if he decided to challenge New Hampshire Democratic Senator Jeanne Shaheen next year. With his formidable resume and endorsement by Donald Trump, he'd be a shoo-in!
Sure this scrappy conservative's political career got off to a rocky start with his 7,157-7 loss in the 1994 Massachusetts House of Representatives race. But look how much he improved his margin by 2012 when he only lost the race to be treasurer of Windham, New Hampshire by, 1,941-714. All he does is win!
Well, except for that time in 1997 when he forgot about the loaded handgun in his laundry bag and got arrested and charged with a misdemeanor when he tried to bring it into the Longworth House Office Building. Who carries a loaded handgun in a laundry bag? Who brings his laundry to Congress? Corey Lewandowski, that's who!
---
And Corey Lewandowski will be able to bring it to Senator Shaheen right where she lives, which is with a Lebanese-American husband. Like when he worked on Republican Senator Paul Smith's primary campaign against Lebanese-American challenger John Sununu, and wondered whether anyone from Hamas attended a Sununu fundraiser. Smith lost that race, but Senator Shaheen must be shaking in her pumps!
Plus, New Hampshire reporters love a real manly man who isn't afraid to put his hands on a woman. Like the time he grabbed then-Breitbart reporter Michelle Fields and practically threw her on the ground when she tried to ask candidate Trump a question after a press conference. Or that time Trump-loving singer Joy Villa filed a police report accusing him of slapping her ass at a party on November 28, 2018. When she said she could report him for sexual harassment, he's reported to have laughed, said "Go ahead, I work in the private sector," and slapped her again. EL-OH-EL!
Plus, the guy is just hilarious. Watch him totally shut down some sob story about a 10-year-old girl with Down Syndrome being separated from her mother and put in a cage.
"Womp, womp" former Trump campaign manager Corey Lewandowski says on Fox News during a discussion about a migrant g… https://t.co/KH6FAZ7bud

— MSNBC (@MSNBC) 1529457019.0
You can't buy publicity like that. Especially after your speaker's bureau fires you. Luckily, Lewandowski had all his cash from payday lenders and allegedly unregistered foreign lobbying to fall back on.
Take it from Lewandowski's business partner David Bossie, currently on a timeout from Fox for moving his hustle in on the Trump campaign, Corey is going to kick ass in the New Hampshire Republican primary. That's why Bossie recruited Trump's pollster Tony Fabrizio, the one who was ass-deep in Paul Manafort's kickback scheme with the Trump election PAC, to run some numbers and share them with Politico. And hey, what do you know, of those 400 Republicans a whole 37 percent had a favorable view of Lewandowski! He was, however, leading the two other guys who've thrown their hats into the ring already so, obviously Fabrizio was giving Politico his unbiased assessment when he gushed, "Corey Lewandowski would enter the race as the GOP front-runner — leading the field by double digits due to his stronger personal ratings. He could clearly see his lead expand even further with an endorsement from President Trump, who is extremely popular with these GOP voters."
Ask and ye shall receive, my son.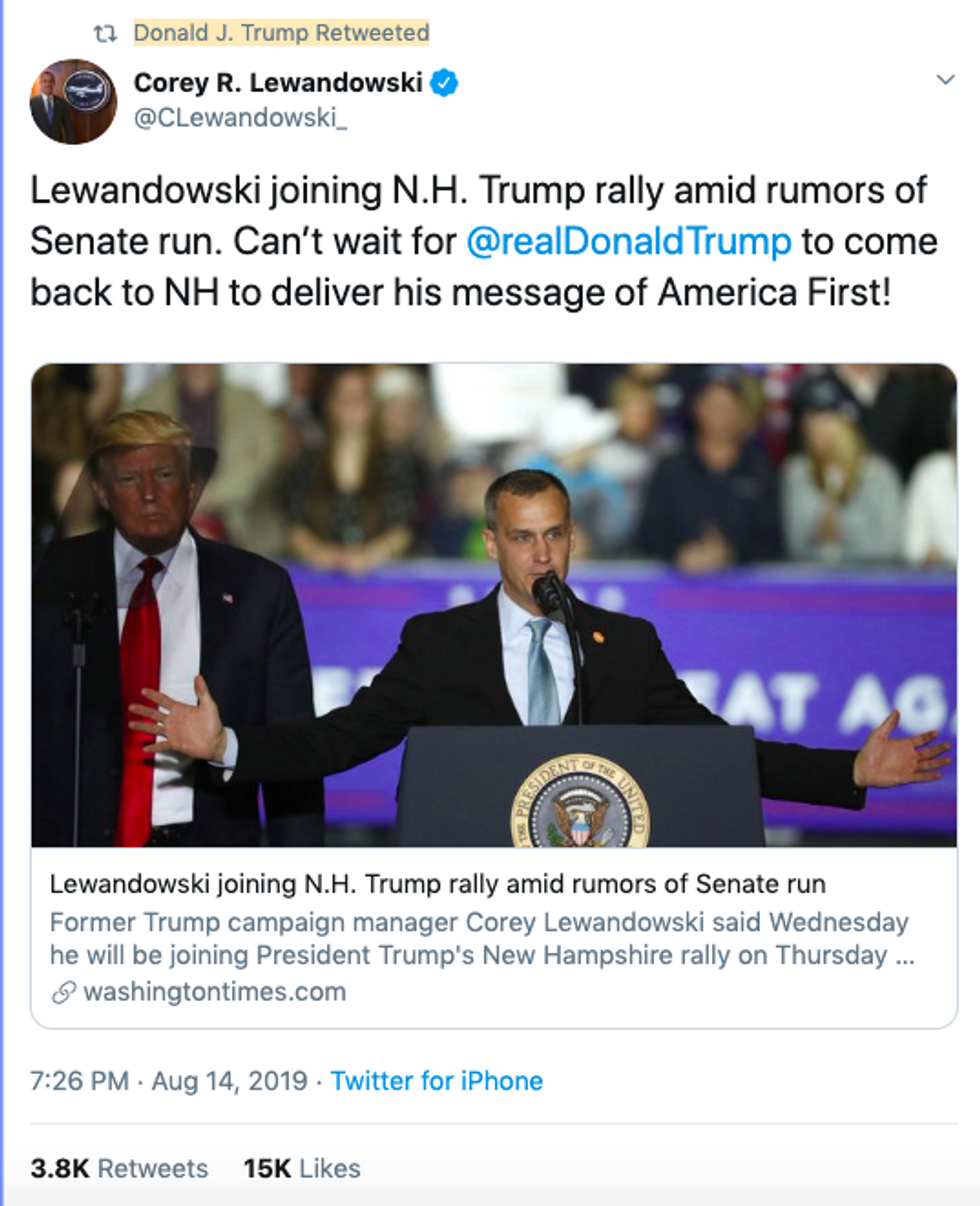 Poor former governor and current Senator Jeanne Shaheen, who got elected seven times by the people of New Hampshire, including hanging on in 2014 when the Democrats lost nine Senate seats. She must be so worried about squeaky clean family guy Corey Lewandowski entering the race. How can she compete against a married man with four children who had an affair with Hope Hicks and then allegedly leaked damaging info on her wife-beating new boyfriend Rob Porter out of spite? Does Jeanne Shaheen have that kind of amazing judgement? Sadly, we think not.
Oh, noes! Please, Corey, don't run for Senate. Anything but that!
[Politico]
Follow Liz (AKA your FDF) on Twitter!
Please click here to fund your Wonkette, who promises to stay here snarking and never run for public office!
Liz Dye
Liz Dye lives in Baltimore with her wonderful husband and a houseful of teenagers. When she isn't being mad about a thing on the internet, she's hiding in plain sight in the carpool line. She's the one wearing yoga pants glaring at her phone.