Corker, Conway And Santorum: The Unholy Trinity Of CNN's 'State Of The Union'
Elections
April 23, 2018 09:30 AM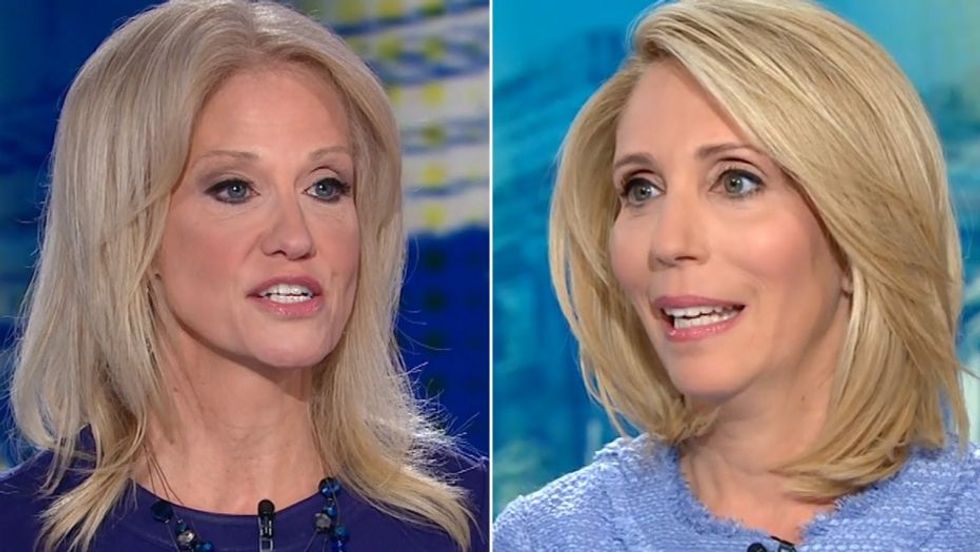 Hello, Wonks! Welcome to another round up of the dumbest things said on the Sunday shows this week! I subject myself to this so you don't have to.
---
Today's batch of dumb all comes from Sunday's CNN's STATE OF THE UNION with Jake Tapper, minus the Jake Tapper this week as Dana Bash was filling in. Up first is soon-to-be-former Senator of Tennessee, Bob Corker. Bob "Liddle" Corker is, of course, taking his "principled/complicit" ass out of the Senate as he faced a tough re-election. When he's not busy finding brief moments of sanity or starring in Jeff Flake's Senate Farewell Tour, he's busy mustering the most tepid response for his would-be replacement: Infamously awful US Congresswoman Marsha Blackburn!
To Corker, Marsha Blackburn is the "Nominee That Shall Not Be Named." But while it's okay to laugh at Corker's level of petty and Blackburn's unlikability, note that Corker is telling constituents they should vote for her because SHE WILL vote for Mitch Motherfucking McConnell! So … the sales pitch is "Vote for this Crazy Wingnut because she will vote for the 'amazing leadership' of Mitch McConnell"?? You know, the reason the Senate does not work and Mueller can be fired any second? THAT Mitch McConnell?! I've seen better choices in SAW movies.
Next we have our returning champion to this segment, Former Senator and fighter of "Blah People" … Rick Santorum!
On this panel Santorum does what he does best now: repeat the lies told by the White House in an effort to distract from the shitshow. This week he trotted out this gem:
SANTORUM: And I would say President Trump has done more to help working men and women than any president in recent memory. The reality is tough talk on trade is actually paying off. His tough talk on North Korea is actually paying off.
The splendor of the Tax Cuts! We are all just swimming like Scrooge McDuck now!
Except the reality never matches up to the fantasy that "trickle-down/supply side" economic morons like Santorum always try to pass. The only relief is Dana Bash reminding Ricky how he got the "Former" in front of "Senator":
I will treasure his look of Santorum feeling that old wound always.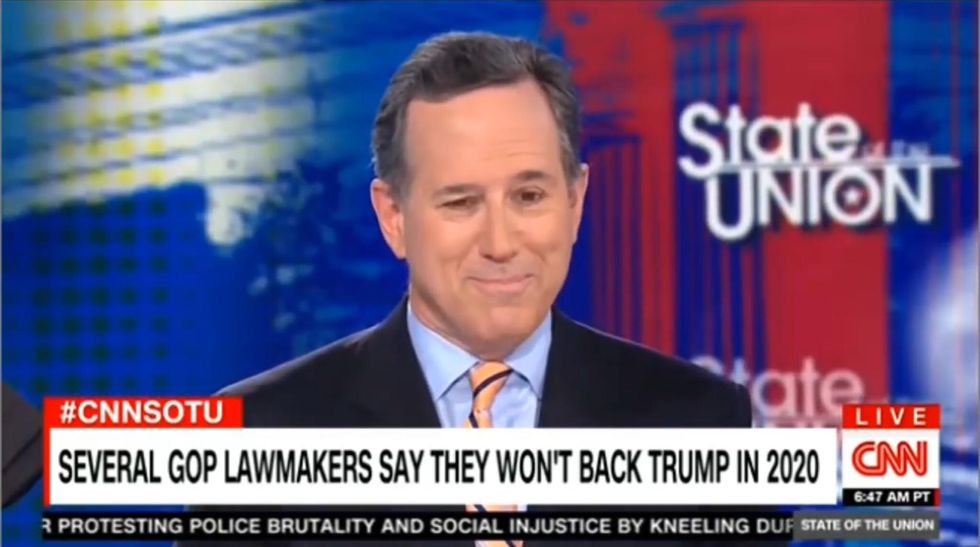 Finally, we end on the moment that was the undisputed highlight! Counselor to the President, alternative factchecker,Bowling Green Massacre survivor and "Final Form Tomi Lahren" ... Kellyanne Conway! She was dusted out of whatever White House cubby she resides in and sent out there to sling that patented bullshit for which she is so rightly famous.
It is all "Coming Up Conway" until Dana Bash asked a simple question about her husband, attorney George Conway, and his tweets criticizing Donald Trump. It is then that Kellyanne switches over to Kellywise and begins what is essentially a minor meltdown on CNN:
The most enlightening part is when, in her feigned outrage, Kellywise may have revealed why she was so incensed at the mentioning of her husband:
Kellyanne Conway: Let me just tell you something.

By definition, spouses have a difference of opinion when adultery is happening.

Dana Bash: I could not agree more.

Conway: By definition, spouses have a difference of opinion when one is, I don't know, draining the joint bank account to support things that maybe the other disagrees with.

So, this is a fascinating cross the Rubicon moment. And I will leave it at that....
Oh, Kellyanne. I would normally feel bad for her and agree spouses are "off limits," but Kellyanne and her boss have no problem going after others' spouses like Andrew McCabe's wife, Jill.
Even though shortly after this exchange the tweet shown by Dana Bash magically disappeared, it seems George Conway is still continuing his opposition from a very uncomfortable couch.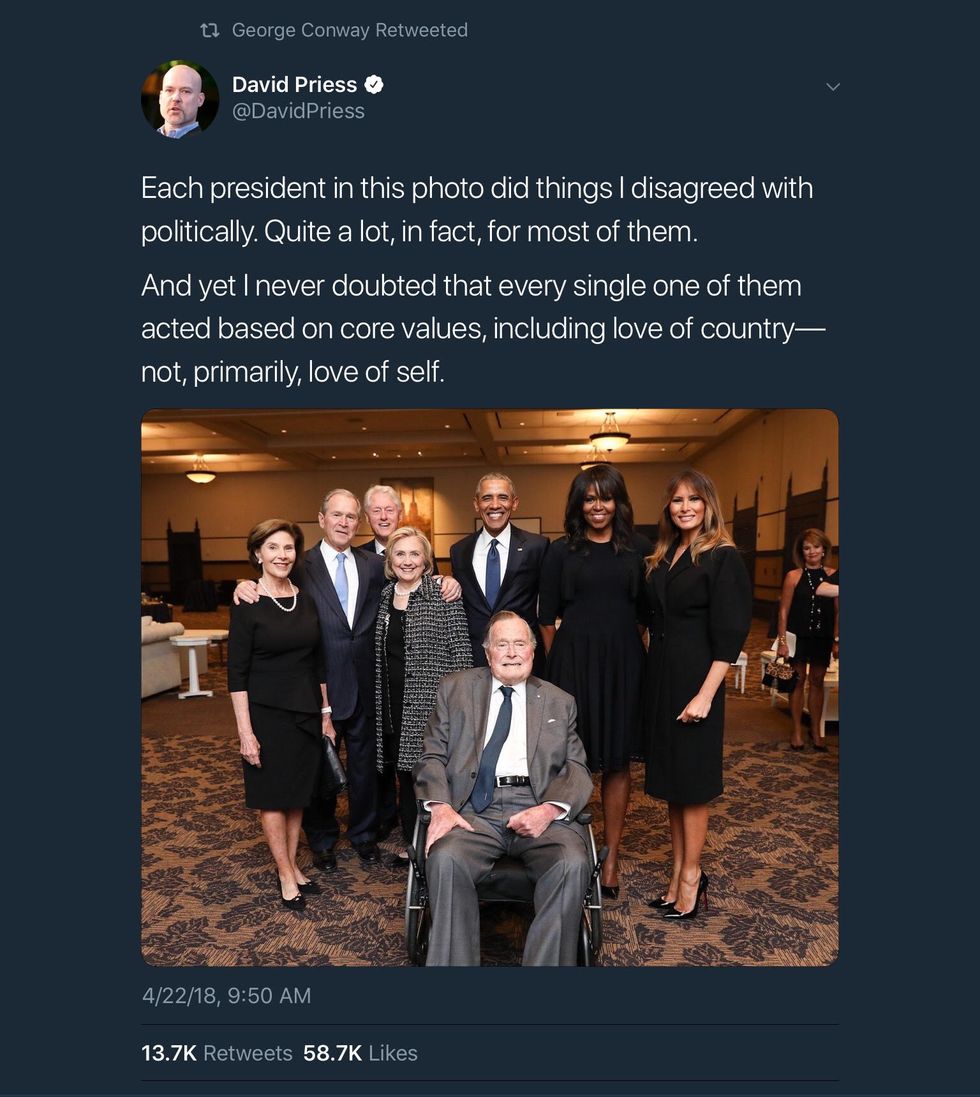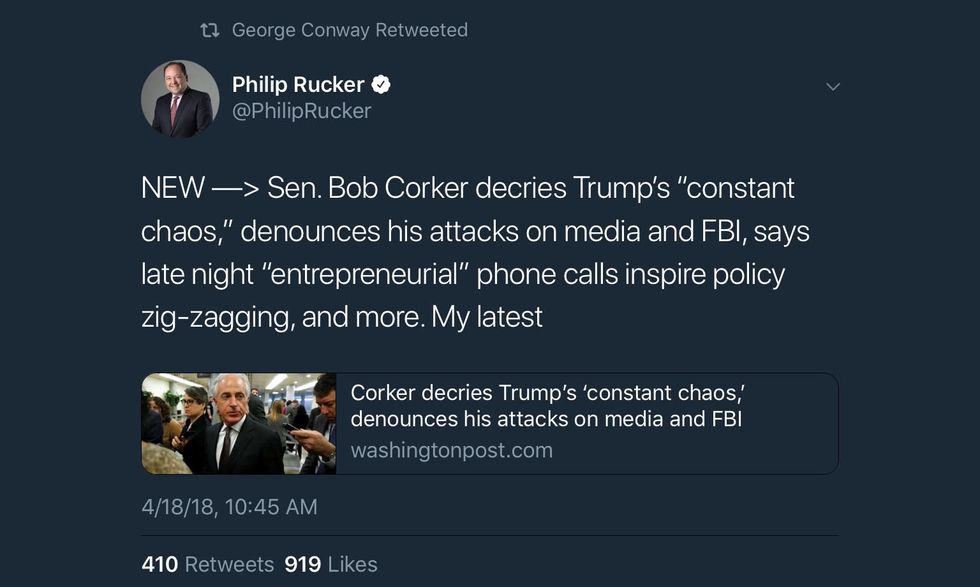 So that's it for this week's CNN State of the Union wrap-up! Join me next week for more Sunday show shenanigans! Remember, if we survive one more week, we get to see a weird colored tyrant looking to remake the world in his flawed image get opposed by a ragtag, multicultural resistance ... and also watch Marvel's Avengers: Infinity War!
Michael Mora
Your friendly neighborhood Puerto Rican Political Freelance Writer for @wonkette. Pop Culture observer, Amateur Movie reviewer & Comics fan. Former Active Duty Marine. All opinions are mine only.