Creationist Dickbag Sure Sorry That Sinful Slut Gorilla Had To Die
Science
June 02, 2016 03:28 PM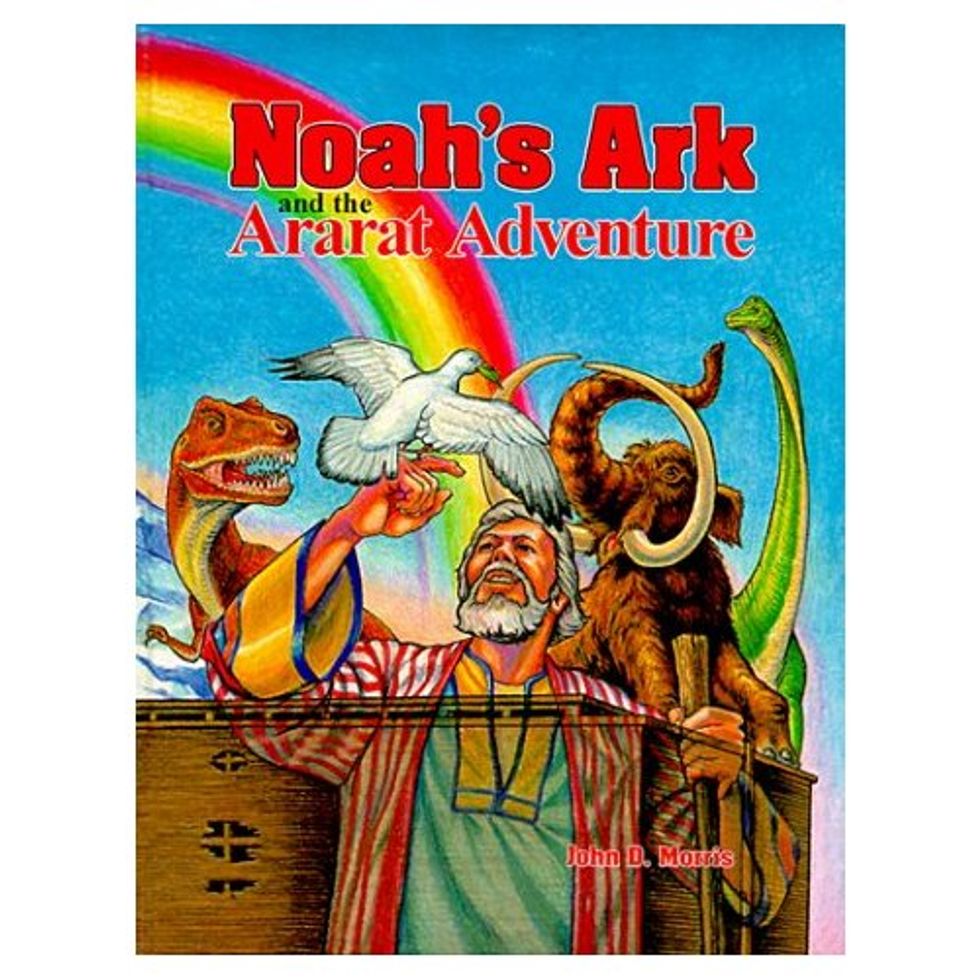 NO WHORE GORILLAS ALLOWED.
---
Well, well, well, what a week it's been with all these Helpful Wingnut Americans sharing their opinions on Harambe the silverback gorilla, whether he shoulda got shot, whether the mother of the child who fell into the gorilla enclosure is simply an unfit mother, or whether she's also a known black lady, who is also an unfit mother. (SPOILER: for wingnuts, it is the second thing.)
Rush Limbaugh helpfully offered his argument for why Harambe's death completely disproves evolution -- because if evolution is real, Harambe wouldn't have even been a gorilla! And now we have Ken Ham, the Australian creationist dingbat who's building that Ark Encounter theme park in Kentucky, where children and adults alike can go to learn THE REAL TRUTH about how Noah's ark was full of Jesus dinosaurs.
Ham has thoughts on the gorilla. BIBLE thoughts. He lists four Bible verses, and explains how they apply to how zookeeping:
[S]in has affected the entire universe and all life, including the behavior of gorillas!
Rumor has it some gorillas even like to make gay sex at each other. Is it because of science? NO SILLY, it is because Eve (who was real, dammit!) ate a piece of fruit from the Tree Of Buttfucking Knowledge, which infected the whole universe with gay. Or something.
The young boy (unlike the gorilla, which is just an animal) is made in the image of God and is a human being who has a soul that will live forever.
That monkey's NOT gone to heaven, is what he's saying. The boy MIGHT get to go, as long as he becomes a young earth creationist. No for real, Ham actually says later that he "hopes" the kid accepts Jesus one day, because you know what happens otherwise. (HELL, IT IS HELL.)
(And yes, dorks with no sense of humor, we know gorillas are not "monkeys." Go the fuck away.)
We cannot impose human emotion/morality on a gorilla -- it is not made in the image of God. We should not anthropomorphically assume that the gorilla's decency would have kept him from harming the boy in the enclosure had the zoo professionals not intervened so quickly.
Never mind how scientists have studied animals -- including the ones that allegedly pooped and fucked on Noah's ark! -- and found that many of them have emotion and a sense of right and wrong, especially apes. Those are liberal lies, because how can you even know right or wrong if you don't have a pissed off God breathing down your back, telling you what to do?
(We are not saying what the zoo did was wrong or right, just jamming a stick in the eye of Ken Ham's idiot-ass logic.)
Because we live in a fallen world, sin has affected everything, including gorillas and three-year-olds.
We guess he's saying that all gorillas and three-year-olds are whore strumpets in their own way.
Ham concludes his Bible Reasons by stating that THEREFORE, since that gorilla was just an animal "accursed by sin," we should protect the kid.
Which ... how the fuck do we need Bible Reasons to tell us to protect that kid?!
Oh here's why! Because you, who are godless scum just like that gorilla, probably haven't even thought of how this ties into abortion:
It's also a reminder to me of the people who complain about an animal dying but inconsistently support or condone the murdering of 58 million children by abortion in America since Roe v. Wade!
Because that's the same.
This concludes Bible Study with Ken Ham. Now if there are any here who are not 100% certain they will go to heaven when they die (at the hands of an evil slut gorilla, or of natural causes), please come down to the altar and pray this magic prayer ...
Evan Hurst
Evan Hurst is the managing editor of Wonkette, which means he is the boss of you, unless you are Rebecca, who is boss of him. His dog Lula is judging you right now.
Follow him on Twitter RIGHT HERE.