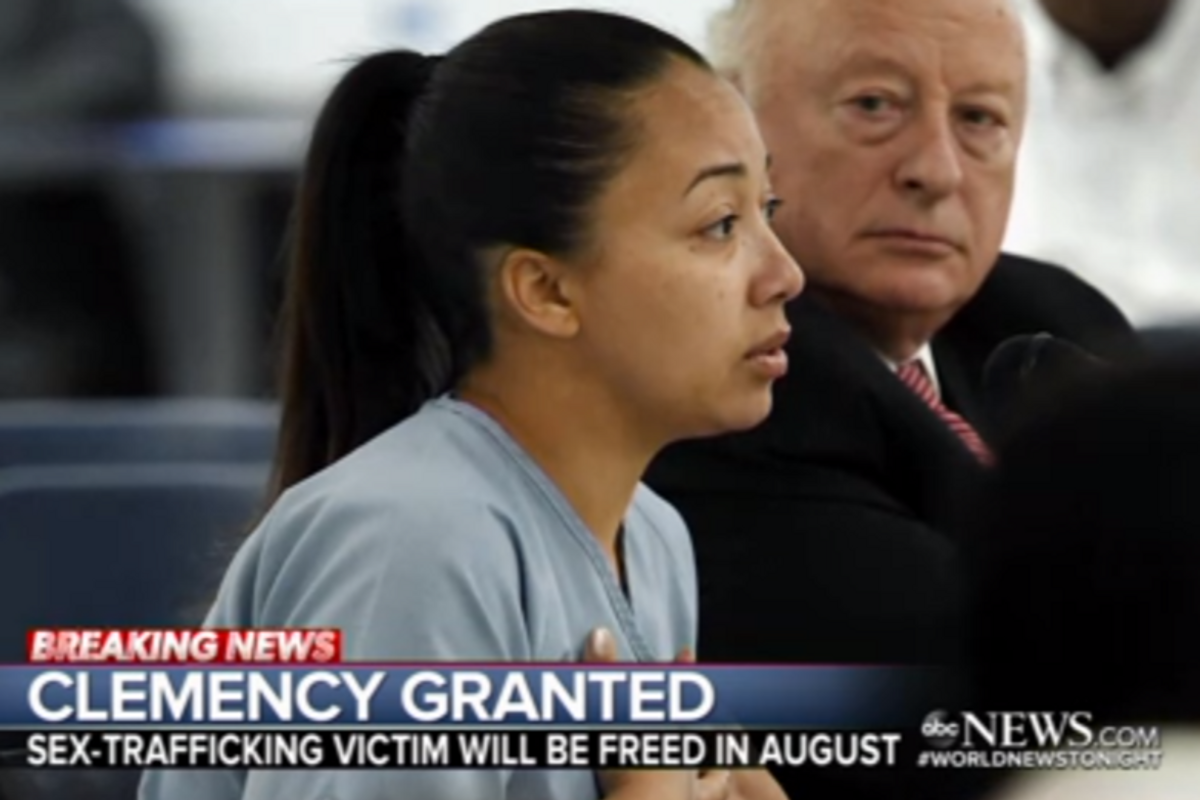 Cyntoia Brown's journey through the criminal justice system is finally coming to an end. She will be released after 15 years in prison, because, mercifully, outgoing Tennessee Governor Bill Haslam (a Republican) has granted her request for clemency. "Justice" is supposed to be foundational to our nation; we are taught from the time we are small that justice, liberty, and freedom are not simply words we say, but a fundamental part of American life, especially within our legal system. We were lied to. Justice doesn't exist until we create it.
We first witnessed Brown's struggles with American justice in Dan Birman's documentary detailing her case -- she killed a man who was raping her when she was a child sex-trafficking victim -- her crime, her trial, and her subsequent incarceration.
Hear Brown herself recall the night that changed the course of her life:
Convicted of first-degree murder and aggravated robbery, Brown -- although a minor and a victim herself -- was sentenced to 51 years to life, and would not be eligible for parole until the year 2055. Faced with what amounted to a life sentence at the age of 16, Brown began her quest for clemency.

---
"Cyntoia Brown committed, by her own admission, a horrific crime at the age of 16," Governor Haslam said. "Yet, imposing a life sentence on a juvenile that would require her to serve at least 51 years before even being eligible for parole consideration is too harsh, especially in light of the extraordinary steps Ms. Brown has taken to rebuild her life."
Brown has had what prison staff consider to be an "extraordinary personality transformation," and finds ways to be involved with the community and to help others even from within the wall of the prison.
While in prison, Ms. Brown earned her high school equivalency diploma and an associate degree, with a 4.0 G.P.A., from Lipscomb University's LIFE program, which allows prisoners in the Tennessee Prison for Women to work toward a degree. She is continuing her education and is expected to earn a bachelor's degree in May.
Ms. Brown said she hoped to "live the rest of my life helping others, especially young people."
As the governor said, "Transformation should be accompanied by hope," and Cyntoia Brown had transformed her entire life.
Brown's case may now bring hope back into the lives of other young people tried as adults and sentenced to extraordinarily long terms in prison.

Bishop Joseph W. Walker III of Mount Zion Baptist Church in Nashville said in an interview that he had had a "moral conversation" with the governor, and that he had counseled Ms. Brown while clemency was being considered. He said the governor had heard from both sides.

Ms. Brown's release "represents a win, and restores hope for so many brown and black people," he said.
Indeed, events like this often serve to refill the reservoirs of hope within minority communities, but in our "racially tinged" country, it's still more than "tinged" with bitterness. How many other victims of sex crimes like trafficking and sexual slavery are facing similar circumstances? With the way our society judges black skin most harshly of all, there have to be more Cyntoia Browns in our prison system, foolishly hoping for a similar opportunity. Black America has been raised and nurtured on hope. From "Keep Hope Alive!" to "Hope and Change," hope has carved a permanent place in the collective black soul.
But the hope we have is always mindful of the struggle it will take to one day bring our dreams to fruition. Hope is a way to challenge yourself to change things for the better. Hope should be an activating force, something to help propel you forward as you continue along a road that is nearly always long, hard, and humbling. We hope this nation finds the empathy to care about us far more than it does; how much longer will it take for us to receive equality and justice for all?
[Tennessean / NYT]
Wonkette is ad-free, independent and relies solely on readers like you. Thanks for reading!
Wonderbitch
Follow Wonderbitch aka Bravenak aka Bianca DeLaRosa, loves her jobs as Social Media Manager for Wonkette more than Sarah Huckabee Sanders loves lying to America. Bianca also moonlights as a Witch (THE BAD KIND!!) and is a Freelance Goddess of All Things Ever. Be very nice her because she likes to curse people, especially mean people. You can find Bianca on Twitter @Wonderbitch81, or email her at bianca@wonkette.com