Judge Tells Acting Chad To Go Hang
Immigrants
November 17, 2020 03:17 PM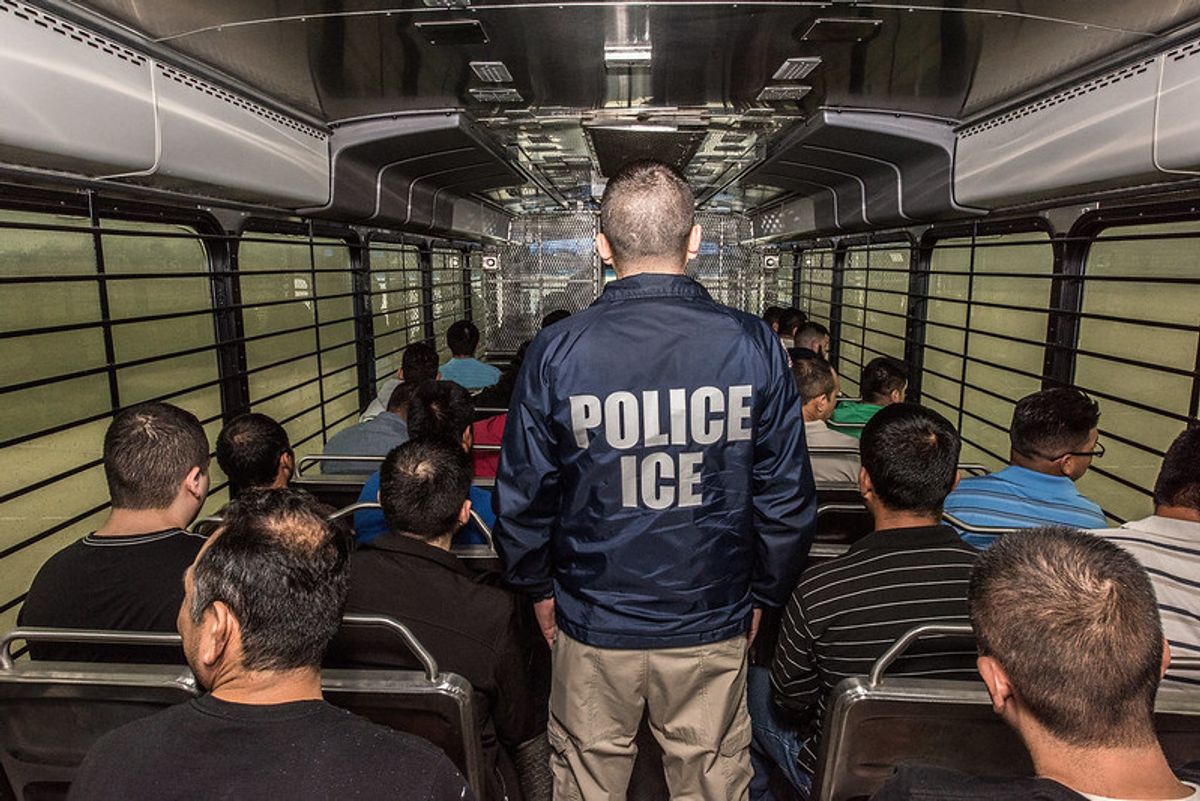 Last weekend, Eastern District of New York Judge Nicholas Garaufis shot down the Trump administration's latest assault on Dreamers and the Deferred Action for Childhood Arrivals (DACA) program.

Ruling in a duo of cases, Batalla v. Wolf and State of New York v. Trump, Judge Garaufis found DHS chief Chad Wolf "was not lawfully serving as Acting Secretary of Homeland Security" when he issued a memo suspending DACA last summer.
For those keeping count, this is at least the seventh time a federal court has struck down Trump's attempts to fuck over Dreamers.

---
Let's break this down
It took a whole bunch of racism and Trump fuckups for us to get to this point. Since the first time Trump tried to demolish DACA the year he took office, he has gotten smacked down by federal courts again and again.

Trump and his goons first tried to get rid of DACA In 2017. That rescission — Trump's attempt to get rid of DACA by repealing Obama's executive order creating the program — was struck down by the Supreme Court on June 18 of this year, when the Supreme Court ruled that it had been so incompetently handled that it was actually illegal.
Rather than use this opportunity to reinstate a policy that is supported by the vast majority of Americans — or screw over immigrants in a different, legal way — the Trump regime simply decided to double down. And, the next month, Acting Chad issued a memo mandating that DHS employees:
(1) reject all pending and future initial requests for DACA;

(2) reject all pending and future applications for advance parole — necessary for DACA recipients to leave and re-enter the United States — absent exceptional circumstances; and

(3) require DACA recipients to renew their status under the program annually rather than every two years.
As Judge Garaufis noted, this action "effectively suspended DACA[,]" once again making the fate of more than 640,000 Americans uncertain.
The fall of Acting Chad
Acting Chad is far from the only person to rule an agency without being nominated or confirmed to the position. Trump has frequently used temporary appointments to avoid Senate confirmation — from his Republican Senate — and make it easier to replace officials who do not immediately bend to his will. Of Donald Trump's five DHS secretaries, only two were confirmed by the Senate.
In August, the nonpartisan watchdog Government Accountability Office (GAO) found that Acting Chad and his acting deputy, Ken "The Cooch" Cuccinelli, had been illegally appointed to their positions.
The legislation that created the Department of Homeland Security, the Homeland Security Act of 2002, mandates the agency's order of succession for when a secretary leaves. Ignoring that, Trump decided to "let's just do it and be legends" and appointed a bunch of his evil henchmen.

The chain of illegal DHS appointments goes back to Kirstjen Nielsen's resignation in April 2019. Nielsen should have been replaced by Christopher Krebs, director of the Cybersecurity and Infrastructure Security Agency. Instead, Trump gave the job to Kevin McAleenan, then-commissioner of Customs and Border Protection. Before McAleenan resigned a few months later, he changed the DHS rules so Acting Chad would succeed him. Acting Chad then changed the rules again to appoint The Cooch.
After the GAO report was released, several lawsuits were filed to challenge Acting Chad's authority to suspend DACA. Judge Garaufis agreed with the challengers, finding that, because Acting Chad was "not lawfully serving" as acting DHS secretary, his memo "was not an exercise of legal authority."
DHS failed to follow the order of succession as it was lawfully designated. Therefore, the actions taken by purported Acting Secretaries, who were not properly in their roles according to the lawful order of succession, were taken without legal authority.
Trump finally, officially nominated Acting Chad for Secretary of Homeland Security in August, but Wolf has not yet been confirmed by the Senate. There is currently a renewed push by the Trump team to get Acting Chad confirmed before Trump is kicked out of the White House on January 20 — presumably so he can help Trump do some more evil shit on his way out.
So what happens now?
What this actually means for the nearly 700,000 Dreamers — young people who were brought to this country as children, and grew up as Americans — remains unclear. Judge Garaufis ordered the parties to brief him on the next steps. For their part, lawyers for the challengers celebrated the win and said they plan to move forward aggressively.
Karen Tumlin, one of the lead attorneys in the court case, said she and her team will be asking Garaufis to explicitly block Wolf's restrictions and order DHS to allow the newly certified class members to apply for the program. She said that's the only foreseeable outcome, since Garaufis ruled that Wolf did not have the authority to issue the July guidelines.

"Today's decision is another win for DACA recipients and those who have been waiting years to apply to the program for the first time," Tumlin, who founded the Justice Action Center, said in a statement.
In the order, Judge Garaufis also certified a class of around 1.1 million Dreamers who may be eligible for DACA protections. As noted by Politico:
The most immediate beneficiaries of the court ruling are likely to be immigrants who are eligible for DACA but did not apply before the Trump administration cut off applications in September 2017. The decision could also lead DHS to restore a DACA benefit the administration largely halted at the same time: the ability for Dreamers to leave the country and return, without losing their quasi-legal status and work permits.
Judge Garaufis also couldn't resist taking a swipe at the government's incompetence, saying
The court wishes the Government well in trying to find its way out of this self-made thicket.
Thankfully, it seems pretty clear that the government will be able to clear the brush and get out of this mess. At least, it will in a few months.
President-elect Joe Biden (damn, it's still really fun to write those words) has vowed to restore DACA protections for Dreamers when he takes office.
It sure will be great once these fascist racists finally leave office.
Here's the opinion:
Follow Jamie on Twitter!
Jamie Lynn Crofts
Jamie Lynn Crofts is sick of your bullshit. When she's not wrangling cats, she's probably writing about nerdy legal stuff, rocking out at karaoke, or tweeting about god knows what. Jamie would kindly like to remind everyone that it's perfectly legal to tell Bob Murray to eat shit.