David Duke Almost As Good At Debates As Donald Trump!
News
November 03, 2016 01:29 PM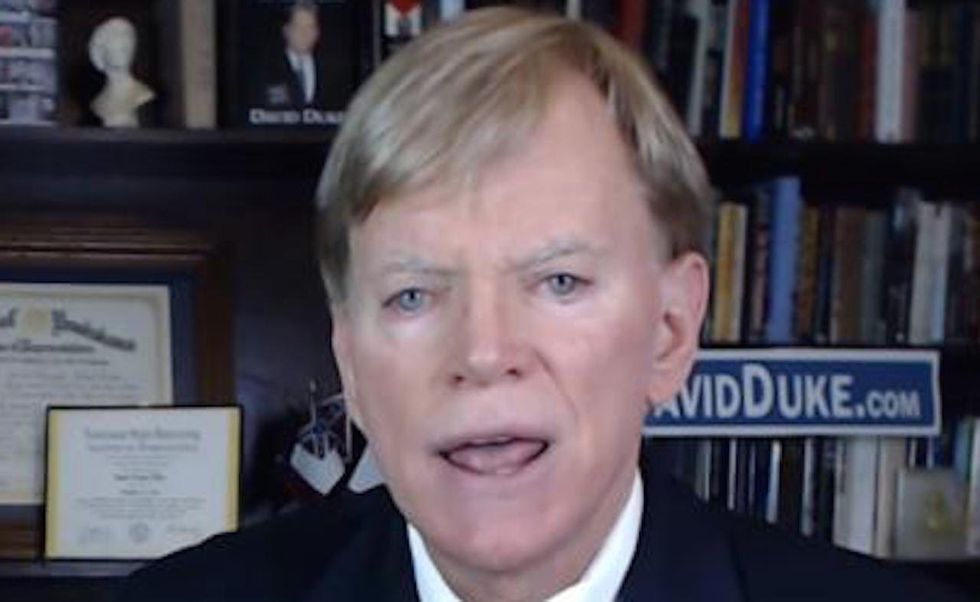 ---
David Duke, you guys! You know, he's that KKK dude who loves Trump very much, the guy Mike Pence refused to call "deplorable," because only mean ladies like Hillary Clinton call people that. Donald Trump couldn't denounce him either, because he had never heard of this newfangled "KKK" group. (Trump later "denounced" him and blamed his earlier comments on a bad earpiece, which makes sense, because Donald Trump just LOVES The Blacks and The Jews!)
Anyway, Duke is running for Senate in Louisiana, against one million other people, and he barely squeaked his way into qualifying for Wednesday's senatorial debate, held at the historically black Dillard University in New Orleans. What a great place for David Duke to hang out! There was no audience, though, just an empty auditorium, maybe because the sponsor of the debate, Raycom, was like "David Duke and a black audience, we're not sure if we can get that sort of event insured."
But the debate happened! It went off without a hitch, and David Duke did just great! Just kidding, he screamed and cried and hurled racism and anti-semitism and bitched and moaned about how NO FAIR the moderator was, and, as usual, he looked like he had been unexpectedly forced to leave his house for an emergency cross-burning before he was even REMOTELY CLOSE to being finished applying his drag queen make-up.
Lucky for us, Mediaite has posted a highlight reel of all of Duke's best behavior, for us to enjoy. Let's watch together and we'll tell you some highlights just below!
The moderator committed reverse racism against David Duke when he, during an open discussion section, dared to cut in and try to ask a follow-up question. This made Duke do a BIG TEMPER TANTRUM! We can't transcribe it all for you, because too much crosstalk (WATCH THE VIDEO, MORANS!), but we can give you the gist:
Would you not interrupt me? ... You're not one of the debaters here, I'm sorry, Mr. Snell! ... Let me rebut! Let me rebut! YOU'RE NOT A MODERATOR! YOU'RE A TYPICAL MEDIA HACK! YOU GONNA SILENCE ME NOW? YOU GONNA SILENCE ME? YOU'RE GONNA PREVENT ME FROM ANSWERING THIS QUESTION, BECAUSE YOU WANNA MAKE A POINT? ... I HAVE A RIGHT! I HAVE A RIGHT TO RESPOND! ...
Told you he was almost at good at debating as Trump.
When asked why he said something about the "CNN Jews" #rigging the media against Trump, he had another smart answer:
There is a problem in America with a very strong, powerful, tribal group that dominates our media and dominates our international banking.
TRIBAL LIKE A JEWISH?
But don't worry, it's not about the good Jews, the ones David Duke likes:
I'm not opposed to all Jews. I think there's a lot of great Jews! In fact, a lot of Jews, I honor.
DAVID DUKE HAS JEWISH PEOPLE, AND HE "HONORS" THEM. Will David Duke's Jews please email us at tips at wonkette dot com? On second thought, probably don't.
Anyway, his point was that he only hates the Jews that do international banking media conspiracies to make black people hate America. No, for real.
Also, Duke said Hillary Clinton deserves the electric chair, probably for all the murders she does, or maybe for emails, we don't know and we're not going to pore through the transcript to find out, because fuck David Duke.
[Mediaite]
Evan Hurst
Evan Hurst is the managing editor of Wonkette, which means he is the boss of you, unless you are Rebecca, who is boss of him. His dog Lula is judging you right now.
Follow him on Twitter RIGHT HERE.