David Perdue Embraces Trump's Big Lie That He Can Beat Stacey Abrams For Georgia Gov.
State/Local Politics
December 06, 2021 10:31 AM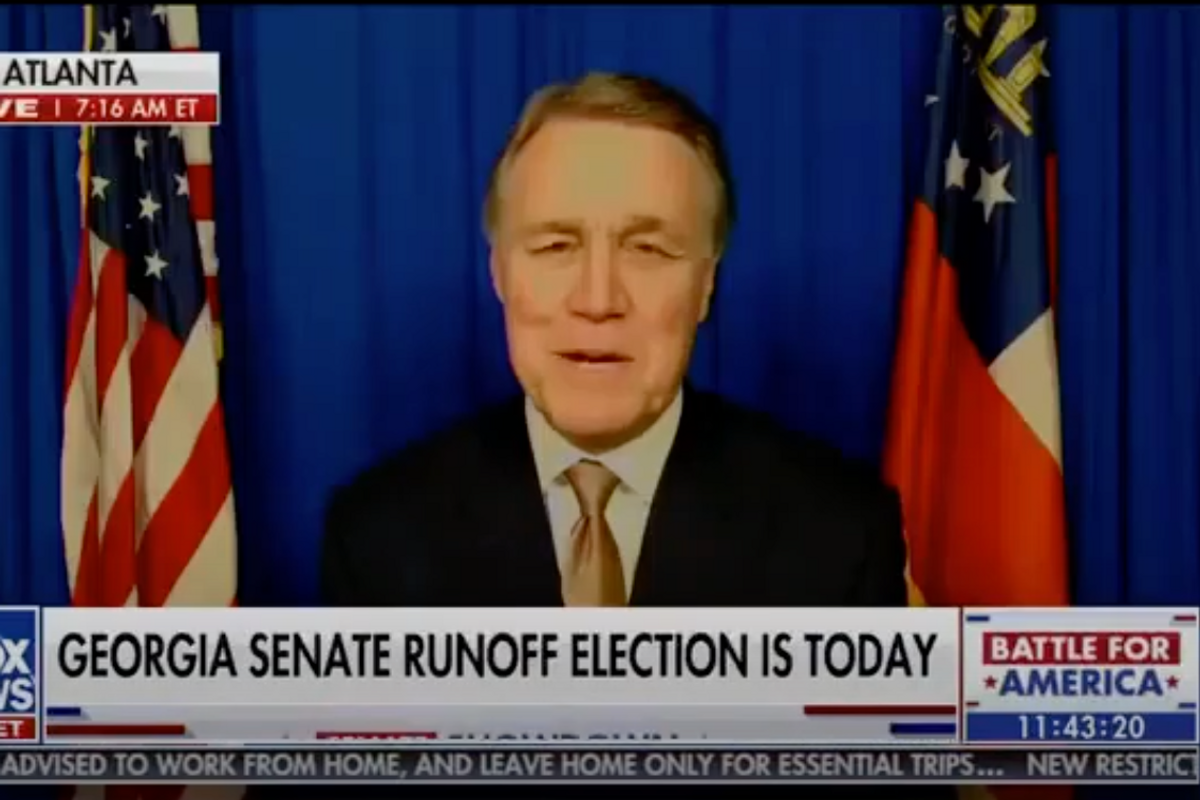 The Georgia governor's race has become the next stop on Donald Trump's revenge tour. He loathes incumbent GOP Gov. Brian Kemp, because Kemp wouldn't help him steal the election. This has created an opportunity for ambitious Republicans who have maintained the mad MAGA king's favor. Monday, former Senator David Perdue is expected to announce that he's challenging his old buddy Kemp for the GOP nomination.
Democrat Stacey Abrams announced her candidacy last week, and Perdue has reportedly told allies he's not confident Kemp can defeat her again. So, for the sake of all that's white in Georgia, Perdue must rise again from the ashes of his own decisive loss in January's Senate runoff.
What specific policies distinguish Perdue from Kemp? That's apparently not important. What matters is that Perdue isn't Kemp.
The Atlanta Journal-Constitution reports:
"We have a divided party in Georgia right now," Perdue recently said. "Forget about me. It's divided. And a lot of people feel like that people in power haven't fought for them and caved in to a lot of things back in 2020 that didn't have to be done."
"David Perdue 2022: FORGET ABOUT ME." It's a fitting slogan. You'll recall that he was too much of a coward to face Senator Jon Ossoff in a third debate last year.
---
Perdue implies that Kemp "caved" when he followed the law and certified Joe Biden's victory in the state. Kemp made a point of not endorsing the results, nor did he defend state elections officials, including GOP Secretary of State Brad Raffensperger from Trump's lies. That apparently still wasn't good enough for the MAGA mob. However, Perdue and equally former Senator Kelly Loeffler shamelessly jumped on the election fraud bandwagon. They even demanded that Raffensperger resign because he wouldn't pull a Trump victory out of his hat.
So, the Georgia Republican party is divided because Perdue helped divide it after Trump wouldn't accept his loss. Now, the only way the party can truly heal from the damage Perdue inflicted is for the party to back Perdue as governor. It's all very straightforward and sinister.
Perdue is the asshole who racistly referred to Vice President Kamala Harris as "Ka-MAL-a (sic), Ka-MAL-a or Kamala, Kamala, Ka-mala, -mala, -mala, I don't know, whatever."
Well that is incredibly racist. \n\nVote him out and vote for @ossoffhttps://twitter.com/ossoff/status/1317231042089111552\u00a0\u2026

— Sabrina Singh (@Sabrina Singh) 1602888178
Trump encouraged Perdue to run and is expected to publicly endorse him. He's already endorsed state Sen. Burt Jones in the GOP primary for lieutenant governor and attacked Jones's opponent, Senate President Pro Tem Butch Miller, for not doing enough to overturn Biden's victory. He's also backed Rep. Jody Hice's bid for secretary of state, presumably confident that Hice could find 11,780 votes for him.
Perdue had originally supported Kemp's re-election before the Big Lie, and Kemp said recently that he hoped Perdue would "be a man of his word" and not primary him. "David Perdue 2022: NOT A MAN OF HIS WORD" is another fitting slogan. It's also a given if Donald Trump's endorsing you for anything.
Kemp's campaign reportedly considers Perdue's run an act of betrayal that will trigger "total war." Shots were already fired from Kemp spokesperson Cody Hall:
"Perdue's only reason for running is to soothe his own bruised ego, because his campaign for U.S Senate failed to inspire voters at the ballot box — twice."
Hall's math here includes the November general election when Perdue failed to win a majority of the vote against Ossoff, triggering a runoff. Hall has a point that Perdue's recent track record of failure doesn't reflect well on his chances against Democratic icon Stacey Abrams. The reality is Joe Biden won Georgia, so the Republican nominee might need to flip some of his voters to win, because voter suppression only goes so far. That's how Glenn Youngkin prevailed in Virginia, and Kemp was hoping to follow that model rather than dwell on 2020.
Veteran Republican strategist Brian Robinson (no relation) compared the situation to General William Sherman's march to Savannah during the Civil War, which the AJC describes as "ruinous" but I consider a good time: "Sherman left more standing than this primary will."
The Abrams campaign naturally welcomes GOP's reality TV primary battle. Political strategist and Fair Fight Action CEO Lauren Groh-Wargo tweeted, "While David Perdue and Brian Kemp fight each other, Stacey Abrams will be fighting for the people of Georgia."
Here's Jon Ossoff handing Perdue his ass during a debate, because that's always fun to watch. Perdue ain't ready for Abrams.
[The Atlanta Journal-Constitution]
Follow Stephen Robinson on Twitter.
Do your Amazon shopping through this link, because reasons.
Yr Wonkette is 100 percent ad-free and entirely supported by reader donations. That's you! Please click the clickie, if you are able.
Stephen Robinson
Stephen Robinson is a writer and social kibbitzer based in Portland, Oregon. He writes make believe for Cafe Nordo, an immersive theatre space in Seattle. Once, he wrote a novel called "Mahogany Slade," which you should read or at least buy. He's also on the board of the Portland Playhouse theatre. His son describes him as a "play typer guy."