Dear Leader Knows Who Is Illegitimate, And It Is Supreme Court Ladies Who Hurt His Feelings
Trump
February 25, 2020 10:19 AM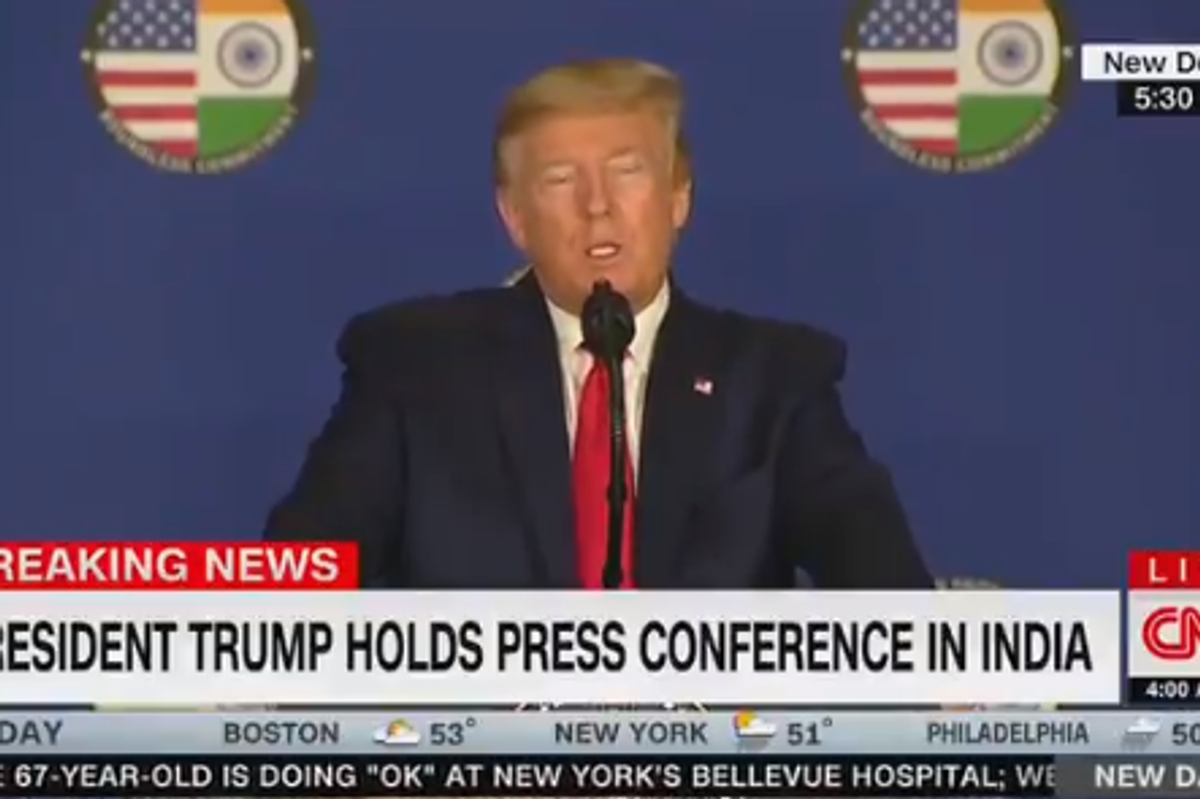 Donald Trump is in India doing the important work of the American people, if by "important work" you mean whining at the liberal women justices of the Supreme Court on Twitter.
....on all Trump, or Trump related, matters! While "elections have consequences", I only ask for fairness, especial… https://t.co/XrgUWEAHlS

— Donald J. Trump (@Donald J. Trump) 1582603760.0
Really glad to know that even on his foreign travels, that loser still doesn't miss a minute of his beloved Fox News.
It appears white nationalist-friendly Fox News asshole Laura Ingraham was "reporting" on Justice Sonia Sotomayor's dissent in the Supreme Court's decision to lift a stay and allow Trump's latest fascist white nationalist immigration policy -- one that would impose a wealth test on people seeking green cards, because that's such a big part of Emma Lazarus's Statue of Liberty poem -- and Trump, as ever, was rage-watching his TV from atop his golden shitter.
And now he wants Sotomayor and also Ginsberg [sic because President WordStupid can't spell] to recuse from any case that begins with his name, because clearly if you don't give Trump his imaginary Article II right to do whatever he wants, you are being "unfair." In other words, on top of all elected Democrats and all the career people at the Justice Department, our orange crusty fascist shitlord now views the liberal justices on the Supreme Court as illegitimate. They are in the way of the crime and corruption and fascism he wants to commit, after all, like common Marie Yovanovitches!
Oh also one time Ruth Bader Ginsburg called him a name, and then said she was sorry, so ...
---
How very legal and very cool this all is!
Of course, Sotomayor and Ginsburg will not be recusing themselves from jackshit. But it does raise questions for what he, who thinks he is king, might do when a ruling that goes against him comes down, one where, say, Roberts joins the liberals and forces him to release his tax returns or something. After all, if those justices are illegitimate in his eyes, maybe he'll just ignore a Supreme Court ruling, and then we'll be in a(nother) real constitutional crisis.
Talking Points Memo reports that Trump also whined about this to reporters, in India, where he is supposed to be doing "job":
Trump says SCOTUS Justices Sonia Sotomayor and Ruth Bader Ginsburg ought to recuse themselves from "Trump-related"… https://t.co/mHVLjRjsqT

— TPM Livewire (@TPM Livewire) 1582635080.0
"I just don't know how they cannot recuse themselves for anything having to do with Trump or Trump-related," he told reporters. "The right thing to do is that."
Fuck you.
Sotomayor's dissent was very good. She seemed to tacitly come for the conservative justices on the Court for their apparent willingness to lift any stay or injunction that might be hurting Dear Leader's feelings at the moment, while ignoring other cases that don't personally involve Dear Leader. You know, the way courts do in free and open democracies all the time.
Sotomayor also chided the Trump administration for whining to the Supreme Court like it's an emergency and they need mommy to fix it every time a lower court rules in a way the regime doesn't like, especially on matters pertaining to the fascist immigration policies Trump and Stephen Miller want to impose:
"Claiming one emergency after another, the government has recently sought stays in an unprecedented number of cases, demanding immediate attention and consuming limited court resources in each," she wrote. "And with each successive application, of course, its cries of urgency ring increasingly hollow."
UNFAIR! IF DONALD TRUMP SAYS IT IS A "NATIONAL EMERGY," IT IS DEFINITELY A "NATIONAL EMERGY," BECAUSE TRUMP SAYS IT IS!
Let's review. Who is Donald Trump personally attacking just the past few days, because the baby is upset and he isn't getting his way? Off the top of our heads, the prosecutors in the Roger Stone case, the jurors in the Stone case, the judge on the Stone case, and probably some others we already forgot. It's impossible to keep up with all his mouth diarrhea, which is kind of the point, we think.
And now he's attacking by name two of the justices of the Supreme Court. Just another mile marker on our American slide into shithole-country authoritarianism.
Neat.
VOTE IN NOVEMBER, WE DO NOT CARE IF YOUR FIRST CHOICE DOES NOT WIN THE NOMINATION, JUST FUCKING DO IT.
Follow Evan Hurst on Twitter RIGHT HERE, DO IT RIGHT HERE!
Wonkette is fully funded by readers like YOU. If you love Wonkette, SUPPORT WONKETTE FINANCIALLY.
Evan Hurst
Evan Hurst is the managing editor of Wonkette, which means he is the boss of you, unless you are Rebecca, who is boss of him. His dog Lula is judging you right now.
Follow him on Twitter RIGHT HERE.