Defending Baby-beater Adrian Peterson Costs Money So Never Mind About Due Process
News
September 17, 2014 09:20 AM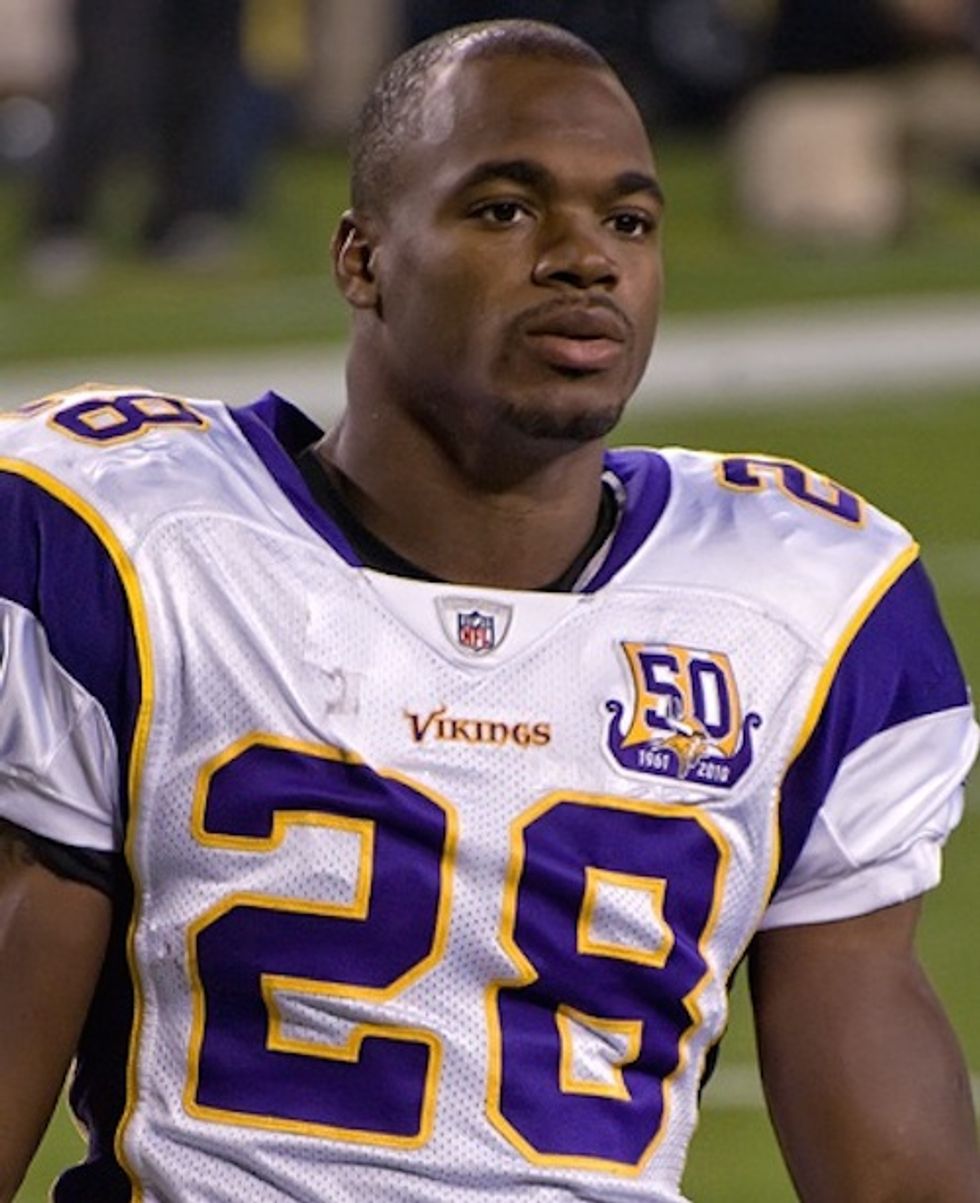 By Mike Morbeck [CC-BY-SA-2.0], viaWikimedia CommonsIt's sarcasm-funny how only two days ago, the Minnesota Vikings announced that while "we take very seriously any matter that involves the welfare of a child," there was no reason running back Adrian Peterson shouldn't be allowed to kick the sportsball on the field while after being indicted for beating the ever-lovin' crap out of his four-year-old son with a tree branch, leaving bloody welts all over his FOUR-YEAR-OLD body. (Or as certain internet scumbags and sportsball stars and "comedians" called it, good old-fashioned parenting like how they were raised and they turned out just fine so what's the big deal?) The Vikings agreed that beating kids is bad, sure, but on the other hand, "due process and we should allow the legal system to proceed."
---
Turns out due process only takes about 48 hours, because team owners Zygi and Mark Wilf have now come to the completely opposite conclusion.
"While we were trying to make a balanced decision yesterday, after further reflection we have concluded that this resolution is best for the Vikings and for Adrian," the Wilfs said in a statement. "We want to be clear: we have a strong stance regarding the protection and welfare of children, and we want to be sure we get this right. At the same time we want to express our support for Adrian and acknowledge his seven-plus years of outstanding commitment to this organization and this community."
Nice of those fellas to toss in a little reminder about how great a guy Adrian is, no really. He's got that Adrian Peterson All Day Foundation, which used to be a charity devoted to, we kid you not, raising "awareness and funds for programs that inspire hope and build a better future for at-risk children, with a special focus on girls' empowerment." Now, however:
The Adrian Peterson All Day Foundation website is temporarily offline to allow its charity partners to continue focusing on their outstanding community efforts rather than responding to the numerous media inquiries.

The Foundation will continue to support the various philanthropic causes that Adrian and his family care so deeply about.
The team owners' further reflection probably has nothing whatsoever to do with a number of companies, including Radisson hotel chains, pulling corporate sponsorship of the team; Anheuser-Busch denouncing basically the entire NFL for its pattern of domestic violence problems; Nike pulling all of its Peterson gear off store shelves (though not offline; let's not be ridiculous); and both Minnesota Gov. Mark Dayton and Sen. Al Franken telling the team it should probably put Peterson in the penalty box, or whatever the appropriate ball-footing metaphor is.
Peterson's agent, Ben Dogra, agrees that "this is the best possible outcome given the circumstances," because what else is he going to say?
Adrian understands the gravity of the situation and this enables him to take care of his personal situation. We fully support Adrian and he looks forward to watching his teammates and coaches being successful during his absence.
Guess Adrian and his entourage have also further reflected because the other day, Peterson's attorney, Rusty Hardin, sort of suggested Adrian didn't understand the gravity of zilch.
"Adrian is a loving father who used his judgment as a parent to discipline his son. He used the same kind of discipline with his child that he experienced as a child growing up in East Texas [...] It is important to remember that Adrian never intended to harm his son and deeply regrets the unintentional injury.
Right. Uh huh. Sure. Those injuries were unintentional. He unintentionally grabbed a small tree branch, tore off the leaves and shoved them in his son's mouth while beating the crap out of him, leaving bloody welts all over his body, and probably assumed he'd get away with it too because his son was afraid to tattle to the police since "Daddy Peterson might hit me in the face," and he "has a whooping room."
Shame how accidents happen, isn't it?