Deleted Comments: How Did Vegan Baby Butthole Get Trump Elected?
Culture Wars
July 09, 2017 10:38 AM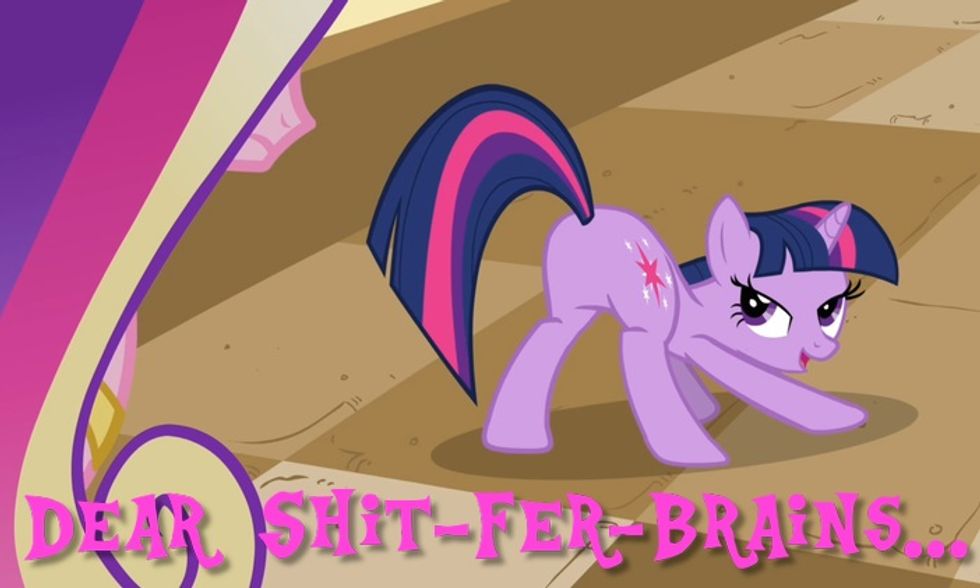 Ponies, it should be added, are vegetarian but not vegan. Except maybe that hippie, Treehugger
---
Our story on the Memphis vegan restaurant that had a severe outbreak of vegan baby butthole was, understandably, our top story of the week, and like any piece that goes viral, it generated a lot of new traffic, including some folks who couldn't resist the urge to drop by our table and start yodeling incoherently at us. Some were from Very Upset Vegans who were angry that we would say rude things about vegans, because why are we trying to alienate people whose diet is better for the planet than yours? But not too many, at least not compared to our Facebook post about the article, where there was much unhappiness about our aggression, like these deeply disappointed persons:
Huh. I guess I really didn't expect you guys to be assholes about vegans. Disappointing.
Did you really need to unleash your beast on a tiny restaurant with like 5000 followers on FB? Could you have found a bigger restaurant that responds poorly to customer complaints? Maybe one that isn't struggling to be a vegan restaurant in Memphis? Maybe one that hasn't just experienced a death in the family? This was a really small post to make, and you have much bigger targets that could use some attention, no?
Why are you such an asshole about vegans? Get a fucking education, it's the rational thing to do for your fucking health and the planet. Fuck you Wonkette.
Sad. Wonkette used to be so worth reading.
I'm not surprised by the article or these comments. Nothing sends lefties rushing to the same side as Ted Nugent like the idea that somewhere someone isn't bludgeoning an animal for sustenance. What a fucking nerve to eat differently! And they talk about it, too! The same people that can read nuance in virtually everything else suddenly become yee haw anybody who don't do like me is a sanctimonious asshole!
Would've been funny and outrageous enough without you being an asshat to vegans in general.
Wow this article was clearly written by an asshole.
Actually, it was written
about
an asshole, which was the whole problem with the restaurant. As to the second comment's suggestion that our little article drove massive internet traffic to the now-deleted Facebook page of Imagine Vegan Cafe, we'll certainly take some credit, but Evan assures us that the Facebook foofaraw over the negative review, and the restaurant owner's parsnip-aggressive replies, had already become a local sensation in Memphis the evening before he wrote his piece -- this was one of those stories that was destined to go viral. Still, we did write about several other things that day! You can look them up, although no one read 'em because they weren't about vegan buttholes.
Then there were the comments here at Yr Wonkette, like these very disappointed notes from "nona," who wished we'd just grow up already:
Author seems like a hipster try hard. Just the first paragraph alone lost my interest. Seems like the writing style of a middle school brat.
[In reply to "And yet you read the whole thing to comment on it":] Actually I didn't. I scrolled to the screen shots. I don't give a fuck. Author seems like a try hard. If this is his best no wonder.
I wouldn't call it snark. His written flailing of his words at the start is pretty sad. And yes I've read many articles from this site.
So nice he has these people who hide behind made up names and fake pics to defend him. Haha. Can't handle someone giving criticism to a shitty article. Has nothing to do with vegan or ideology. The subject is a funny subject and I agree with the patrons. But again, his first paragraph was so juvenile, not snark (if that's what you call it, fine. I imagine you live in the south or Midwest) , making it not seem well written enough to continue reading. So I skipped to the screen shots.
We have to say we were mystified by that strange regional animus -- we guess snark works different in whatever post-hipster enclave "nona" inhabits, where people write much gooder, without the flailing of the words. Also, what sort of weird groupthink must be at work where the regular readers of a blog fail to recognize the obvious inferiority of that blog's writers the moment someone with a clearer head points it out to them? Sad, really. We will make every effort to change our style to meet the demanding criteria of a one-time driveby commenter, and hope that someday we may be worthy of her approbation.
Some jerk who said the baby's bad behavior was the result of not enough children getting spanked, and the resulting "Hitting children is not a good thing" reply from a Wonker, drew this from one "Freeland Dave":
Spare the rod and spoil the child. But you probably don't subscribe to anything God tells you so just ignore my stupid comment. That's what most people do today.
We recommend "Freeland Dave's" comment history to aficionados of Rightwing Know-It-Allism, since "Freeland Dave" is one of the great unheralded experts on the internet. He says he lives in Seattle, so he's seen firsthand the hundreds of Canadians who come to the city's hospitals all the time so they won't die on a socialized medicine waiting list. All the black people he knows hate Maxine Waters. And wouldn't you know it, since he's worked "with data gathering equipment for decades," he happens to know that most climate studies are the result of fiddling with the data to get the desired results. And that's just within the last week. But he's right. We probably won't advocate thrashing children based on his -- or God's -- advice.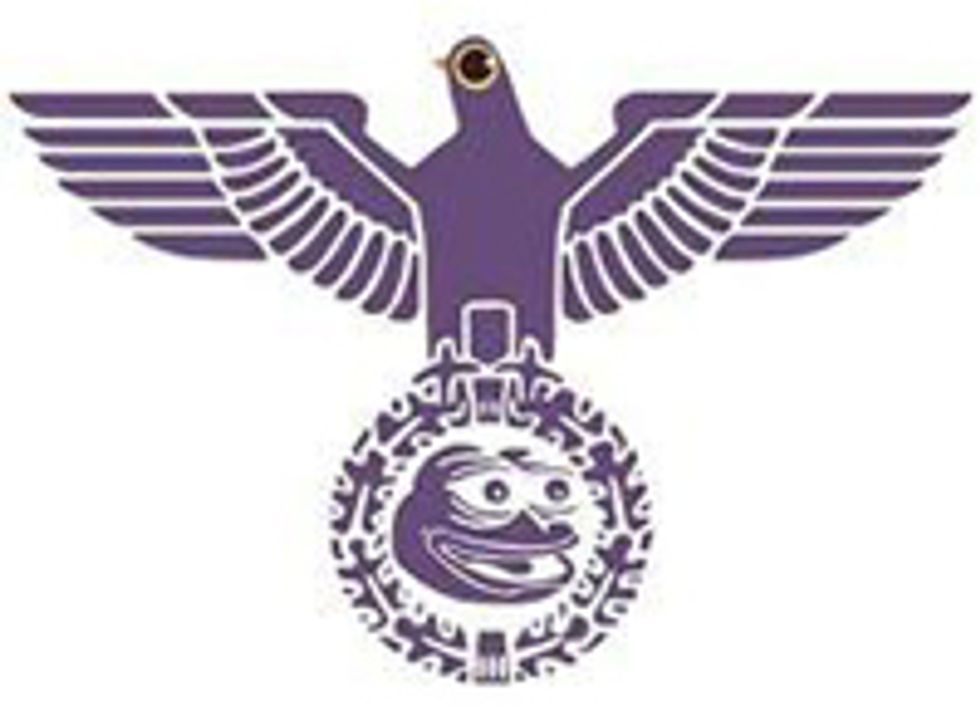 Following in "Freeland Dave's" bitsteps came "Nidijih," whose avatar is this cheerful parody of a Nazi eagle insignia incorporating Pepe the Frog and a Trash Dove (yet another innocent meme devoured and made evil by the Hacker known as 4-Chan.) "Nidijih" had quite a comeback when a Wonker replied to "Freeland Dave's" Bible wisdom with another Bible quote, Matthew 7:12, "So whatever you wish that others would do to you, do also to them, for this is the Law and the Prophets." Somehow, this inspired "Nidijih"explain that the decline of corporal punishment leaves far more at stake than simply one unruly naked vegan child in Memphis:
In other words, you wish you hadn't been taught discipline, so you dont want to teach it to your kids? No wonder the west is dying..,
Yep, the Golden Rule is the reason for the decline of Western Civilization. "Nidijih's" comment history is a sad slog through your basic racist, anti-Muslim, and MRA nonsense, with a particularly whiny insistence that circumcision is a violation of human rights. Also, "liberal self hatred" is causing White Genocide, etc.
One "Terrence Jeffrey Johnson" had some thoughts on leftist vegans, and also a very funny joke to about Chinese food:
Vegans are stupid leftist morons....PETA really means People Eating Tasty Animals! Filthy Hippies need shut down and CPS needs to take their kids away
Beef, shrimp, or chicken from a Chinese restaurant? You mean cat or dog, right?
Again, this user's comment history is a fascinating glimpse into the mind of a wingnut: Mr. "Johnson" has all sorts of prescriptions for the people he doesn't like. Various people he reads about at Breitbart, American Thinker, Mediaite, and elsewhere should be deported, punched in the face, charged with vagrancy and put on the chain gang, imprisoned for being commies, and one "white boy traitor" in particular should be "punched in the face a dozen times, then tarred, feathered, and strung up with piano wire from a meathook, you traitor." He's a very action-oriented guy, our "Jeffrey." He also thinks the members of "Moms Demand Action for Gun Sense" are "treasonous hags" who deserve to be "passed around the Hells Angels like the whores they are." Looks like the vegan hippies would get off pretty easy with just their kids being taken away by CPS.
Then there was some brave commenter who deleted his own Disqus account for some reason, at some point after assessing the article thusly:
Speaking of sand...sounds like you've got sand up your hoo-ha.
And then things got really dumb. He told a Wonker to "stop being a retard," then defended the term "retard" as a fit descriptor, because here is a definition from some old psychology manual of different degrees of retardation, and why do you retards reject science, haw-haw? Besides, it's not like he was going to be offending any retards, it's only a word, after all:
As if my lack of 'empathy' has any affect on any retard. Are there any retards reading this? Did I hurt someone physically? Are they suffering? I think not.
When told, "Fuck off, you ableist scum," he called attention to the disgusting hypocrisy of the Left:
Name calling, while accusing someone of being scum. You sure showed me.
And finally, when a Wonker suggested that he might do well to learn not to use "retard" as a pejorative, he simply came back with "Thank you for getting donald trump elected."
We'll have to add "Please don't use 'retard' as an insult" to the big catalogue of reasons Donald Trump won. We learn so much, writing for this blog! Before their final flounce and self-deletion, our visitor explained the true damage done to America, perhaps the world, by Political Correctness:
Crafting a virtuous self-image, motivated by selfishness and in practical terms destroying millions of lives. What a great person to be lecturing about ethics.
Someone asked him how the hell that worked, exactly, but all he said was "Please think about it really hard first." So we'll have to think real hard about how political correctness and not calling people retards has "destroyed millions of lives."
Yeah, we're done. Didn't come up with anything. If you know of any lives destroyed by the stricture on making fun of people with intellectual disabilities, be sure to call them to the attention of Jeff Sessions at the Department of Justice.
Finally, one late entry in the Derp Sweepstakes: Even while we were typing up this week's Dear ShitFerBrains Saturday, we got a new competitor in the Derpolympics, one "major Bubba" (we'll assume the lowercase "m" indicates major is an adjective, not a rank), who explained that OBVIOUSLY anyone who runs a vegan restaurant is unfit to be a parent, because they are 1) mentally ill, 2) liberals, 3) baby-murderers, 4) and, duh, Nazis. A sampling:
Who is really surprised by this? It's a given that Mental Illness is running rampant thru this place, it's a Vegan Restaurant.
[In reply to someone pointing out his random Capitalization suggests serious wingnuttery:] Oh they are not random there Snowflake. Vegan Restaurant = Mental Illness. It's really quite simple.
I find it quite strange that the same group of people who would claim to be Vegan to protect the lives of animals are the same group who would defend the right of a mother to murder her unborn child. Nature and evolution has clearly designed the Human body to be an omnivore, a diet that includes meat. To deny that is to deny evolution and nature and therefore should qualify as a true mental illness. LOL, SMDH and STFU
Ever meat a Vegan who wasn't a Liberal? Put that in context. Liberals are the champions of baby murdering, yet a Vegan won't eat meat or wear leather because they don't want to harm animals, but are perfectly ok with being a Liberal. It's called Hypocrisy. Suck it.
Hitler was a Socialist and Liberals and Socialists are the same thing. Thank you for playing. You Fail.
I know, I know, I was expecting too much for Libtards to let facts influence their opinions. What was I thinking?
Hitler was a socialist just like modern day Liberals. Nazi brown shirts attended the opposing party's rallies and disrupted them and attacked the attendees much like the Liberals at Berkley in California only the Liberal Socialists traded in the Brown Shirts for Black. Liberals are far more like the Nazis than any Republican. You fail
So there you go. Hitler was a liberal, liberals are vegans, vegans are Nazis, and capitalization is Arbitrary. We left out the very strange argument over how the word "fetus" was made up by liberals to hide the fact that abortion kills babies (proof: No one ever says "I'm having a fetus") because, as Nazi fascist commie liberals, we hate freedom of speech.
Enjoy your Sunday, Terrible Ones, and please try not to have a cow.