Demons (Probably From Gay Animals) Drive Total Kook Gordon Klingenschmitt From Colorado Statehouse
2016 State/Local Elections
June 29, 2016 02:19 PM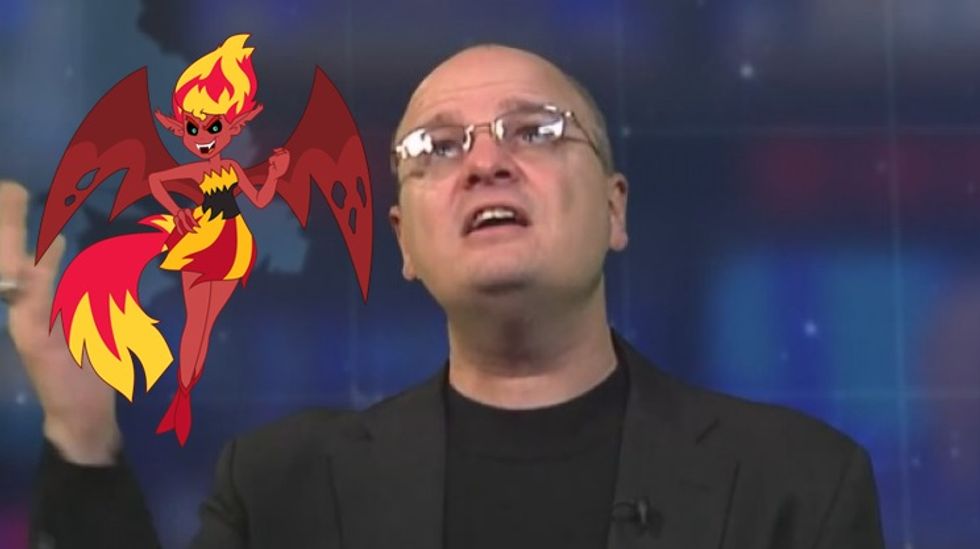 Whatever. This is just a minor setback
---
Spirits of sin and evil must have infested Colorado Tuesday, since that's the only possible explanation for the surprising Republican primary loss by Wonkette frenemy Gordon Klingenschmitt, whose brief career as a member of the state legislature is now over after a single term in the House -- where perhaps he should have stayed instead of running for the state Senate. No matter what the issue was, you could count on Klingenschmitt to be on the absolute wrong side of it. He's the sort of guy who could probably find a reason to oppose fixing potholes because asphalt is brewed in the demonfires of Hell.
And so, a fond farewell to "Dr. Chaps" -- a nickname he was fond of because he used to be a Navy Chaplain, not because he favors leather fetish gear ... or so he'd have us believe. He's certainly not leaving the Internet/Radio Preacher business anytime soon, so we can't really expect an actual goodbye, but at least he won't be filling the Colorado Statehouse with the stench of sanctimony and asparagus pee.
Just in case you'd somehow missed this paragon of moral scolding and pure stupid, let's remind you of some of Gordon's Greatest KlingenHitts:
Klingenschmitt first became a Little Big Deal in religious Right circlejerks for his brave opposition to oppression of Christians, for which he was quite literally martyred, except without the dying for his faith part. But he definitely suffered for his faith, or at least for his pigheaded decisions related to it, which are exactly the same thing. Back in 2006, way back before Barack Obama destroyed America, Klingenschmitt was drummed out of the Navy for his righteous refusal to obey Godless Pentagon orders that (he claimed) prohibited chaplains from "praying in Jesus' name." Except that's not what happened at all. It's true that the Pentagon directs chaplains to limit themselves to nonsectarian prayers at "command functions" where all personnel are required to attend, but there was never a prohibition on mentioning Jesus in religious services, and Klingenschmitt was never disciplined for praying to Jesus even at command functions. What did get Klingenschmitt kicked out of the Navy was his decision to wear his Navy uniform to a March 2006 White House demonstration against the Pentagon policy, at which he spoke and prayed, in defiance of a longstanding military policy against service members participating in political events while in uniform. That got him court-martialed. So yes, his entire career as a Genuine Victim of Christian Persecution is based on a lie.
Once he started running the rightwing Christianist gravy train, Klingenschmitt quickly got a reputation for reliably loony pronouncements about faith, especially about The Gays and Demons. Demons everywhere:
proved how persecuted Christians are.
And then, just a few weeks into his freshman term in the House, Klingenshmitt Godsplained that a horrific attack on a pregnant Colorado woman happened because
God was punishing America
for allowing abortion.
(Awful details follow, skip down a few lines if you want.)
This is the curse of God upon America for our sin of not protecting innocent children in the womb and part of that curse for our rebellion against God as a nation is that our pregnant women are ripped open.
go stuff it up his God-hole.
The House Republican leadership didn't appreciate having an unhinged guy hurting the body's reputation either, so it
booted Klingenschmitt
from a couple of committee assignments -- leading Dr. Chaps to whine that he was being persecuted by the government for his private thoughts of faith, which were privately broadcast all over the interwebs.
right in front of you on your own couch,
and got some much-deserved national attention when he told Jessica Williams of "The Daily Show" all about
why God gets a sadface
when transgender people poop in the wrong toilet:
interracial couple
who think gay couples are gross and should be banned, so all liberals must stop comparing marriage equality to
Loving v. Virginia,
because here are a black woman and white man who know there's nothing similar to their marriage and filthy sodomites' marriages, not at all. No, not even the parts involving doing laundry and fixing the roof.
And now, bereft of the opportunity to make any laws, Dr. Chaps has to go back to the only thing he's good at, saying stupid shit that the rest of us make fun of him for. We have a feeling he'll get by. Despite his best efforts to pray them away, The Gays insist on hanging around, Colorado just chose a nice transgender candidate for Senate, and the nation stubbornly refuses to be a theocracy, so we'll still have Gordon Klingenschmitt to kick around. Metaphorically.