Denny's Admits Making Black Customers Prepay Was No Grand Slam
Post-Racial America
February 10, 2016 01:45 PM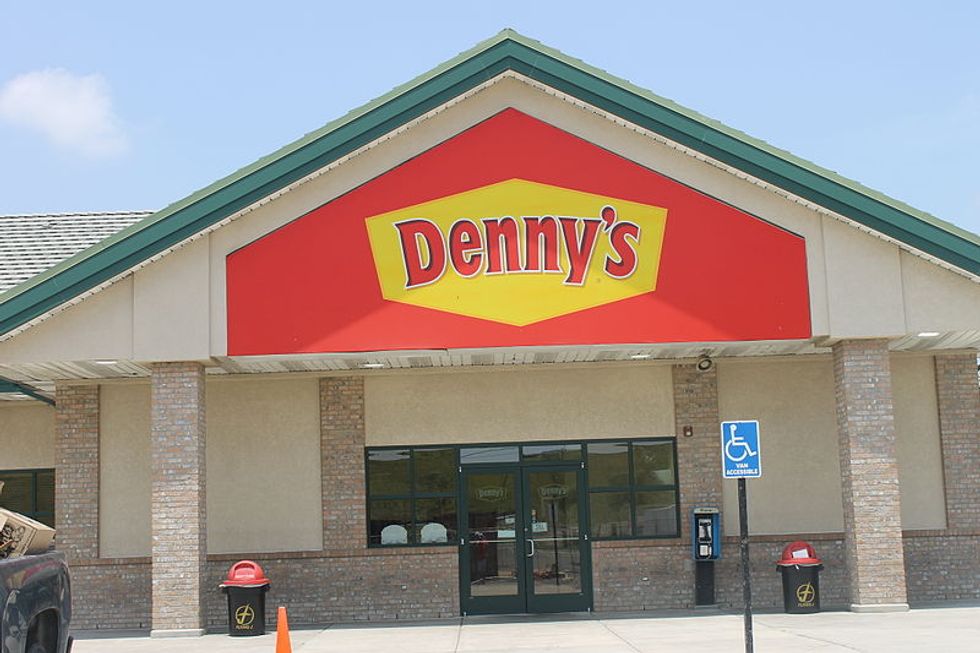 ---
Normally, the most offensive thing associated with Denny's is literally any menu item served at Denny's, but this is an auspicious occasion.
See, on Feb. 5, Denny's settled a lawsuit over one location's attempt to make two African-American customers prepay for their meal because the restaurant assumed they were planning to dine and dash. And no, paying in advance is not standard practice at Denny's. Three days of testimony apparently convinced Denny's the fiscal weight of the lawsuit levied by plaintiffs Henry Williams and Renee Hebert was going to be like getting a truckload of still-frozen Moons Over My Hammy dropped on top of them and decided to settle for an undisclosed amount and a promise to never do racism again.
Williams and Hebert claim manager Ali Rahman asked them to prepay on May 7, 2014, at a Denny's in Los Angeles, California. Rahman immediately realized he done fucked up, as he gave them back their money and offered a free dessert. Oh, but wait until you see Rahman and Denny's "oh shit, we done goofed" legal defense:
Michael Stein, an attorney for Denny's and Rahman ... said Rahman was concerned after learning from the couple's server about the size of their order, which totaled more than $83, because the Koreatown location had prior problems with people leaving without paying.
As legal defenses go, "but we really thought the black people were going to steal from us" is roughly on par with "but I really wanted to drive the school bus through the 7-11." Fortunately, lawyers for Williams and Hebert noticed this straight away, probably because they did not attend Topeka Upstairs Hardware Store Legal College. They basically responded "nah," and Denny's went, "well, shit, guess we better pay up." Then things ended happily ever after, especially for us, because we get to laugh at Denny's.
While this isn't the first recent instance we've seen where African-American customers were told to prepay, it's definitely the first time we can remember a restaurant chain as big as Denny's doing so. Then again, Denny's has a long and ignominious history of racial discrimination toward customers, so if we were handicapping which chain would pull something like this, Denny's would have been right at the top of our list.
Also worth noting: in our experience, the vast majority of dining and dashing is perpetrated by dumb white teenagers, so if restaurants really want to solve the problem, maybe they should start by banning One Direction fans. We're pretty sure that would pass constitutional muster.
[GrubStreet / MyNewsLA]