Devin Nunes Delivers List Of Demands Unto Imaginary Cow What Scorned Him
News
November 06, 2019 02:41 PM
Let's take a break from impeachment and see what's happening in the duel GOP Rep. Devin Nunes is fighting (and losing) against an imaginary cow. It's not just any imaginary cow, as we will explain further below. It's Devin Nunes' Cow, the funny Twitter account somebody set up, which claims to be Devin Nunes's actual cow, obviously satirically, because everybody knows that cows can't type, Devin.
We explained Nunes's lawsuits against McClatchy and Twitter and and the imaginary cow who makes fun of him and the actual Republican strategist and some of his own constituents who called him a "fake farmer" right here and here and here, so hit all those links if you need to catch up. (He has since dropped the lawsuit against his constituents.)
And now we have a lawyer letter from Nunes's heroic free speech lawyer Steven Biss to add to the pile, written to Fresno County prosecutor Andrew Janz, who ran for Congress against Nunes in 2018 and is now running for mayor of Fresno. It's dated October 11, but the Janz campaign emailed it to the world yesterday.
You see, Nunes is pretty sure Janz has been cow-hootsin' with Devin Nunes' Cow, the cow what hurt Devin, and therefore he is demanding Janz get his imaginary cow (not his imaginary cow) under control.
This, we repeat, is a real lawyer letter. These are the fun bits:
---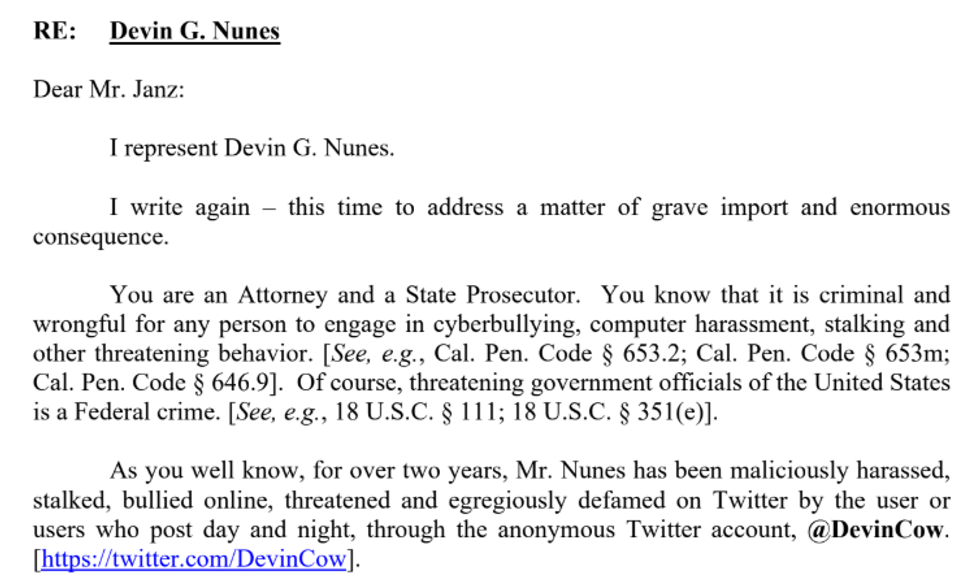 Dear Mr. Janz:

I represent Devin G. Nunes.

I write again -- this time to address a matter of grave import and enormous consequence.
An imaginary cow continues to hurt Devin's feelings.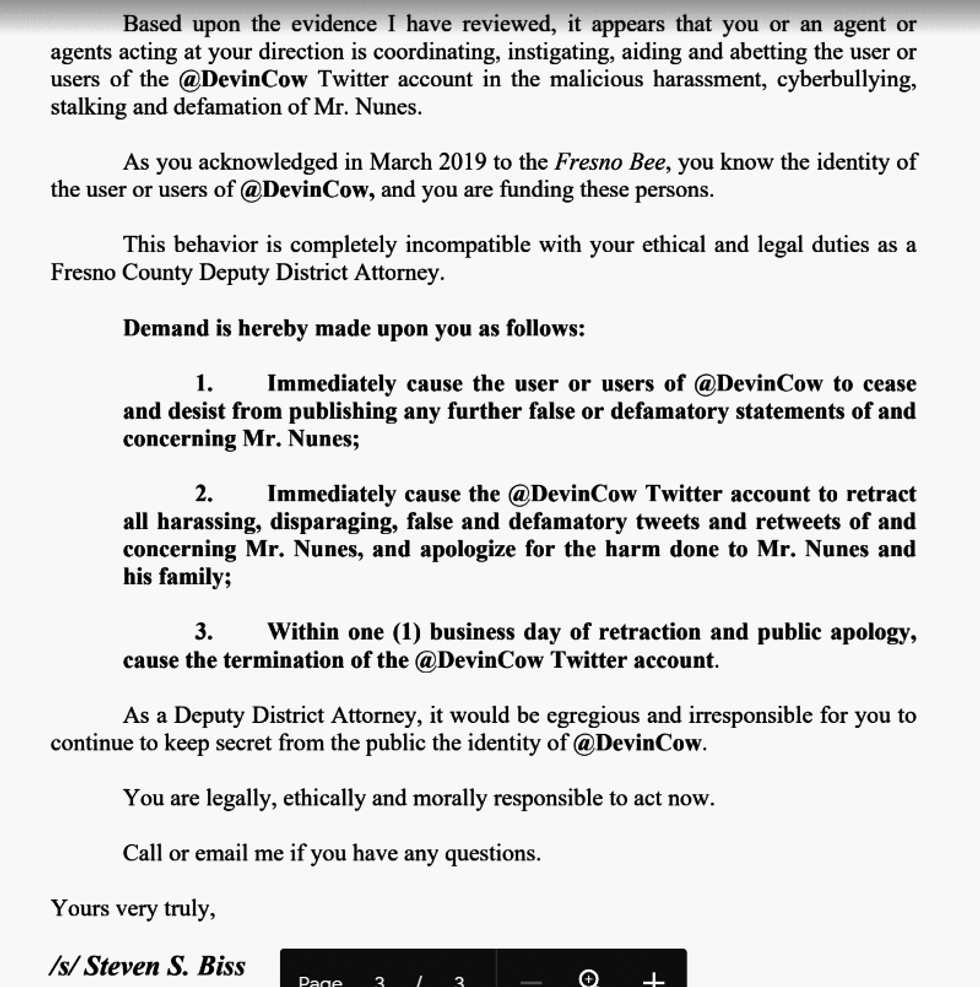 Based upon the evidence I have reviewed, it appears that you or an agent or agents acting at your direction is coordinating, instigating, aiding and abetting the user or users of the @DevinCow Twitter account in the malicious harassment, cyberbullying, stalking and defamation of Mr. Nunes.
You, Mr. Janz, are an AGENT OF THE IMAGINARY COW!
Demand is hereby made upon you as follows:

1. Immediately cause the user or users of @DevinCow to cease and desist from publishing any further false or defamatory statements of and concerning Mr. Nunes;
MAKE THE IMAGINARY COW STOP MAKING FUN OF DEVIN AND HURTING HIS FEELINGS, MR. JANZ!
2. Immediately cause the @DevinCow Twitter account to retract all harassing, disparaging, false and defamatory tweets and retweets of and concerning Mr. Nunes, and apologize for the harm done to Mr. Nunes and his family;
MAKE THE IMAGINARY COW SAY SORRY, MR. JANZ, INCLUDING FOR ALL THE TIMES THE IMAGINARY COW LAUGHED AT SOMETHING SOMEBODY ELSE SAID ABOUT DEVIN!
3. Within one (1) business day of retraction and public apology, cause the termination of the @DevinCow Twitter account.
DELETE THE IMAGINARY COW, MR. JANZ!
Janz's lawyer replied with a letter that can be approximately summarized as "LOL go eat a bunch of cowpies." It points out that Mr. Janz does not and cannot actually control the imaginary cow, and further notes that as to the imaginary cow's supposedly defamatory statements, "the account's general punchline – that, for years, Rep. Nunes has campaigned on being a farmer, when he was not a farmer – is fully supported by the factual record."
Accompanying the letters were statements from Janz and his campaign, including saying that they "believe Nunes' lawyer has committed an ethics violation by attempting malicious prosecution," you know, just in case Nunes is thinking of suing Janz. They continue:
"It is evident that Devin intends to exact retribution on those who brought to light his failures as a member of Congress. He has reached an all-time low by attacking me for protecting free speech. After barely winning re-election last year, one would hope that Devin would focus on the issues weighing on our district instead of suing a fake cow." Andrew said, "I won't be intimidated by this frivolous attempt to not only stifle constitutional rights but also hinder my campaign to become the next Mayor of Fresno."

Janz Campaign Manager, Mari Harren, said, "We are looking at the option of filing ethics complaints with both State Bars in Virginia and California. It's our understanding that this wouldn't be Mr. Biss' first ethics violation."
So that is what is happening with that.
Now, we want to address a question that is probably burning in your minds, as many legal scholars (zero legal scholars) have been wondering if Nunes might soon start suing other imaginary cows. Are all imaginary cows in danger? Wonkette is not 100 percent sure, but we think that Devin Nunes is really only focused on this one imaginary cow, and we assume that he has the ability to differentiate between imaginary cows what have hurt him and imaginary cows what have not.
For example, this is not the imaginary cow that hurt Devin. OR IS IT?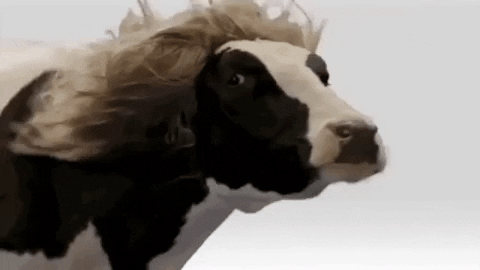 Giphy
This is not the imaginary cow that hurt Devin. OR IS IT?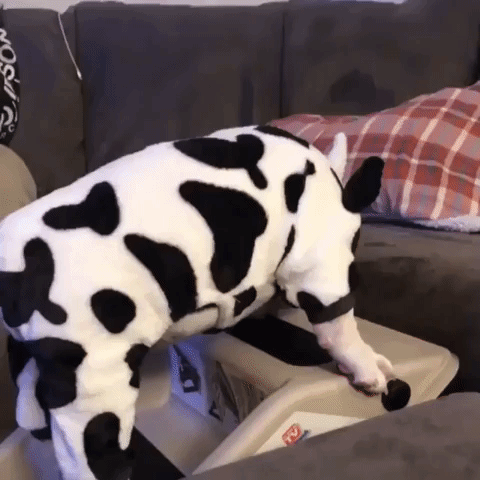 Giphy
This is not the imaginary cow that hurt Devin. OR IS IT?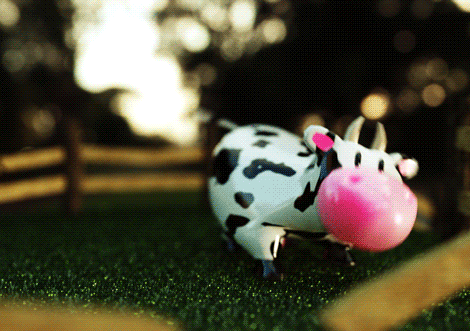 Giphy
This is not the imaginary cow that hurt Devin. OR IS IT?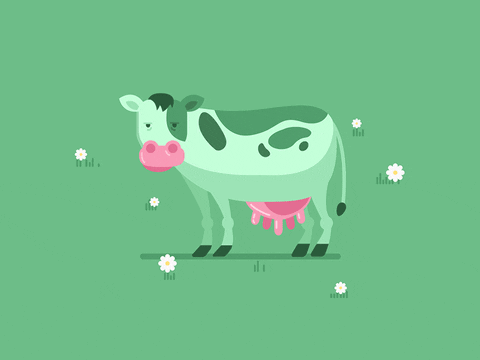 Giphy
This is the not the imaginary cow that hurt Devin. OR IS IT?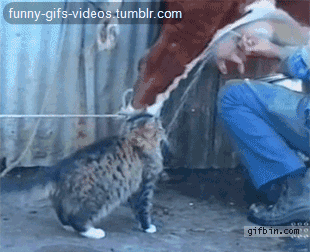 Giphy
This is not the imaginary cow that hurt Devin. OR IS IT?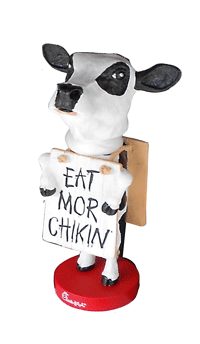 Giphy
Certainly not that one! That is the Christ Cow! The Christ Cow would never hurt Devin!
As we think we have demonstrated, this case about an imaginary cow and the congressman she's scorned is unlikely to set any kind of precedent for other imaginary cows, and not least because it's a LOLdumbfuckingidiot case.
In other news, Nunes's heroic freedom lawyer has also issued subpoenas for any communications between the imaginary cow and Democrats Nunes imagines conspired against him, so that's a thing that happened.
In summary and in conclusion, yes, we still really are writing about a Republican congressman suing an imaginary internet cow. This is really still happening.
Moo.
Follow Evan Hurst on Twitter RIGHT HERE, DO IT RIGHT HERE!
Wonkette is fully funded by readers like YOU. If you love Wonkette, SUPPORT WONKETTE FINANCIALLY.
Evan Hurst
Evan Hurst is the managing editor of Wonkette, which means he is the boss of you, unless you are Rebecca, who is boss of him. His dog Lula is judging you right now.
Follow him on Twitter RIGHT HERE.