Dick Cheney Tortures Us By Making Us Look At More Of George Bush's Paintings Or Something
News
December 15, 2014 09:36 AM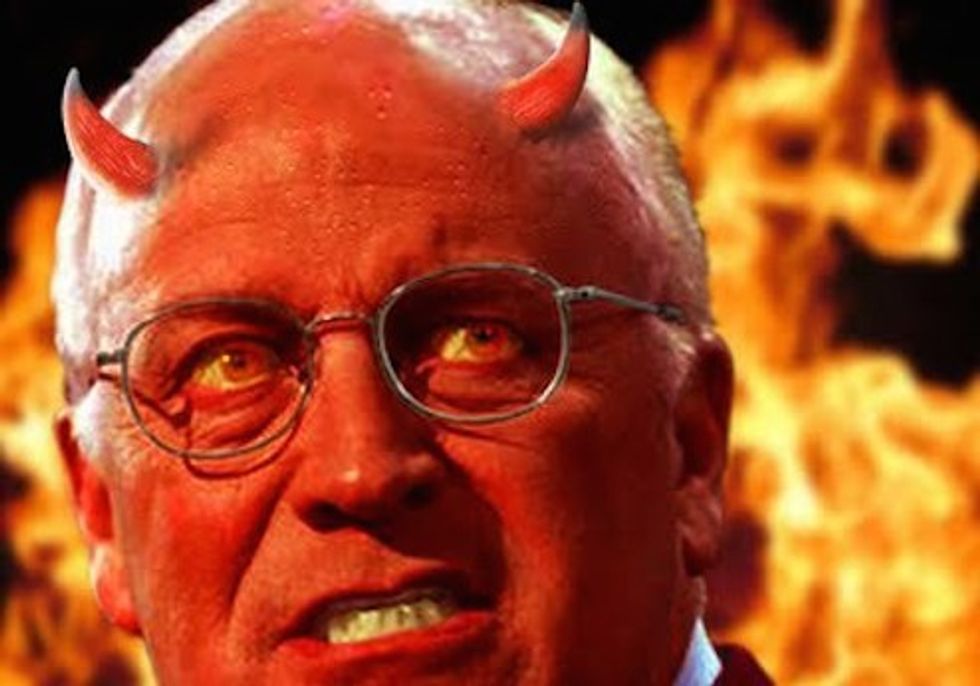 Sunday was a good day for the bookers on a couple of those political chat shows where Washington's power brokers yap at each other in brazen displays of verbal hand jobbery. It's not every week that the president and vice president of the previous administration both make appearances, but with last week's release of the Senate's torture report, both men might have been feeling the need to defend their legacy a bit. Surely there would be some tough questions and intense showdowns.
---
Cadaverous bile goblin Dick Cheney materialized in a cloud of sulfur on the set of "Meet the Press" to face Chuck Todd. Let's sample some of the Dark Lord's defenses of the activities for which he will spend eternity dragging around so many chains, the weight will keep continents from drifting.
(On the torture of people who turned out to be innocent) I have no problem as long as we achieve our objective. And our objective is to get the guys who did 9/11 and it is to avoid another attack against the United States. I was prepared and we did…I'd do it again in a minute.

The suggestion, for example, that the president didn't approve it, wrong. That's a lie, that's not true…This man knew what we were doing. He authorized it, he approved it. A statement by the Senate Democrats for partisan purposes that the president didn't know what was going on is just a flat out lie.

I have little respect for the United Nations or for this individual who doesn't hear a clue and had absolutely no responsibility for safeguarding this nation and going after the bastards that killed 3,000 Americans on 9/11.

There's no pardon needed. No crime was committed.
Whew! Someone drank extra kitten blood with his Wheaties yesterday morning. Cheney was feisty and forceful as he defended one of the most shameful policies to ever come out of the Oval Office. Enjoy hell, Mr. Vice President.
In addition to redefining the 9/11 attacks as "torture" -- why is he avoiding calling them acts of terrorism? -- Cheney also denied that "rectal hydration" was torture at all. Instead, he had an innovative explanation of what that was all about:
CHUCK TODD: Majid Khan was subjected to involuntary rectal feeding and rectal hydration. It included two bottles of Ensure, later in the same day Majid Khan's lunch tray consisting of hummus, pasta, sauce, nuts and raisins was pureed and rectally infused.

CHENEY: That wasn't...

TODD: Does that meet the definition of torture? [...]

CHENEY: I've told you what meets the definition of torture. It's what 19 guys armed with airline tickets and box cutters did to 3,000 Americans on 9/11. What was done here apparently certainly was not one of the techniques that was approved. I believe it was done for medical reasons.
This may not actually be proof that Dick Cheney is evil. It could be that he simply has a different understanding of what's normally considered medical treatment, although as far as we know, rectal hydration is not covered by Obamacare.
Though Candy Crowley taped her interview with President Bush for CNN's "State of the Union" before the release of the torture report, surely he knew it was coming. Surely he defended his policies and his administration. Surely he's as proud of everything he did to protect our nation as Cheney is. Let's get to the journalism.
CROWLEY: You painted your dad in this book?

BUSH: I did. Yes.

CROWLEY: Right?

BUSH: Yes, I did. It's in the book.

CROWLEY: And?

BUSH: Yes, I think it's nice. Mother kind of wasn't -- I know, but you know.

CROWLEY: You can't please Mom all the time.

BUSH: Never paint your wife or mother.
And with the image of Barbara Bush lounging naked on a daybed whispering to her son, "Paint me like one of your French whores, Jack," we leave you to enjoy the rest of your day.