Did Rick Perry Try To Rough-Sex Ron Paul At GOP Debate?
News
September 09, 2011 12:35 PM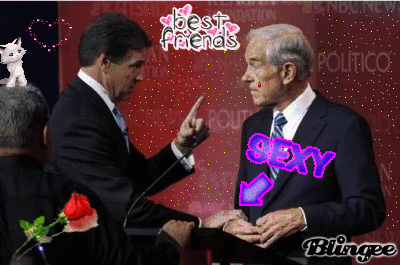 Dr. Ron Paul's portion of the Internet is goin' nutz over the rumored grab-ass Rick Perry was trying to strong-arm Doctor Congressman Paul with, during the Reagan Gravesite Debate. Why is Rick Perry such a violent psychopath? Does he just hate freedomso much that he went over and tried to beat up a whiny old man in view of a thousand cameras?
---
According to the main websites of Middle Earth, the neocon globalist fraud Rick Perry waited until a commercial break to prance over to Doctor Paul's lectern and grab the congressman's arm, all hard-ass-like (if a hard-ass can wear a big poofy '70s wig), and then wagged his manicured finger at the Doctor of the Constitution!
But the good doktor himself dismissed it all, according to a thing posted this morning by industry newsletter The Hill:
Rep. Pon Paul (R-Tex.) dismissed Internet rumors that Texas Governor Rick Perry had tried to intimidate him during a commercial break at the Republican debate Wednesday night, saying that there were no "cross words" exchanged between the two ....

"A picture came out last night, it's on the Internet this morning, with .. I think the governor of Texas, or something? We had several governors up there, but truth was I never met him before," Paul joked.
That's not a "joke," you monsters! That's a brutalized old man suffering elder abuse who is valiantly trying to maintain his dignity in the face of neocon violence. ARREST RICK PERRY. GO RON PAUL. [The Hill]