Did Trump And Wells Fargo Draw Each Other For Secret Santa???
News
December 24, 2016 11:30 AM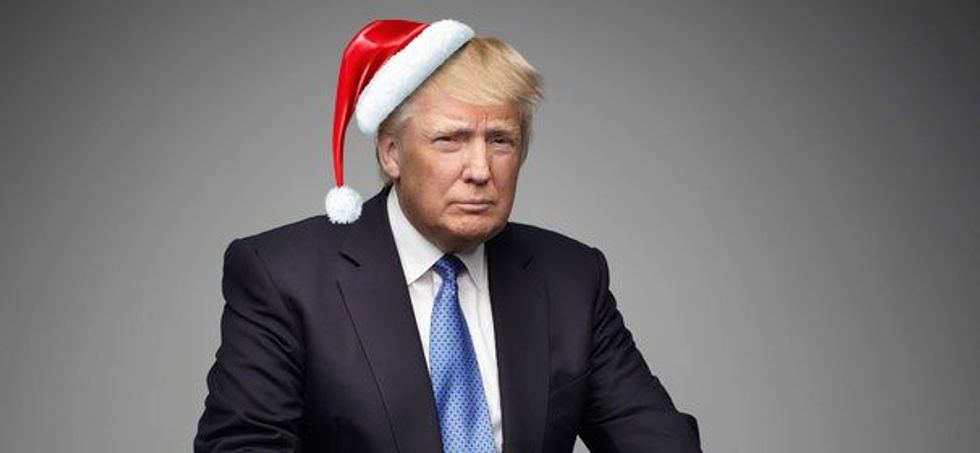 Wells Fargo finds itself in some trouble after doing a lot of terrible things over recent years. There's the widespread fraud used to rip off existing customers. And the CEO's resignation. And more fraud. And the fraud preying on small businesses. And the fraud preying on veterans. And the post-fraud apology train wreck. And the post-apology attempt to prevent fraud victims from pursuing class action lawsuits. And finally *rubs eyes in disbelief* a criminal investigation with possible traction?? If a Corporate Person ever had reason to hit the bottle hard over the holidays, it's Wells Fargo.
---
But Wells does have an Ace in the Hole. And it's not the mandatory arbitration provisions in their consumer contracts. It's the year's most brilliant business person and soon to be part-time President, Donald. The glowing shiny man owes the troubled bank $410 million, or, to put it in terms Huckster-elect might understand, half a Copperfield. This debt is mostly in the form of mortgages on his dick-shaped skyscrapers. One such mortgage has a soon-to-be-due balloon payment.
Why does this matter? Even before discovery of the systematic, but TOTALLY unknown to executive team, fraud, Wells Fargo was on the government's Naughty List.
Wells was the only U.S. bank to have their "living will" — a government-mandated roadmap for how to dismantle the firm in the event of a failure — rejected by federal regulators. This is the third time since 2014 Wells Fargo had its living will denied as not credible, and for the first time, that will lead to sanctions: The Federal Deposit Insurance Corporation and the Federal Reserve announced they will prohibit Wells Fargo from establishing any international subsidiaries or purchasing any nonbank companies.
Prohibit a bank consuming smaller companies and establishing offshore tax havens? Now that its once-thriving consumer fraud business is foiled, what the hell else is the bank going to do with its time??
Wells is facing a March 31st deadline to get their shit together. And if not enough people sign the change.org petition to appoint the Gilmore Girls co-presidents, Donald WhatsHisName will be our overlord. As OverlOrange, he'll have the opportunity to do a lot of deck shuffling at the Federal Reserve, FDIC, and Consumer Financial Protection Bureau (RIP...?). It's almost like someone could call this a conflict of interest. I don't know. Maybe we should ask Wells Fargo board member and future Transportation Secretary Elaine Chao-McConnell.
College kids - Don't give yourself a school-sanctioned debit card this season. That's stupid and you're in college!
You're sauntering through the quad, breeze in your hair, head full of world-shaping ideas about how Buster Keaton's films are totally relevant to a Jeff Sessions Justice Department. Then a smiling face at a foldout table beckons you to come hither, probably offering a t-shirt. And you love free shit! Who doesn't? You can use that free t-shirt for warmth or to block the bottom of the dorm door for reefer purposes.
This uber-friendly shirt gifter is offering something else as well. A debit card that has an allegedly very limited downside. And as a college student, you might need a method of payment so why not get one with the University of Diminished State Funding's mascot on it? School pride!
The Consumer Financial Protection Bureau analyzed more than 500 marketing agreements between colleges and banks that were filed with the federal Department of Education and found that cards issued under many contracts may lead students to pay excessive fees.

These cards may double as a student identification card or may appeal to student loyalty by displaying the school's logo. But the marketing agreements often emphasize revenue for the school and the banks rather than the financial interests of students, the bureau found.

Debit cards have surpassed credit cards as the product of choice for campus marketing contracts, in part because of the 2009 Credit Card Accountability Responsibility and Disclosure Act, which restricts the marketing of credit cards to students. Last year, banks paid colleges and universities nearly $27 million for the right to pitch credit cards to students, down from $84 million in 2009, the bureau reported.
Well, when the next administration cuts the CFPB it will be open season for all kinds of cards. Debit, Credit, Organ Donor. All methods of payment will be on the table for indebted college kids. That is until Betsy DeVos eliminates all public colleges in favor of a healthy selection of Jesus Camps. In the meantime, maybe find a local credit union, youngsters.