Did You Misplace Your Dildo During The 18th Century? If So, Good News!
News
April 17, 2015 10:49 AM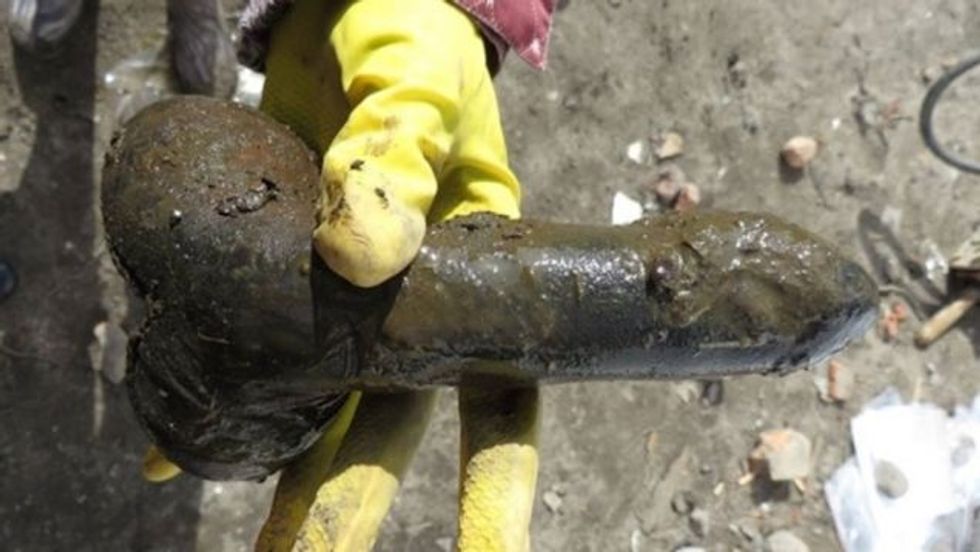 They found it! You're not getting it back, though, so don't rush out for a bottle of lube yet. Yes, archaeologists have discovered a very well-preserved 250-year-old dildo in an old latrine in Gdańsk, Poland. It is very ... well, it's very unique! We always wondered what people in the 1700s sticked up their sex holes (no we didn't), but now we know! According to Discovery News, that clam pounder right there is big and girthy and it's "made of leather filled with bristles, and has a wooden tip." That sounds ... kind of painful? But hey, it was the 1700s, you ram your junk with the technology you have, not the technology you wish you had.
---
The archaeologists said it was a very expensive dildo, so we are sure that the person who owned it was very sad they couldn't use it anymore. They also found "fragments of pottery and jewelry" in the latrine, and also, not far from the site, pieces of old-timey sword weapons, which "suggest the site was a fencing school." So what we are thinking is that a lady or a gentleman was at the fencing school, having a fencing lesson, but then Nature Called, and by "nature" we mean the intense urge to rub one out, so they looked around to make sure nobody could see, made a bee-line for the latrine, then carefully removed the dildo from its sheath (of course it had a sheath, it was an expensive dildo, remember?), and went to town on whichever hole(s) they had available. And then, they dropped it. Into the 18th Century potty. Understandably, they did not fish it out.
As we said, if it's yours, you're not getting it back:
The 18th-century sex toy has now been taken away for "maintenance," the Regional Office for the Protection of Monuments said.
Ha ha, GROSS, the Regional Office for the Protection of Monuments is probably taking turns trying it out, for "science" and "archaeology." Bet they're protecting that monument REAL good. You're DEFINITELY not going to want it back by the time they're done with it.
[Discovery News viaJezebel/photo via the Regional Office for the Protection of Monuments]
Evan Hurst
Evan Hurst is the managing editor of Wonkette, which means he is the boss of you, unless you are Rebecca, who is boss of him. His dog Lula is judging you right now.
Follow him on Twitter RIGHT HERE.