Director Of National Intelligence Does Not Deny Trump Tried To Grab Him By Pussy
Russia
May 23, 2017 01:34 PM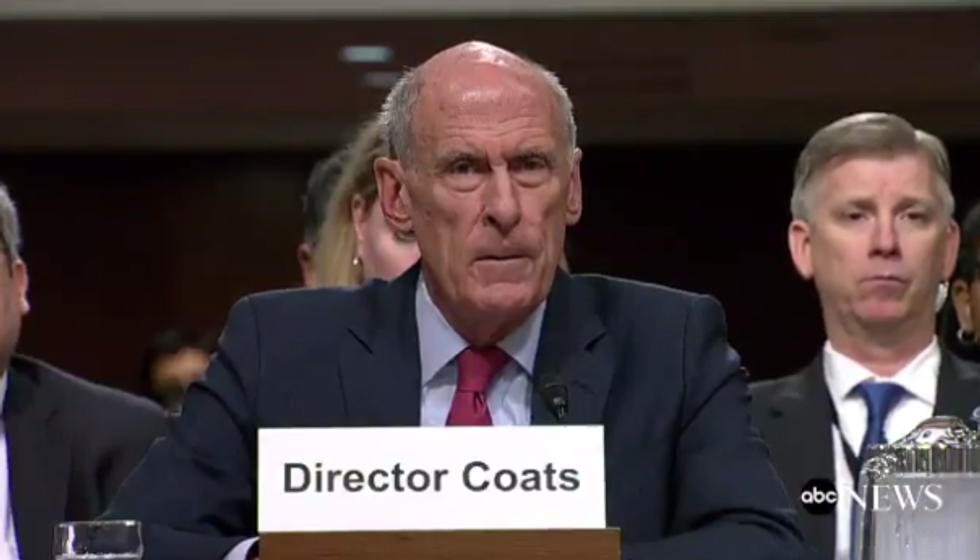 Trump's boy.
---
Director of National Intelligence Dan Coats, we do not think he is the sharpest spork at the MENSA picnic. WHOA IF TRUE, if we are saying that about a Trump appointee, right?
Coats testified Tuesday for the Senate Armed Services Committee, and that little thing came up about how Donald Trump picked up his Obamaphone and pressured Coats to SAY A SWEAR (not the cuss kind, the promise kind) that Trump was not under public investigation, and also tried to nudge him and NSA Director Mike Rogers to take James Comey back behind the barn and shoot him back behind the gym and rough him up a little bit, to get Comey to stop doing an FBI investigation into Trump World's possible criminal collusion with Russia. According to the report (broken by the Washington Post and also now confirmed by others), Coats was like "MISTER PRESIDENT! I am not that kind of girl, and my Daddy told me to stay away from boys like you!"
In the hearing Tuesday morning, Coats did not confirm that Trump had tried to play grab-ass with him like that, but he didn't NOT confirm it either. McCain asked the question, and this was the reply:
Coats responds to report Trump asked him to push back against FBI's Russia probe: Not "appropriate to characterize discussions" w/president. pic.twitter.com/pz1bJmHMWM

— This Week (@ThisWeekABC) May 23, 2017
We disKUFF a number of TOCK-ics [sic] on a very regular basis. I have always believed that given the nature of my position and the information that which we share [sic again], um, it's not appropriate for me to comment publicly on any of that, and so on this topic, as well as other topics, I don't feel it's appropriate to characterize discussions and conversations with the president.
OK ... BUT DID TRUMP DO THE THING EVERYBODY SAYS HE DID? Like, if Trump had called him up and their conversation was totally different from what the WaPo said -- as in, if Trump had NOT tried to push him to lie, or to pressure Comey to kill the Trump-Russia investigation -- couldn't Dan Coats, a former Republican senator AND TRUMP APPOINTEE, say "Nah bro, it was a totally normal conversation about ham salad recipes and Trump did NOT try to prematurely obstruct justice all over me"? Couldn't he have?
Apparently not, because when Democratic Senator Jack Reed asked him, hypothetically, if it would be a very bad thing for a president to try to push the DNI to kill off an investigation, he answered ... some other question, we do not know:
DNI Coats: Role is to present relevant information to lawmakers; "any political shaping of that presentation...would not be appropriate." pic.twitter.com/Fouch3gJaw

— ABC News Politics (@ABCPolitics) May 23, 2017
As Politico notes, Coats seemed to say that he would be open to being a bigger share-bear in a closed meeting with the lawmakers, but when Senator Kirsten Gillibrand (D-Your Next President) asked if he would also turn over any memos pertaining to Trump's attempted puss-burgling of the investigations into his campaign, Coats was like "NO MEMO. NO MEMO. YOU ARE THE MEMO." Apparently he doesn't write stuff down good :(
Anyway, the point is that the Washington Post's reporting stands and Trump is a justice-obstructing A-hole.
Intelligence analyst Eric Garland was paying closer attention to the hearing in real time than we were (we were watching John Brennan before the House Intel Committee ... report forthcoming!), and he live-tweeted a few other moments of Coats coming across like a Great Big Dumb: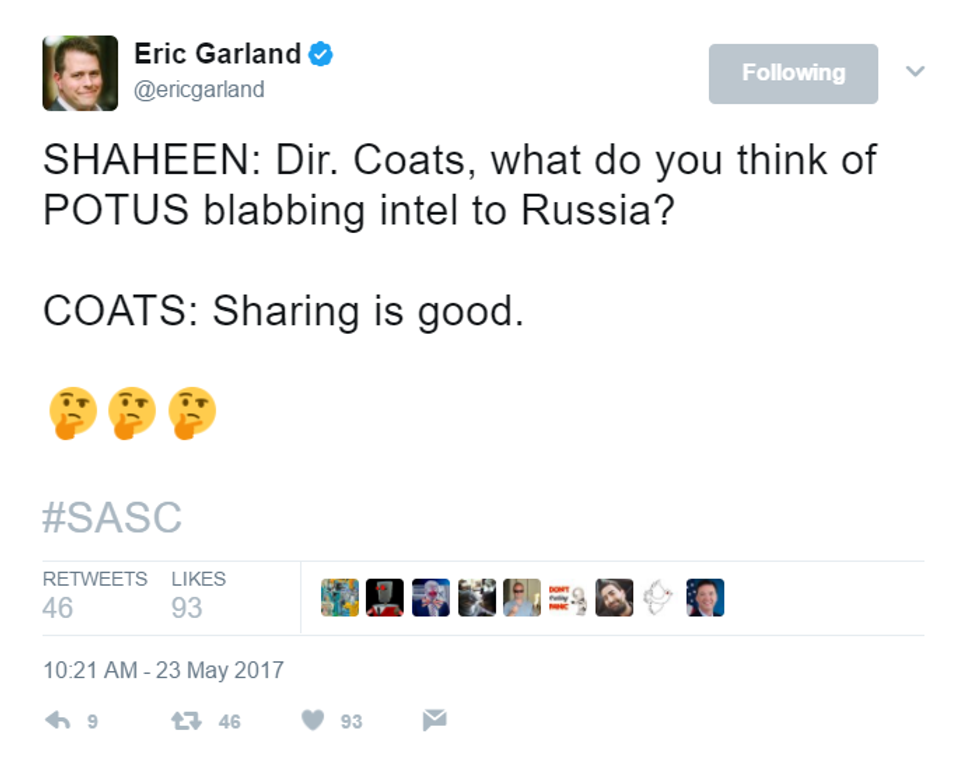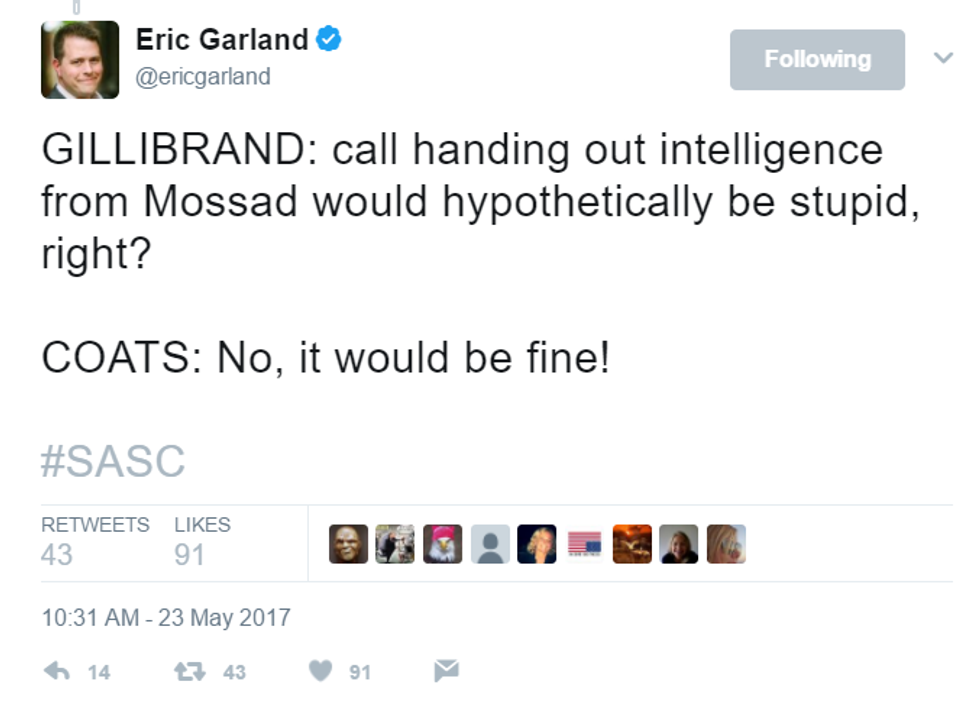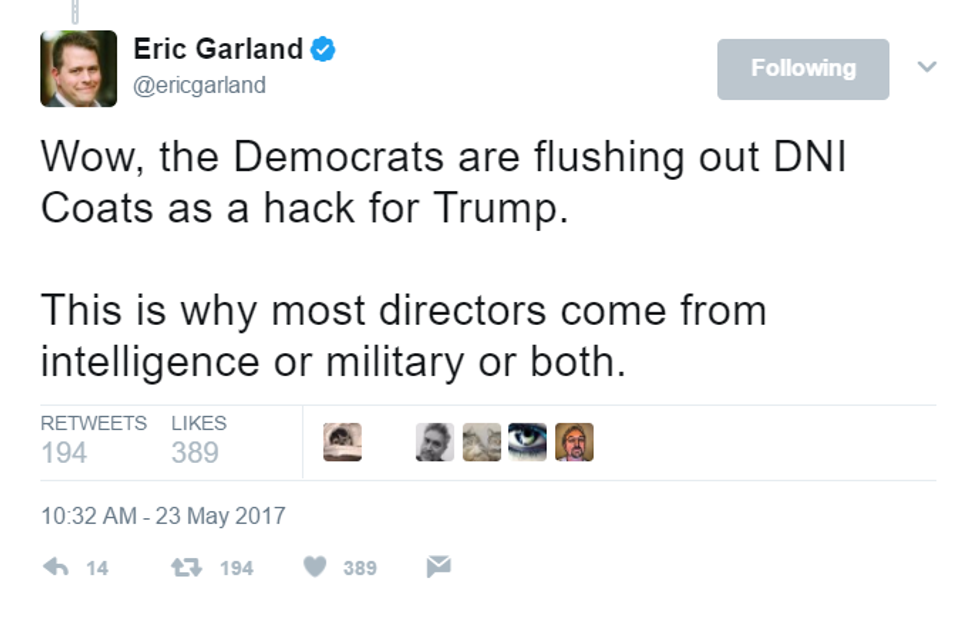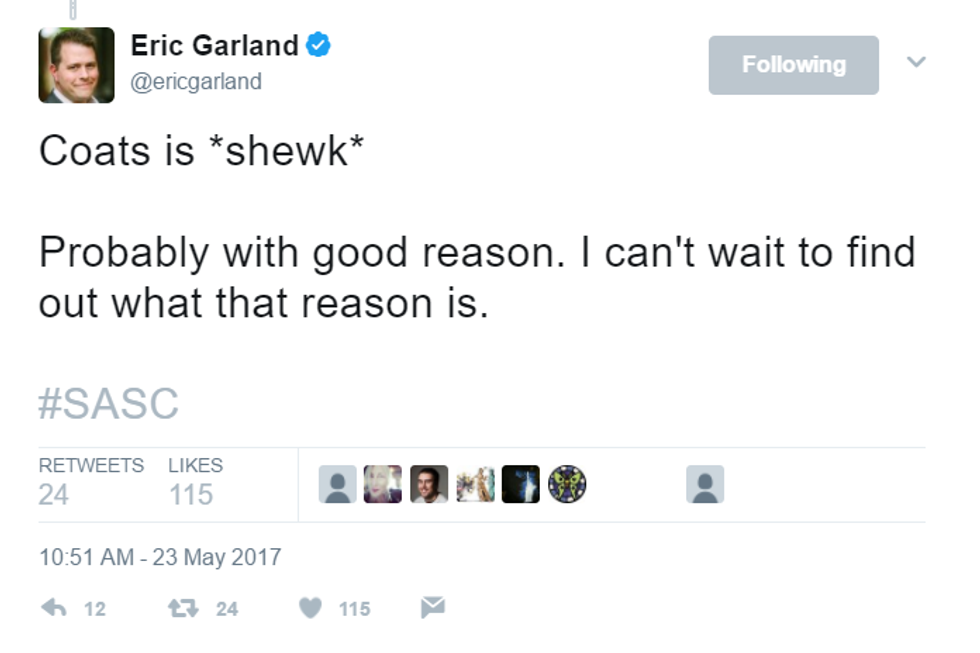 Donald Trump sure enough does pick the best people.
Wonkette is fully funded by readers like you! If you like us, click the banners below, to fund us!
Evan Hurst
Evan Hurst is the managing editor of Wonkette, which means he is the boss of you, unless you are Rebecca, who is boss of him. His dog Lula is judging you right now.
Follow him on Twitter RIGHT HERE.