Trump Gets Religion! (It Is Evidence-Free Belief In 'Imminent Attacks')
WARBLOGGING
January 13, 2020 10:53 AM
A lot has happened since last week! After the assassination targeted killing of Maj. Gen. Qassim Suleimani, the Trump administration has been working real hard to justify having done so without consulting Congress. So much so we've had to recap it every few days to ensure everyone keeps up with the new lies.
Last week it was Secretary of State and least popular Pompeo, Mike, lying his ass off on the Sunday shows. This week it's Defense Secretary Mark Esper's turn. Esper began by trying to push the talking points at the top of his dual appearances on CNN's "State Of The Union" and CBS's "Face The Nation." It did not go well!
---
From "State Of The Union":
ESPER: Well, let me say one thing up front first, to your viewers, to the American people. The United States is safer today than we were just a few short weeks ago. Why? Because we eliminated the world's foremost terrorists, Qasem Soleimani, who had the -- had the blood of hundreds of American service members on his hands. Secondly, we restored deterrence with Iran. And we did so without American casualties. And, third, we reassured our friends and allies in the region that the United States will stand up and defend our interests. And I want to thank all of our brave service members who are deployed for what they did, for their brilliance in executing this very important mission.
But it didn't take long for Esper to fall apart as Jake Tapper asked about confirmation of the threat posed by Suleimani being "imminent." Esper ... well ... he has religion instead:

TAPPER: OK, what about the intelligence? Was there specific intelligence the Iranians were plotting to target four US Embassies?

ESPER: There was intelligence that they had a -- there was an intent to target the US Embassy in Baghdad. What the president said with regard to the four embassies is what I believe as well. And he said he believed that they probably, that they could have been targeting the embassies in the region. I believe that as well, as did other national security team members. That is why I deployed thousands of additional paratroopers to the region to reinforce our embassy in Baghdad and to reinforce other locations throughout the region.

TAPPER: Well, Soleimani was a horrible guy, and he killed a lot of innocent people, and he killed a lot of US soldiers. There's no question about any of that. But ...

ESPER: For 20-plus years.

TAPPER: But the question is not whether he posed a threat in an existential way, because he did. He -- I mean he'd been doing it for years. But was there specific intelligence that he was plotting to attack four US embassies? Did you see any intelligence like that?

ESPER: I'm not going to discuss intelligence matters here on the show. Let me just say...

TAPPER: The president did, though.

ESPER: He was -- it's the president's prerogative.
Yep, President Corleone sure did! To impress Laura Ingraham and his die-hard Fox News audience supporters. That and something about turning our military into paid mercenaries. But the reason we couldn't elect Hillary Clinton, according to Republicans, was "she can't be trusted with sensitive information," which was the basis for "But her emails." Yet President Blabby Mouth over here can tell Ingraham, Twitter and the Russians sensitive information because it's "his prerogative." So either Trump is an even worse Bobby Brown ...

Or their concern about safe email handling practices might have been, and we hate to even think it, a ruse!
Esper continued:
ESPER: But what the president said was, he believed. He said he could have been targeting, all those things that I believe as well, that the national security team believes as well. The important thing is this. Soleimani orchestrated, resourced, directed the attacks, escalating up to the December 1 that killed an American. He orchestrated the siege on the US Embassy in Baghdad, and he was planning this much broader plot in multiple countries that would be bigger in scale, and that likely would have taken us to open hostility with Iran. In fact, a very, very senior intelligence community official said to us that the risk of inaction is greater than risk of action. To me, that is very compelling.

TAPPER: The president has discussed probably that he believed -- and a belief is not the same thing as there was evidence. I mean, you could believe that Soleimani would have attacked the Eiffel Tower. That's not necessarily based in evidence. I mean, he could have been. He posed a threat.

ESPER: Well, there was evidence -- there was evidence that part of the attack would be against the United States Embassy.

TAPPER: In Baghdad?

ESPER: In Baghdad.

TAPPER: But what about the four embassies?

ESPER: I'm not going to discuss intelligence. What the president said was, he believed it probably could have been. He didn't cite intelligence.

TAPPER: He said it was his belief.
Well at least the president believes in something.

Esper, unlike Trump or Pompeo, isn't as comfortable outright lying so he tried again with Margaret Brennan on "Face The Nation."
BRENNAN: But, broadly, can you clarify though, what was the specific threat that the president shared with Fox News about four US embassies being under threat, also shared with Congress? Why was there a difference?

ESPER: Well, what the President said was he believed that it probably and could have been attacks against additional embassies. I shared that view. I know other members of National Security Team shared that view. That's why I deployed thousands of American paratroopers to the Middle East to reinforce our embassy in Baghdad and other sites throughout the region.

BRENNAN: Probably, and could have been. That is-- that sounds more like an assessment than a specific, tangible threat with a-- a decisive piece of intelligence.

ESPER: Well, the President didn't say there was a tangible-- he didn't cite a specific piece of evidence. What he says probably-- he believed, could have been--

BRENNAN: Are you saying there wasn't one?

ESPER: I didn't see one with regard to four embassies. What I'm saying is I share the President's view that
probably-- my expectation was they were going to go after our embassies. The embassies are the most prominent display of American presence in a country.

BRENNAN: The description had been that this was an imminent threat to US personnel and facilities in the region.
Is that a more accurate description than what the president provided?

ESPER: Well, what I've said publicly, I've-- I've said many times, is that we had information that there was going to be an attack within a matter of days […]
That's a lot of probably, could have, would have, should have without actual intelligence to justify what they did. So little evidence of justification that Mike Lee, Matt Gaetz and Rand Paul are temporarily on the right side of history! We've reached the "End Times" and we're still only in January of 2020!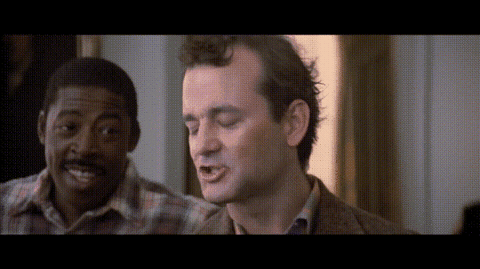 Giphy
Have a week!
Wonkette is ad-free and funded entirely by about 4000 readers a month. You could join them, if you haven't already!
Michael Mora
Pop Culture observer & Comics fan. Amateur Movie Reviewer. Political Freelance Writer @wonkette. Marine, Husband & Dad. Opinions are mine only.