Donald Rumsfeld: It's Not My Fault
News
February 03, 2011 10:00 AM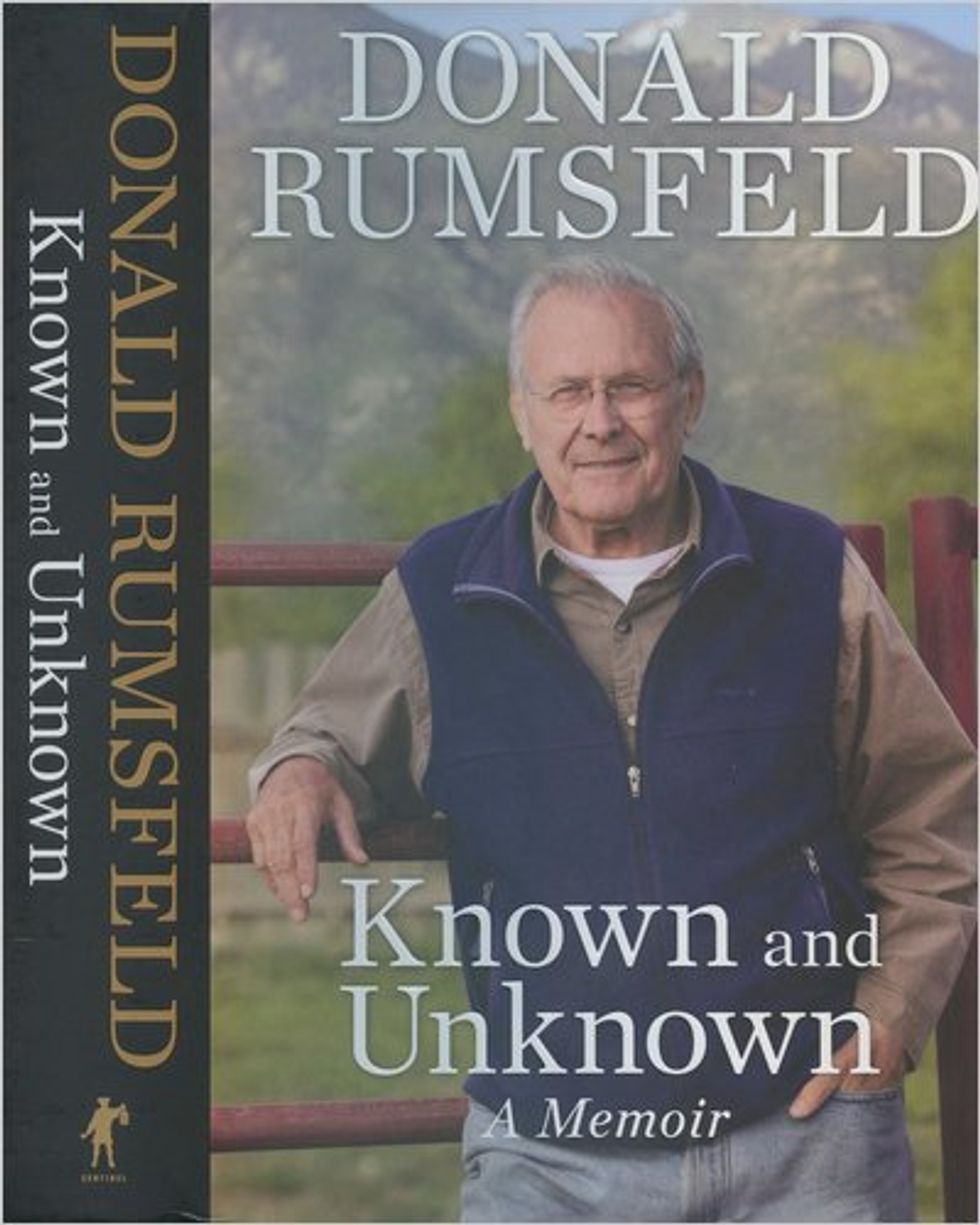 America's Grandpa of Death Donald Rumsfeld ishaving his memoir published on Tuesday, serving as an addendum to George W. Bush's book in that it has actual, alleged facts, opinions, and memories in it. So: Abu Ghraib? Not his fault, but he really wanted to resign over it and feels very emo that big meanie Bush wouldn't let him. Initial troop levels? Not his fault, nobody in the military ever asked him for more troops. Guantanamo? Not his fault the jail existed, and actually he made sure there was less torture and fewer prisoners. Hmm, anything we're forgetting here? Oh, that one war. What was it called again? Anyway, not his fault, Bush came to him about Iraq before the U.S. even invaded Afghanistan, but at the same meeting, he also talked about Rummy's son's drug addiction, so all Rummy could do was cry about that. Whoops!
---
Just 15 days after the terrorist attacks of Sept. 11, 2001, President George W. Bush invited his defense secretary, Donald H. Rumsfeld, to meet with him alone in the Oval Office. According to Mr. Rumsfeld's new memoir, the president leaned back in his leather chair and ordered a review and revision of war plans — but not for Afghanistan, where the Qaeda attacks on New York and Washington had been planned and where American retaliation was imminent.
Rummy says Defense was preparing for offense on Afghanistan at the time, but Bush asked him to be "creative." Creative! Perhaps the military could stage a production of Grease for the people of Iraq before taking a bow and dropping a bomb on them?
The book mixes the policy and the personal; at the end of the same Oval Office session in which Mr. Bush asked for an Iraq war plan, Mr. Rumsfeld recounts, the president asked about Mr. Rumsfeld's son, Nick, who struggled with drug addiction, had relapsed and just days before had entered a rehabilitation center. The president, who has written of his own battles to overcome a drinking problem, said that he was praying for Mr. Rumsfeld, his wife, Joyce, and all their children.

"What had happened to Nick — coupled with the wounds to our country and the Pentagon — all started to hit me," Mr. Rumsfeld writes. "At that moment, I couldn't speak. And I was unable to hold back the emotions that until then I had shared only with Joyce."
Ah, there you have it. Rumsfeld could have said, "What the fuck are you talking about going to war with Iraq for? Our country was just attacked by a foreign terrorist organization we need to go try to destroy. Iraq has nothing to do with this. Aren't you more concerned with winning this war we haven't even begun yet?" But instead, his son had done some drugs. Sure thing, Rumsfeld. Perfectly good excuse. You should drop some leaflets on the families of people, American and Iraqi, whose children have died in that war. "Sorry, my son was doing drugs. I was emotional at the time. Not my fault."
So here you have it: There's finally someone to blame the entire Iraq War on: Nick Rumsfeld. HOPE YOU LIKED THOSE DRUGS, ASSHOLE! [NYT]