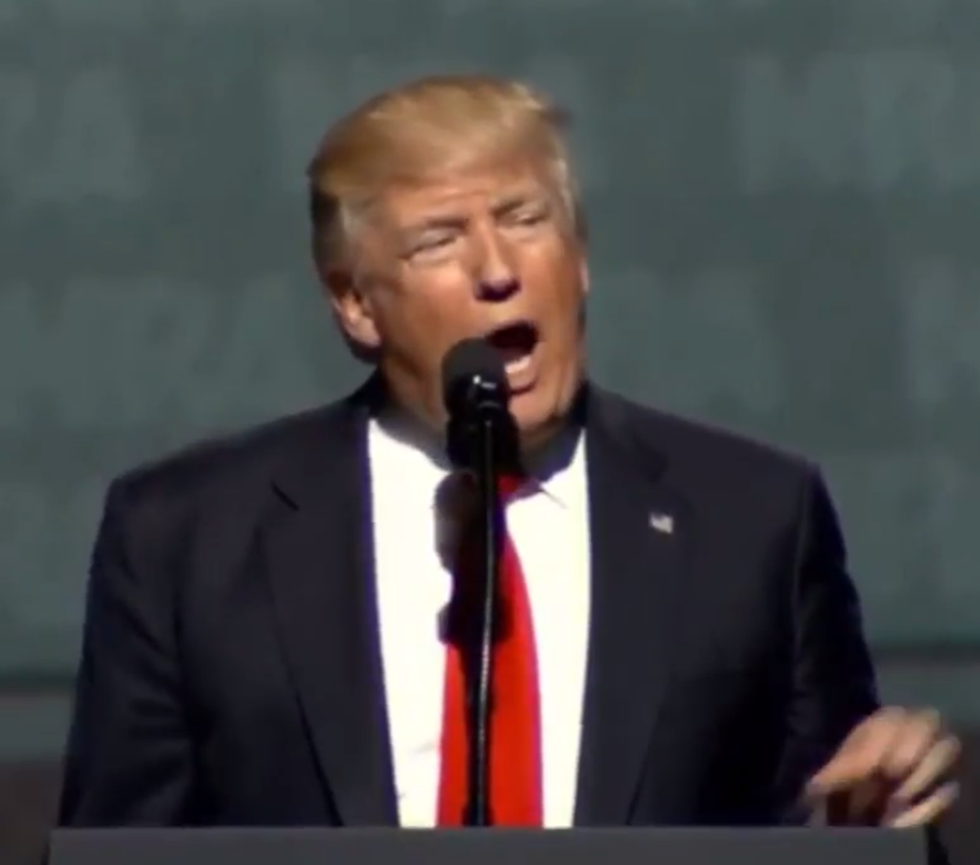 the actual stupid one
---
Late Tuesday afternoon, the world received the news that Donald Trump had, with no warning, decided to fire FBI Director James Comey, the guy who was currently investigating possibly egregious collusion between him, his campaign, and our Russian enemies. (Or maybe just money-laundering for the Russian mob.) This came the same day we learned that a grand jury in eastern Virginia had started issuing subpoenas in the Trump Russia investigation, and that the Senate Intelligence Committee had requested information from the Treasury Department's financial crimes unit on Trump and members of his inner circle.
The stated reason for the firing came in a letter from Deputy Attorney General Rod Rosenstein, who is allegedly hippity hoppity mad about how Comey handled the Hillary Clinton email investigation, and we are supposed to believe Trump received that letter Tuesday afternoon and was like "You know what? He's right! Comey sure is a numbskull, and he was unkind to our beloved Hillary Clinton! You are fired, James Comey, for no one damages the reputation of Saint Hillary!" This is very believable, especially when one considers that Donald Trump had nothing but high praise for Comey's handling of Hillary's email investigation, especially when Comey sent his infamous letter ELEVEN DAYS BEFORE THE ELECTION that said he had maybe found some new Hillz emails under the couch, but maybe it was nothing important.
In January, Trump was seen blowing a kiss to Comey! They were BFFs!
In short, we are supposed to believe that Trump fired Comey for the very same reasons Trump used to love Comey. And we're not supposed to notice that this is the third person Trump has fired (after Sally Yates and U.S. Attorney Preet Bharara) who just so happened to be sniffing out crimes in the Trump/Russia/financial crimes/espionage scandal. Huh!
How fucking stupid does he think we are?
All these stories are coming out about how the White House had literally no clue there would be a ton of blow-back from Trump's sudden decision to fire Comey, because somehow in the tiny ShitFerBrains head cavity of Donald Trump, Democrats hate James Comey too, right? And meanwhile, Trump is soooooo angry, according to Politico, that the former FBI director insisted on doing quaint things like "following the evidence" in his Trump Russia investigation, and worse than that, Comey "wouldn't support his claims that President Barack Obama had tapped his phones in Trump Tower" (because that was a lie Trump pulled out of his spray-tanned anus). So it's a win-win, right? Good for Democrats, and good for Trump?
Wednesday morning, Trump regaled us with a toddler Twitter tantrum, because he's just SO CONFUSED why Democrats like Senate Minority Leader Chuck Schumer are upset about this: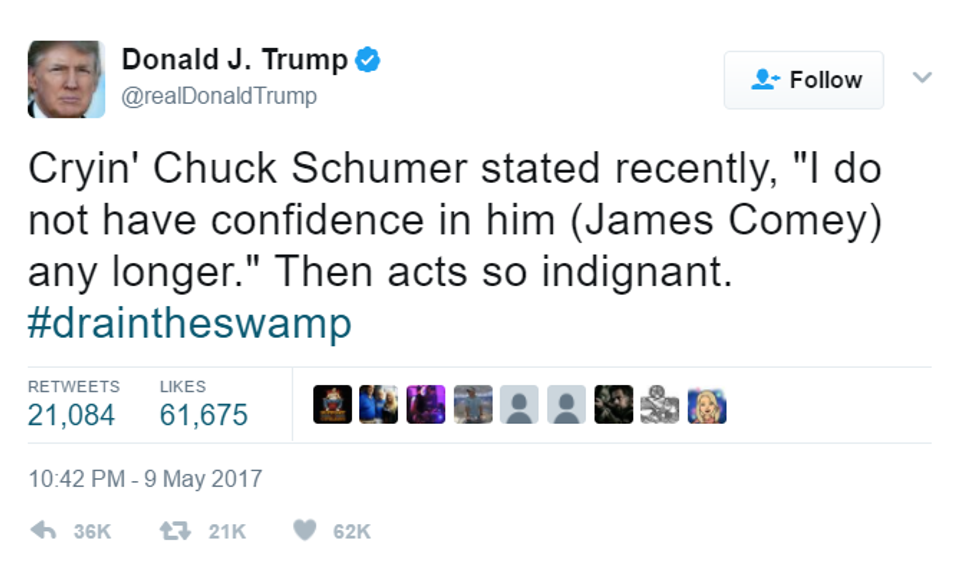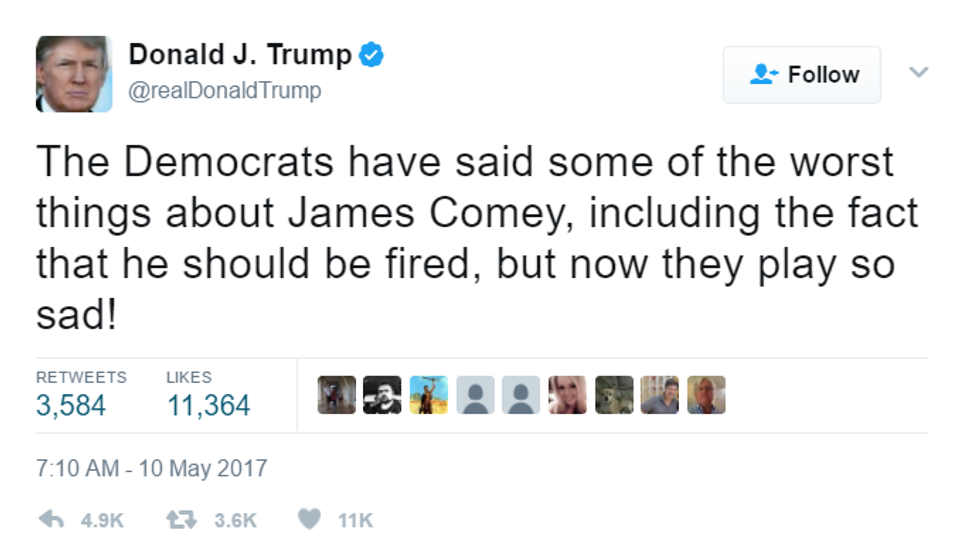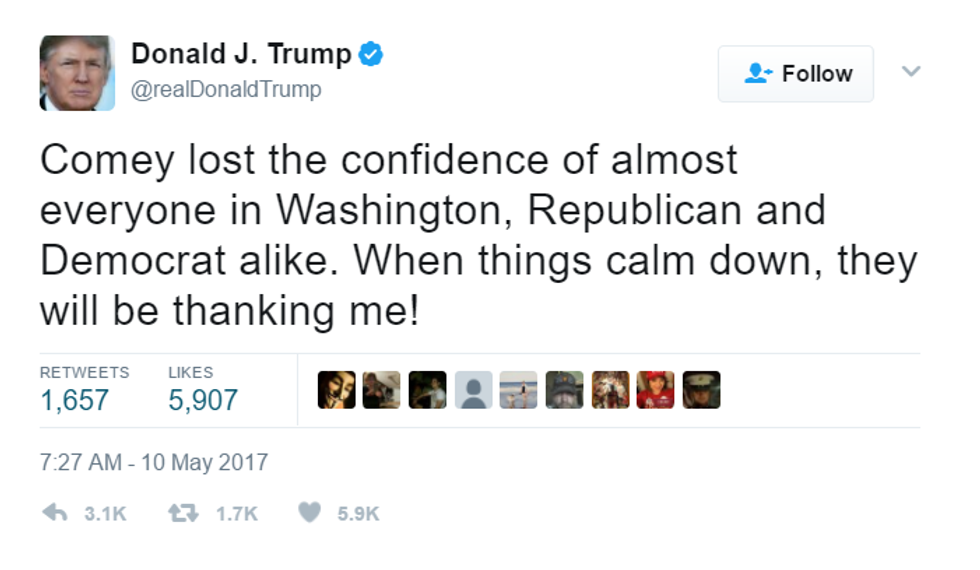 As we publish this, Trump is still live-tweeting CNN, because he's a very important man with a very important job who has definitely taken a shower today. But aside from that ...
HOW FUCKING STUPID IS THIS MAN?
He's stupider than you are. He's stupider than we are. He's stupider than the majority of the United States population, and he's certainly stupider than James Comey, whom we wrote about yesterday hours before his firing, wherein we floated a theory we're even more certain about today, that despite some grave missteps, he's actually a good guy who was trying to do the right thing and lead a true and credible investigation into Trump's Russian ties.
The message from Trump's minions is much the same. Mike Huckabee's Trump-spewing lie machine offspring Sarah Huckabee Sanders went on "Morning Joe" Wednesday morning, and when she wasn't rolling her eyes about how the Russia investigation is SO OVER YOU GUYS -- the real goal of the Comey firing -- she was saying the White House-approved "gotcha!" talking point about how just five minutes ago, Democrats were alllll about hating on James Comey. WHY U NO HAPPY NOW, DEMOCRATS?
White House press secretary Sean Spicer said Trump's decision should be "welcomed by Democrats," because C'MON YOU GUYS, weren't you just all GRRRR about how Comey fucked up the election for Hillary Clinton? PFFFFFFFT.
Kellyanne Conway got on TV and ... well she opened her mouth, so you can be 100% certain she told a thousand lies before breakfast.
Again, how fucking stupid are these people, and how stupid do they think WE are? On "Morning Joe" Tuesday, Joe Scarborough said these people are "too stupid to operate a blender," and that "their immediate family members" should "wrap them in bubble wrap" in order "to keep them from hurting themselves." We agree, and also we LOLed.
Maybe well known liberal gay hippie Bill Kristol can 'splain this succinctly for us: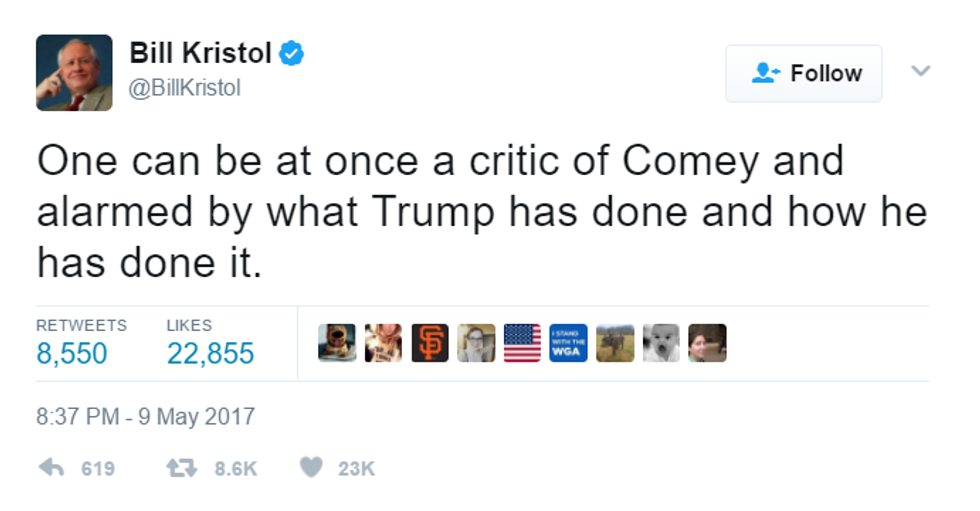 The point of this post is really fucking simple -- in fact it's so simple that a common (allegedly!) illiterate bag of sentient pus like Donald Trump could understand it:
OUR DISTRUST (AND LOATHING, BUT THE DISTRUST IS MORE IMPORTANT) FOR DONALD TRUMP WILL ALWAYS OUTWEIGH ANY CONCERNS WE COULD EVER HAVE ABOUT JAMES COMEY.
Also?
WE LOVE AMERICA AND OUR CONSTITUTION FAR MORE THAN THE ORANGE PUSSY-GRABBING TWIT IN THE WHITE HOUSE WILL EVER UNDERSTAND.
So yeah. We're pissed off. And there is nothing intellectually inconsistent about our position. We can have massive and deep complaints with how James Comey conducted himself in the Hillary investigation. (And we do!) But we also appreciate that the FBI director is supposed to be an independent person who pisses people off sometimes, whether it's Democrats angry about what he did to Hillary Clinton, or whether it's the president of the United States, who is currently under investigation in a Russian scandal that we're fairly certain is, in the president's own words, "bigger than Watergate." And if anyone was going to fire him -- and yeah, we certainly did want that -- it should have been the last president, the one who wasn't being investigated by ANYBODY because he's not a giant orange crook who's been conning and grifting and moneylaundering for DECADES.
And if the Trump White House is too stupid to understand that, maybe they should all resign in embarrassment and go read a goddamned book or something.
Wonkette is pissed off right now. We are also fully funded by readers like YOU. If you like us, click the banners below, to fund us!
Evan Hurst
Evan Hurst is the managing editor of Wonkette, which means he is the boss of you, unless you are Rebecca, who is boss of him. His dog Lula is judging you right now.
Follow him on Twitter RIGHT HERE.