Donald Trump Furious About Recounts In Election He's Still Pretty Sure Was #Rigged
Elections
November 28, 2016 10:10 AM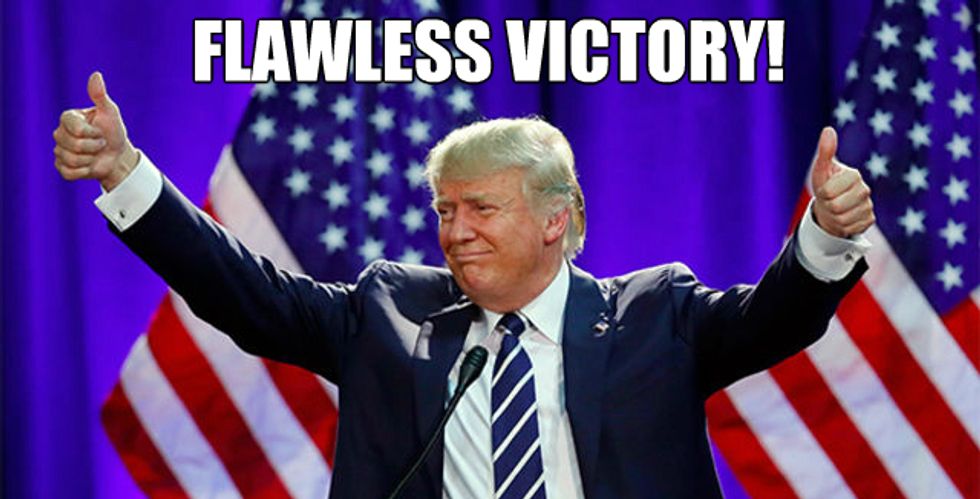 OR WAS IT?
---
To be honest, we are not sure why Jill Stein is doing recounts in the "blue wall" states, Wisconsin, Pennsylvania and Michigan, all of which Donald Trump (ALLEGEDLY!) won in little squeaker races. Is she trying to save her soul, because she knows deep down that she may have ruined America by siphoning votes from Hillary? Maybe. Is she really, for serious, very worried about the integrity of all U.S. American elections, and really, truly wants to enact reforms to make sure they are free and fair, as her Twitter timeline suggests? Also maybe. Did Hillary Clinton call Dr. Stein on her Obamaphone and threaten to introduce her to Hillz's little friend Ben G. Hazi, if Dr. Stein refused to do her this tiny favor? Probably.
Just fooling, Hillary would not do that! The Clinton campaign has announced that yeah, for sure, it's sending its lawyers to monitor the recounts. In a long post on Medium (which you should read!), Clinton counsel Marc Elias explains the reasoning for joining right now:
Because we had not uncovered any actionable evidence of hacking or outside attempts to alter the voting technology, we had not planned to exercise this option ourselves, but now that a recount has been initiated in Wisconsin, we intend to participate in order to ensure the process proceeds in a manner that is fair to all sides. If Jill Stein follows through as she has promised and pursues recounts in Pennsylvania and Michigan, we will take the same approach in those states as well. We do so fully aware that the number of votes separating Donald Trump and Hillary Clinton in the closest of these states — Michigan — well exceeds the largest margin ever overcome in a recount. But regardless of the potential to change the outcome in any of the states, we feel it is important, on principle, to ensure our campaign is legally represented in any court proceedings and represented on the ground in order to monitor the recount process itself.
Fair enough, and you can bet your tiny hands the Trump campaign will send its own lawyers to have a look-see at the process as well. The Clinton camp says it's received all these reports of hacking and possible fraud, and though it hadn't found enough evidence to take action on its own -- partially, we are guessing, because they would need to find conclusive evidence of a bunch of smoking guns in order to initiate recounts without being called Sore Losers From Loser Town -- they're DTF with Jill Stein's recounts, because why not?
Donald Trump, who won the election despite losing by a zillion in the popular vote, seems spooked, though. Let's go to the latest press statements from the press office of the president-elect of the United States, by which we mean Trump's Twitter account, which America really needs to fucking unfollow and mute and block: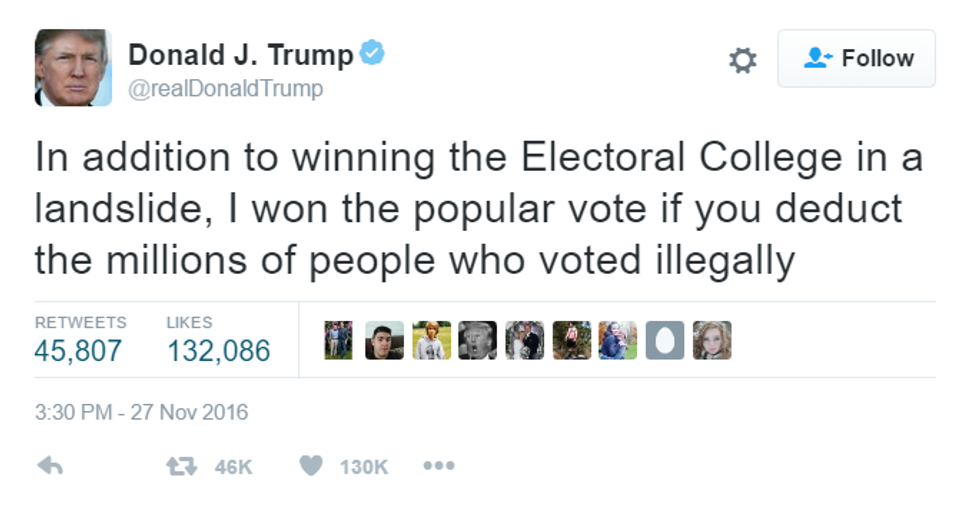 OH YEAH? MILLIONS OF ILLEGAL VOTES? Well golly gee good gravy, shouldn't there be a recount, to weed out the MILLIONS OF ILLEGAL VOTES that denied Trump his YOOGE POPULAR VOTE WIN? Wouldn't you think that would be a good idea? Unless the man is tweeting lies directly out of his bunghole, which is what he is doing, because it's one of his favorite things to do. It's even better than eating Trump Taco Bowls and ogling his daughter Ivanka's ass, you bet!
(Also, Trump is currently sitting at 290 electoral votes, which is not a "landslide," unless we grade on a curve when a Republican wins an election. Obama won 365 in 2008 and 332 in 2012. But this is a "landslide." Uh huh.)
But no, Trump does not want recounts, even though a metric fuckton of illegal Mexican rapists obviously voted early and often for Hillary. Behold the tweets that followed: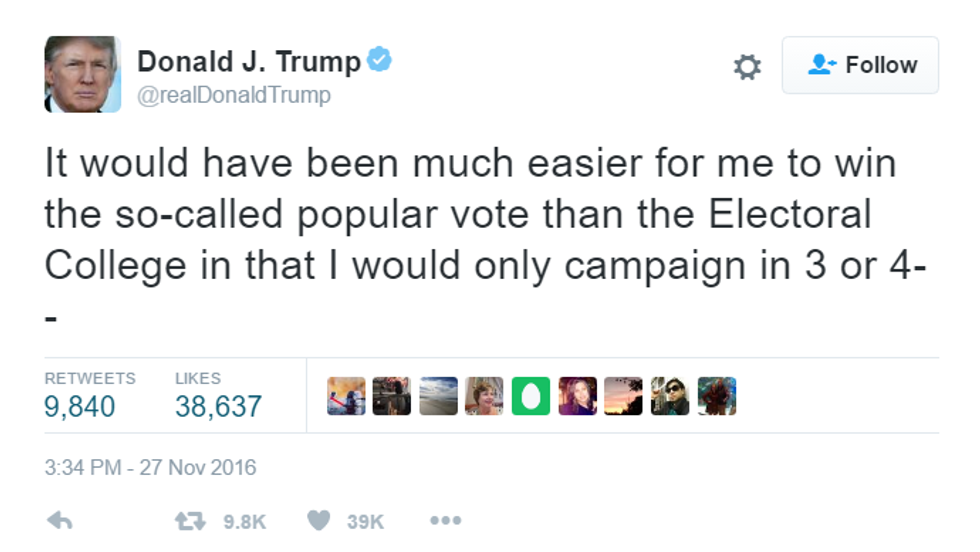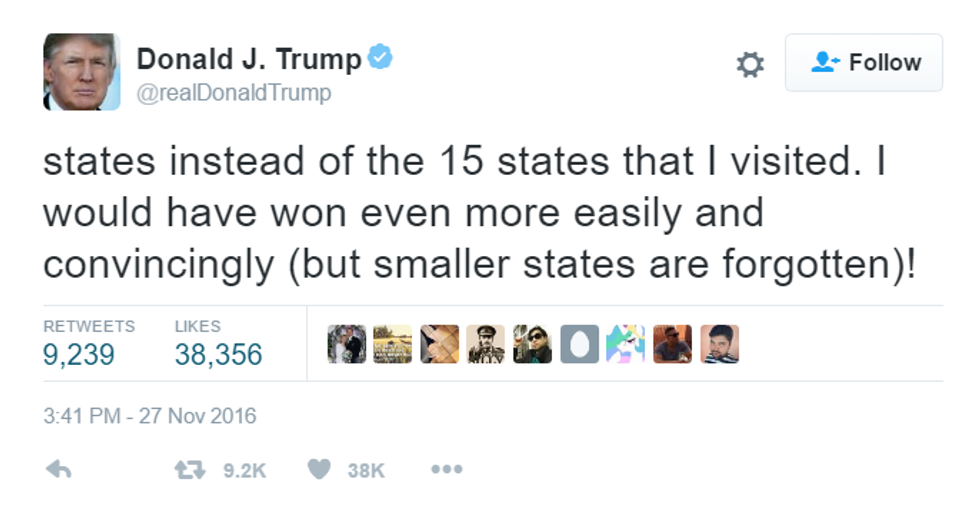 So he's saying if he had just spent his time in California and New York, where the people live, all the illegal Mexican rapists would have voted for him instead? Um OK.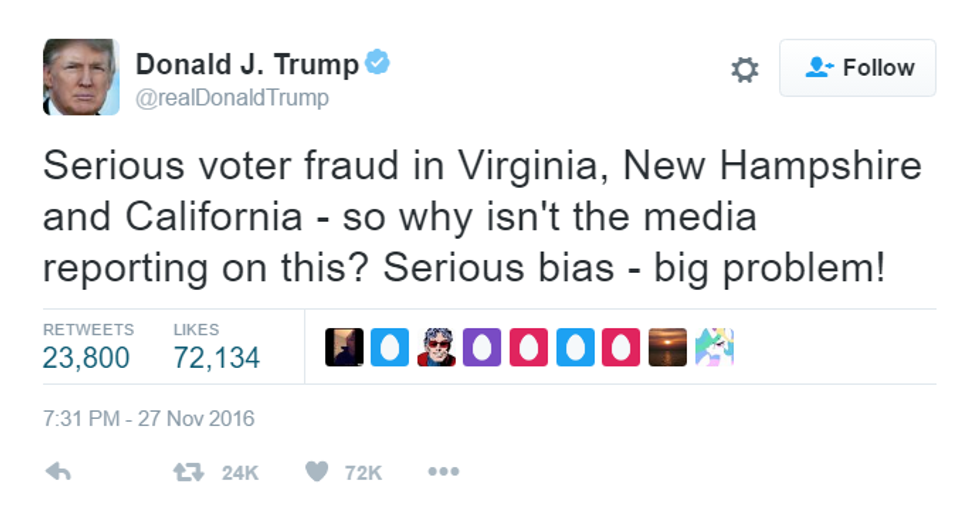 WELL THEN SHOULDN'T THERE BE RECOUNTS?
Here's Jill Stein, calling bullshit on that last tweet: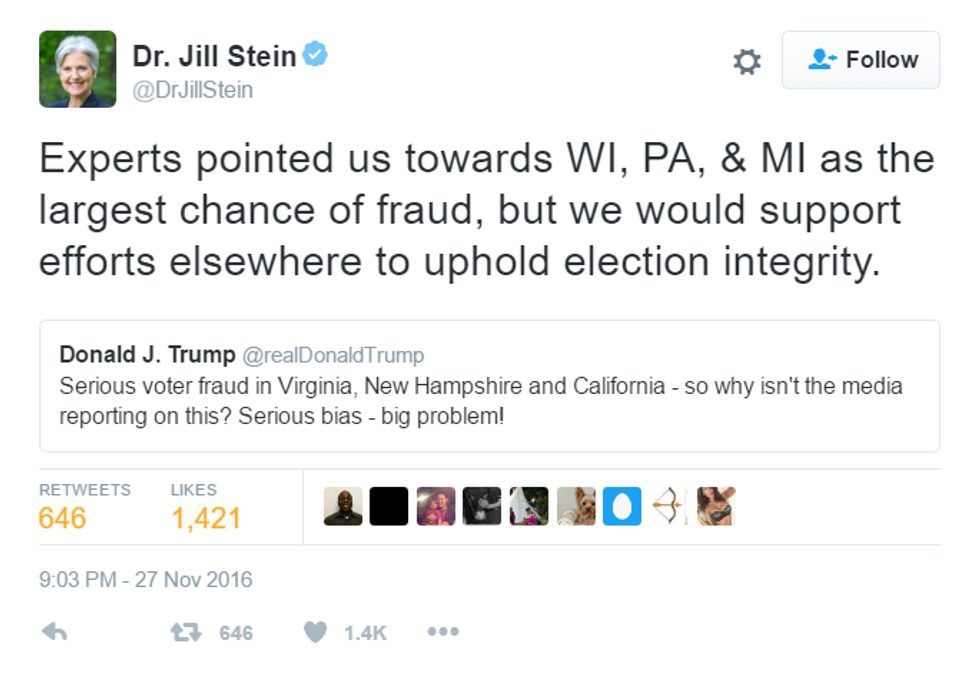 Let's go! Unless Trump is just making up more lies about alleged "voter fraud" in states he lost.
So, it's apparent that these recounts are getting all the way under Trump's skin, and he is obsessed with them. He spent the rest of the weekend on his Twitter, quoting Hillary saying the electoral process should be respected, yadda yadda, seemingly forgetting that she didn't call for the recounts in the first damn place. Is Trump worried about what they are going to find? He sure did spend a lot of the campaign season telling us the election was going to be #RIGGED. Wouldn't he want to know if his alleged victory is, in fact, valid?
Or is he going to have to prosecute Hillary Clinton after all, as apparently "participate in democracy" and "lock up your electoral opponent" are somehow, in Trump's mind, linked?
Nah, he's just going to keep throwing tantrums, because this is obviously bothering him a whole lot, and he doesn't know how to be presidential. So let the recounts continue! It's not like the Trump camp has anything to hide, right?
[Medium / Trump's Twitter, which you again, need to UNFOLLOW]
Evan Hurst
Evan Hurst is the managing editor of Wonkette, which means he is the boss of you, unless you are Rebecca, who is boss of him. His dog Lula is judging you right now.
Follow him on Twitter RIGHT HERE.