Donald Trump Got $2.3 Million In Fees Paid To His Foundation, If That Don't Beat All
Elections
September 28, 2016 10:00 AM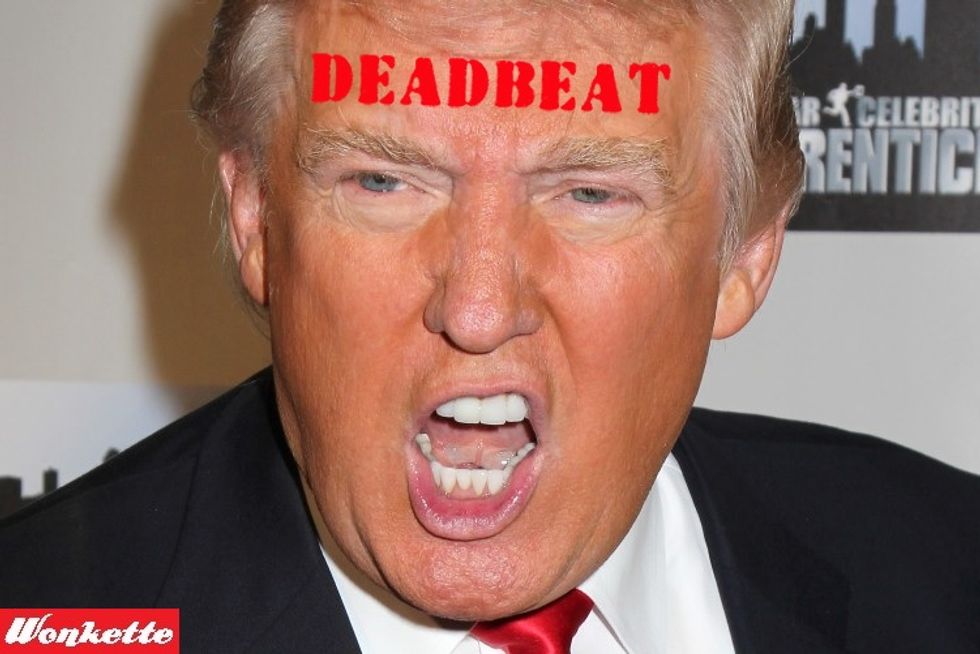 Number bazillion In a series
---
While everyone else spent Monday all excited-like about the Hoedown at Hoftstra between Hillary Clinton and Donald Trump, the Washington Post's David Fahrenthold gave us all yet another reason to demand that Donald Trump release his tax returns, since even more of the tribble-headed freak's financial practices seem to hail from a galaxy far, far away. You might recall how t'other day Lynn Patton, a minor functionary in the Trumpensphere, explained it really didn't matter whether Donald Trump paid his bills from his own account or from the Donald J. Trump Foundation, because it's all Trumpmoney anyhow. Looks like Donald Trump does indeed sometimes say that instead of getting paid for an appearance or other work-like thing he does, he directs that payment go to his foundation instead. Which could be kind of illegal if he's not paying taxes on that income, says Fahrenthold, who for months has been trying to nail down how Donald Trump's mysterious finances of mystery actually work:
In cases where he diverted his own income to his foundation, tax experts said, Trump would still likely be required to pay taxes on the income. Trump has refused to release his personal tax returns. His campaign said he paid income tax on one of the donations, but did not respond to questions about the others.

That gift was a $400,000 payment from Comedy Central, which owed Trump an appearance fee for his 2011 "roast."
But then there were another $1.9 million in payments from a guy named Richard Ebers, A New Yorker "who sells sought-after tickets and one-of-a-kind experiences to wealthy clients." We think that means probably things like the chance to watch Trump through a blind as he goes about his natural hunter-gatherer lifestyle. The article's a bit vague on what "goods and services" Ebers gave money to the Trump Foundation for -- dirigible rides, perhaps.
In any case, says Fahrenthold, the payments clear up one mystery about the Trump Foundation: Why is anyone still giving it money, since Trump's last contribution was in 2008? And yes, there are still questions!
Did Trump, in fact, pay income tax in the cases where he directed his own fees to the Trump Foundation?

The first time The Washington Post asked, Trump's campaign denied that any of the transactions had taken place.

"He's never directed fees to the foundation," said Boris Epshteyn, a senior adviser to Trump, who responded on the campaign's behalf in a phone interview on Saturday. Epshteyn said that what Trump did was provide a service, renounce any fees, and then merely suggest that the other party make a donation to a charity of their choosing.
Oh, but then Fahrenthold whipped out a ledger or something with the payments from Comedy Central and Ebers, exclaiming, "Perhaps this will refresh your memory!" and Epshteyn agreed the Comedy Central fee had gone to the foundation, but had no comment on the Ebers payments:
"To my knowledge, Mr. Trump has followed all applicable rules and regulations," Epshteyn wrote in an email Sunday after being presented with The Post's reporting on the donations from Ebers. "The rest is pure speculation and worthless conjecture on your part."
So, he's going to play it that way, eh? That's hardly any fun, and leaves us without any hardboiled detective cliches to deploy, darn it. Can't very well have Fahrenthold smack him around, now can we? Might have worked for Bogie, but not your modern ethical journamalist. So instead, Fahrenthold did the next best thing: He asked An Expert about all this apparent financial fuckery:
"This is so bizarre, this laundry list of issues," said Marc Owens, the longtime head of the Internal Revenue Service office that oversees nonprofit organizations who is now in private practice. "It's the first time I've ever seen this, and I've been doing this for 25 years in the IRS, and 40 years total."

The laws governing the diversion of income into a foundation were written, in part, to stop charity leaders from funneling income that should be taxed into a charity and then using that money to benefit themselves. Such violations can bring monetary penalties, the loss of tax-exempt status, and even criminal charges in extreme cases.
Not thatDonald Trump had done anything untoward, mind you, according to Mr. Epshteyn, who had a warning for the reporter as well:
"There's been no intent, in any way, to go against any applicable rules, laws, and regulations," Epshteyn said. "If you suggest it any way otherwise, publicly, it's dangerous and irresponsible."
Heaven knows nobody's suggesting anything of the sort, even though it's the kind of sneaky dirty dealing we might expect of a two-faced deadbeat who never pays his bills. Allegedly, sir.
Also, too, the Trump campaign seemed to back away from minor Trumpkin
Lynne Patton's explanation
that all the Trump money goes into one big bag, and some of it's charity and some of it's not, so don't you worry about little distinctions like whether taxes got paid on any of it. Patton, VP of Eric Trump's own charitable foundation, had explained last week,
"A lot of times Mr. Trump will give a speech somewhere or he'll raise money in some way and he asks that that entity, instead of cutting a personal check to him, cut it to his charity," Patton said. "That's money that otherwise would've been in his personal account, right?"

"So when he cuts a check from his foundation for let's say, St. Jude, it is his money," she added. "No ifs, ands or ways about it."
Well! Not quite accurate, said Trump spokeswoman Hope Hicks, explaining to Fahrenthold,
"Lynne is wonderful," said Trump spokeswoman Hope Hicks during the Saturday telephone interview in which Epshteyn also participated. "But she is not a spokesperson for Mr. Trump or the campaign or the foundation."

After it was pointed out that Patton made the statement while appearing on behalf of the campaign, Hicks responded: "Yeah. . . . She wouldn't know or understand."
Hicks also did not specify to Fahrenthold what particular model of bus Patton should expect to be thrown under, and may or may not have added "bless her heart." Epshteyn, for his part, explained that
Trump had all along been following the dictates of an obscure 1942 court case, which he cited by name: Commissioner of Internal Revenue v. Giannini.

That case involved a San Francisco bank president who had decided he had been paid enough and renounced the rest of his salary for the year. The bank gave his money to the University of California instead. The court held that the bank president didn't have to pay taxes on that money, because he hadn't controlled where it went.
Apparently, the thing that makes all the difference is whether the person who elects not to get paid actually designates where the charitable donation should go. As long as Trump never said "The Trump Foundation," he's golden. He probably merely used a complex series of blinks, sniffles, and head bobs that could be interpreted either as a hint that payment could go to the Trump Foundation, or that he would like to mate for life with a female bower bird. So sometimes gifts ended up at the Donald J. Trump foundation, just because it happened to have the name "The Donald J. Trump Foundation."
"He's Donald J. Trump," Epshteyn said, explaining why donors had chosen this particular charity.

Under the set-up that Epshteyn described, tax experts said, Trump might have escaped paying income taxes on donations to the Trump Foundation — as long as he truly had no influence over where the money went.

So which of the Trump Foundation's donations came in this way?

Epshteyn could not cite a specific example.

He then challenged The Post to find an example that proved him wrong.
So there, Mister Smart Guy Journalist! As for the Comedy Central donation, since Trump bragged on video that his fee was going to charity, sure, Epshteyn acknowledged, Trump had controlled where the money went. And he paid income tax on it, for sure!
Could he provide proof of that tax payment?

"Absolutely not," Epshteyn said.
As for Mr. Ebers's donations to the Trump Foundation, Epshteyn had no further comment than the line about how Trump had followed "all applicable rules and regulations." Not even so much as a "G'wan, scram!"
Mr. Epshteyn then apparently told Fahrenthold that all his questions could be answered by senior Trump advisor Helen Waite, and told the reporter he could go to Helen Waite.
WaPo]