Donald Trump Grabs National Prayer Breakfast By The Pussy
Culture
February 02, 2017 02:40 PM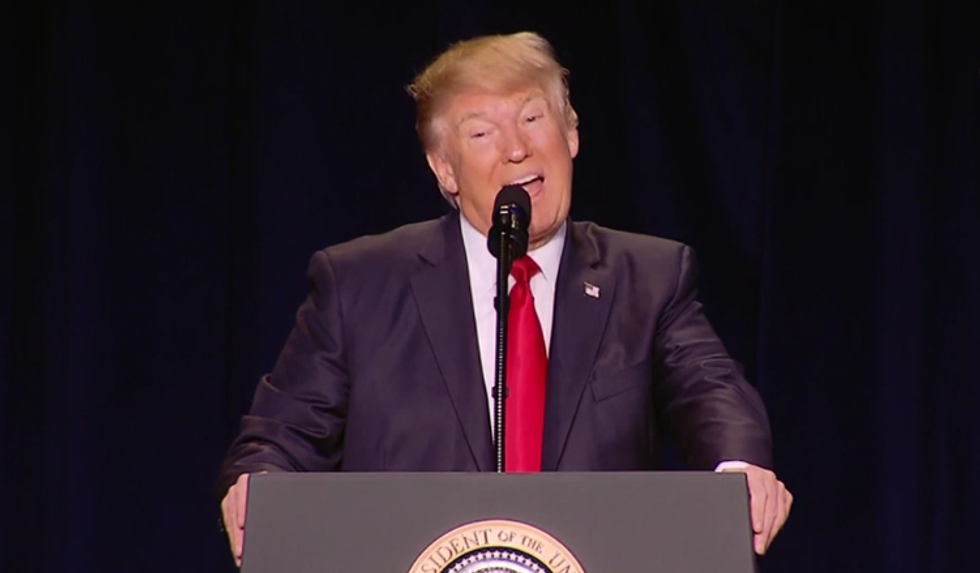 Does not have a friend in Jesus.
---
This dumb ritual happens every year, called the National Prayer Breakfast. It's a bipartisan shindig, where politicians on both sides of the aisle, of all faiths, can come together and agree to spend the morning praying to Jesus. It's super evangelical, run by a creepy cult of right-wing dominionist Christians called The Family. So obviously our secular government should embrace it as a tradition, right? ANYWAY.
Donald Trump got to go to his first National Prayer Breakfast on Thursday morning, and instead of doing like a common Obama, making nice speeches about faith and family, while the wingnuts in attendance rock back and forth and pray for the unborned babies, Trump urged everybody to pray REALLY HARD ... for Arnold Schwarzenegger to get better ratings on "The Celebrity Apprentice," because that's what these folks really care about. Trump's point, of course, is that he had much yooooger ratings, because he is tremendous and terrific and big league. (He also still is an executive producer of the program, so it baffles us why he shits on it all the time. Oh yeah, because Trump is a dumb blowhard loser with thin skin, and also bad at business.)
Let us pray:
They hired a big, big movie star, Arnold Schwarzenegger, to take my place. And we know how that turned out. The ratings went down the tubes, it's been a total disaster, and Mark [Burnett] will never, never bet against Trump again. I want to just pray for Arnold, if we can, for those ratings.
And bless Hot Ivanka and Sexy Jared and dumb Melania and whatever the youngest child's name is, I don't know who these people are, but they're great, God, they're fantastic, just like me, God will never bet against Trump either, unlike Mark and the other haters and losers. And if I die before I wake, I pray for all the gold-plating to fall off the faucets at Trump Tower, no nobody can take luxurious baths like Trump takes ever again. And if it be your will, God, this afternoon I think I'm going to grab some pussy.
Bing bong, Two Corinthians, in Jesus's name, AMEN.
Arnold Schwarzenegger, who has more experience than Trump does both in TV and in government, and who is no stranger to being goaded into pissing contests by the shithead in the White House, responded on Twitter:
The National Prayer Breakfast? pic.twitter.com/KYUqEZbJIE

— Arnold (@Schwarzenegger) February 2, 2017
Hey Donald, I have a great idea. Why don't we switch jobs? You take over TV, because you're such an expert in ratings, and I'll take over your job, so people can finally sleep comfortably again.
We'd be fine with a President Schwarzenegger at this point. Why not? Half the country would think he's the second foreign-born president anyway.
Anyway, Trump was very bad at the National Prayer Breakfast. But he presumably made the wingnuts very happy when he said he would get rid of the Johnson Amendment, you know, that pesky little thing that says pastors can't endorse political candidates, lest they lose their tax-exempt status:
I will get rid of and totally destroy the Johnson Amendment and allow our representatives of faith to speak freely and without fear of retribution. I will do that, remember. Freedom of religion is a sacred right, but it [is] also a right under threat, all around us, and the world is under serious, serious threat, in so many different ways, and I've never seen it so much and so openly as since I took the position of president.
Gibberish. The man speaks like a preschooler on meth.
Trump also threw a delicious Milkbone to the religious right when he said, "I want to express clearly today to the American people that my administration will do everything in its power to defend and protect religious liberty in our land." HEY YOU KNOW WHAT THAT MEANS? It means the Trump administration is doubling down on the idiot philosophy of Trump's Supreme Court nominee Neil Gorsuch, who believes your doctor or pharmacist or local Hobby Lobby shouldn't have to give you birth control if they think it would make Baby Jesus cry in his crib. It ALSO means they will protect extremist Christian cake-bakers and flower arrangers who think they will burn in hell if they provide services for Adam and Steve's wedding. So, hooray! (To any gays who think Trump's statement about supporting the gay community meant ANYTHING, Wonkette just wants to let you know that no matter how cute you are, you're too dumb to fuck.)
Hey CNN, tell us one more funny thing about Trump at the National Prayer Breakfast:
The keynote speaker at the National Prayer Breakfast was Barry Black, the chaplain of the United States Senate. [...]

"Thank you as well to senator chaplain Barry Black for his moving words," he said.

Trump added: "I don't know, chaplain, whether that's an appointed position? Is that an appointed position? I don't know if you're Democrat or Republican, but I'm appointing you for another year. The hell with it."

To many, especially the religious leaders in the room, "hell" is a swear word.
LOL idiot. This is why Mormons and evangelicals say things like OH MY HECK! and HOLY MOTHERFUCKING HECK! all the time. Because H-E-L-L is where the Devil lives with the gays and the 'bortionists, and you AREN'T 'POSED TO SAY THAT.
Anyway, we don't know why Trump comes off as such a fraud when he has to do Christian-y things, maybe he is a Muslim from Kenya, the end.
[Washington Post / CNN]
Evan Hurst
Evan Hurst is the managing editor of Wonkette, which means he is the boss of you, unless you are Rebecca, who is boss of him. His dog Lula is judging you right now.
Follow him on Twitter RIGHT HERE.