Donald Trump Makes Last Minute Booty Call To Anti-Vaxxers
News
November 07, 2016 12:51 PM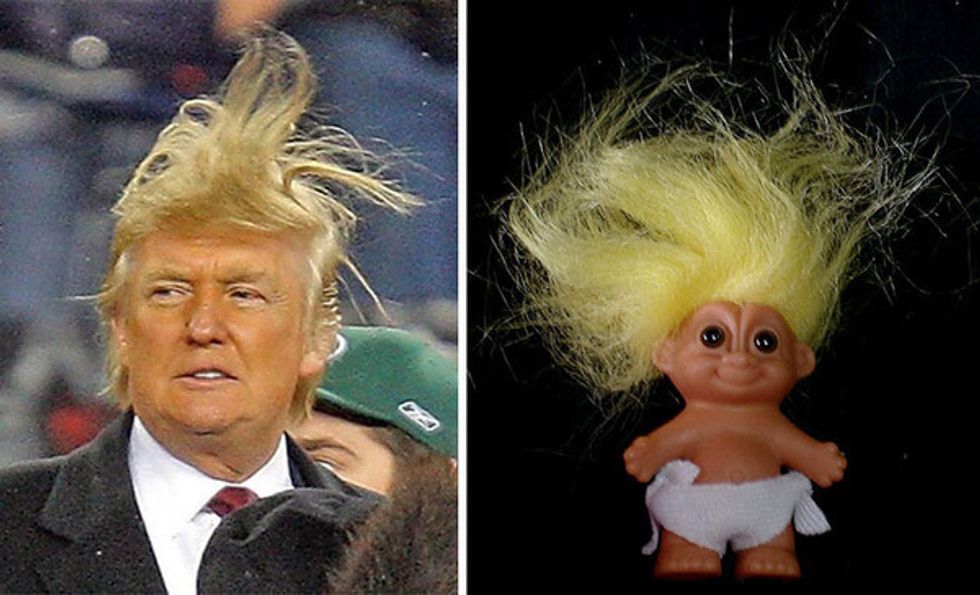 Greetings, fellow election sufferers. It's time once more for the Snake Oil Bulletin! We have a shortened bulletin this week because this election has left us emotionally drained, and if we have to continue writing about the ongoing awful that is Donald Trump we will literally die. May her Majestic Hillaryness smash his gassy little smirk into the dirt come Tuesday so that we never have to think about him again - GET OUT AND VOTE!
---
But as a final (we pray) parting shot to the dear Donald, let's examine his latest conspiratorial nonsense, a late-night "U up?" sent to his favorite conspiracy FWB, Andy Wakefield. What did these two gyrating gas bags discuss in the midst of their egocentric coitus? Let's read on and find out.
Donald Trump wants to remind you that he's DTF with anti-vaxxers
If you've read our fair Bulletin for any amount of time, you know we have a real bug up our butts about anti-vaxxers. We rather famously went after She-Who-Must-Not-Be-Named for pandering to anti-vaxxers and doing other dumb science things. But haha, joke's on them! We're not going to use her name so Google alerts won't bring her neck breathers out of the woodwork into the comment sections we don't have. #Shillz4Hillz
While Green Witch may have only drunkenly right-swiped the anti-vaxxers one lonely night and then returned every one of their text messages since, Donald Trump has been more than willing to go balls-deep into that needle-less bag of crazy and then go brag about it to all his buddies on the bang bus. For years now, Trump has explicitly claimed that he believes vaccines cause autism. He's screeched it on Twitter, squawked it in interviews, and fart-mouthed it in debates. Trump has had these views since at least 2007 (aww, before Donny's racist birther campaign was just a twinkle in his beady, piggy little eye), and no amount of backlash against him has swayed him from this belief. Why would it? All the worst people agree with him.
In fact, as a final pre-election hoorah, Trump decided to throw YET ANOTHER bone to his conspiratorial alt-right base by meeting with former doctor Andrew Goddamn Wakefield, the lying liar who has been lying about vaccines for a generation now. When last we smelled the rancid stench of our intrepid not-a-doctor-no-more, Wakefield was being horribly discriminated against just because he made a teensy little movie that could lead to the infections and possible deaths of millions of babies. Wakefield has been touring the country getting interviews from assorted troglodytes and district attorneys, all in support of his sham movie Vaxxed. Donald Trump couldn't pass up that primo con artist quality time, so he decided to take a seat with Andrew Wakefield himself.
That's right, Donald Trump met with Andrew Wakefield.
As revealed by Respectful Insolence, in a video posted to their Facebook page, the makers of Vaxxed revealed that he personally met with the Great Orange Charlatan. This announcement came after Wakefield (or his editor) put together a graphics package just to tout the fact that their little home movie had an average review score of 4.5 stars on Amazon. That's quite the accomplishment, especially since the similar product California Exotics Butt Banger Masturbator (exactly as NSFW as it sounds) only received 3.9 stars, which means Wakefield's movie must have provided significantly more "Tight anus with teasing balls and penis." Kudos, Wakefield.
After touting his own magnificence like any great huckster, Wakefield implored his audience to vote for the orange molester bear as unhyperbolically as possible:
This is a one-issue election. That is the future of this country: investing in its children. And if we have mandatory vaccination in this country, in this state -- as they have in California -- then it's all over. And we will achieve that objective in 2032 of 1 in 2 children with autism. So you use your vote extremely carefully.

There is one person, whatever else you may think about him, who has expressed the fact that he knows vaccines cause autism, that vaccine damage is real, and this is an issue that will never, in his mind, lead to mandatory vaccination either statewide or stateswide [sic]; and I had the privilege of meeting him the other day to discuss this precise issue, and he is on our side. Whatever else you may think, I want you to bear that in mind. I'm not going to tell you how to vote [at this point a giant button takes up the top left corner of the screen reading TRUMP and does not leave until the video ends], you're free-thinking Americans, but I will say that we will not get a second chance. Within two years, I would say, of Hillary Clinton getting in -- if she gets in -- there will be mandatory adult and childhood vaccination across the entire country.
Andrew Wakefield is endorsing Donald Trump. If his endorsements by the KKK, Kim Jong-Un, Vladimir Putin, and Ted Cruz didn't leave an awful taste in your mouth, know that con artist baby infecters LOOOOOVE Donald Trump just to bits. And why not? Trump has legitimized their heinous brand of bullshit like no other presidential candidate in history. Even the most quacking of third party candidates have not so openly and flagrantly pushed the vaccine-autism myth like this NOMINEE OF THE REPUBLICAN PARTY.
If that thought alone makes you unable to sleep this election cycle, just know that the California Exotics Butt Banger Masturbator comes with Prime shipping.