Donald Trump Thinks His Supporters Are Cowards Who Are Too Scared To Tell Pollsters They Love Him. SAD!
Elections
June 30, 2016 10:39 AM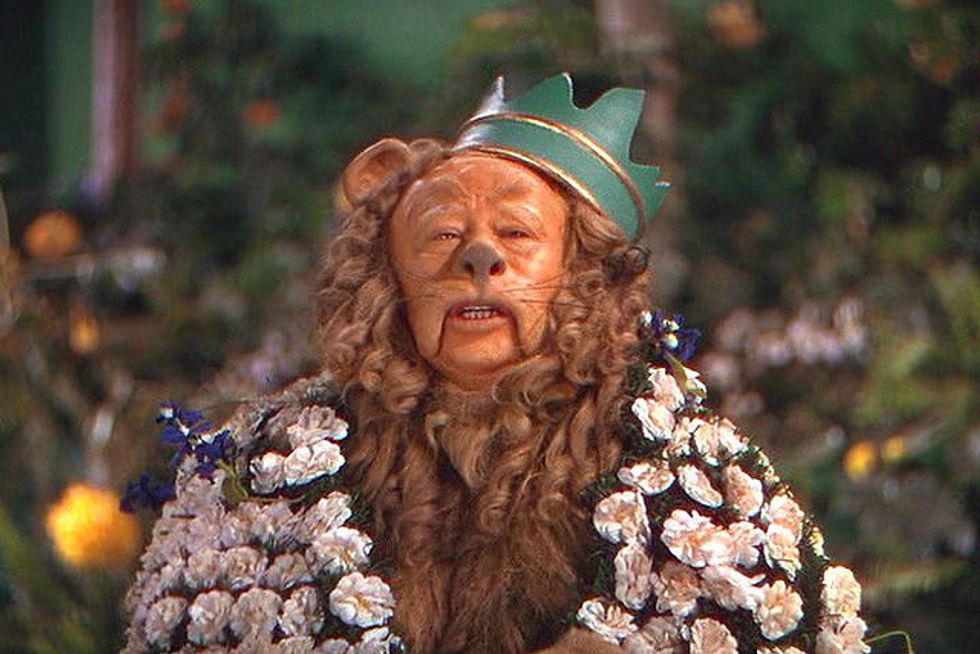 According to Donald Trump, there is a reason why he is not doing so well in the polls, and it is most certainly not that a majority of people in this country do not care for him and do not intend to vote for him. The real reason is that although a YUGE majority of the people in this country love him and totally want him to be president/King of the Forest, those people are also terrified to tell the anonymous disembodied voices conducting the polls over the phone that they love him, and so they lie and say they are voting for Hillary Clinton, whom they hate, instead. Because Donald Trump is not entirely unaware that liking him is a shameful thing, and he figures these people just want to be liked. By someone they will probably never meet in their lives.
---
So like, not only are they a "silent majority," they are so silent that they say the opposite of what they believe because they are SCARED TO DEATH of pollsters. Weird!
Trump has been citing both the fact that Brexit polled poorly and ended up going through and "The Bradley Effect" -- referring to the 1982 gubernatorial election where polls projected that Los Angeles Mayor/Black Person Tom Bradley would win, but in which he ended up losing by a lot to a white dude. According to some people, this was because white voters didn't want pollsters to think they were racist, so they just said they would be voting for Bradley. This is what Trump thinks is happening to him. People don't want to admit to being racist on the phone, but will (he hopes!) be gleefully racist in the voting booth.
Now, I have never participated in a phone survey like this. Possibly because on the rare occasions when I answer the phone when I don't recognize the number, I hang up if they don't pronounce my last name correctly. Because that is how you know it is a telemarketer. But I figure these people must have had some pretty traumatic experiences participating in these surveys, and have been burned before.
OPERATOR
Hello, Mr. Trumpkin! This is Barbara with Blergity Blergh Polling, do you have a moment to answer a few questions about the upcoming election?
TRUMPKIN
Sure!
OPERATOR
SWELL! OK then, who do you plan on voting for? Donald Trump or Hillary Clinton?
TRUMPKIN
Donald Trump!
OPERATOR
WHAT? WHAT IS WRONG WITH YOU, YOU GARBAGE HUMAN? WHY ARE YOU SO AWFUL? AS A PERSON MAKING $10.50 AN HOUR TALKING ON THE PHONE ALL DAY TO PEOPLE WITH VARIOUS OPINIONS ON THINGS, I AM APPALLED! AND AM JUDGING YOU, HARSHLY! LIKE I DO LITERALLY EVERY OTHER TIME THIS HAPPENS, WHICH IS SEVERAL TIMES A DAY!
...Ten Minutes Later, Mr. Trumpkin gets a call from his boss...
TRUMPKIN
Hey boss! What is up? How may I help you?
BOSS
HELLO TRUMPKIN. I am calling to inform you that your services are no longer needed here, at the widget factory.
TRUMPKIN
Oh no! But why?
BOSS
I got a call from Blergity Blergh polling, and they say that you told them that you are planning on voting for Donald Trump! So you are now FIRED! Good day sir!
...One hour later the doorbell rings and Trumpkin answers it...
OPERATOR
Stab! Stab! Stab! Stab! And now you are dead!
TRUMPKIN
Goodbye cruel world, guess I should have lied and said I was voting for Hillary Clinton, huh!
FIN
Now, if that were a common outcome of phone surveys -- which it very well may be, I don't know, like I said I've never taken one -- their fear would be understandable. However, I am guessing it is not! And, to be honest, if it is indeed the case that they are just people pleasers who are so emotionally fragile that they cannot manage to deal with the hypothetical judgment of a disembodied voice -- how do they even function in life if they cannot even handle the adversity presented to them in a phone survey? SAD. But also not surprising!
After all, Trump continues to insist that his followers are all part of a Silent Majority, which is really like the Canadian Girlfriend of political constituencies. Said followers tend to agree with this assessment. Because apparently they are totally incapable of having an opinion without a gang of 10,000 imaginary friends standing behind them and backing them up. But who can't, you know, talk about it ever.
As a people, though, the Silent Majority have a pretty strong record of having terrible judgment. One of the first times it was used as a political term, rather than as a euphemism for dead people, was to describe supporters of Calvin Coolidge, who was the worst. Then, more famously, Nixon used it to describe the voters who totally loooooooooooved the Vietnam War and thought it was the greatest ever, and who were not going around protesting it. Those people were wrong. They were super, super wrong, and I think we can all agree, today, that they were 100% definitely wrong. And, according to most baby boomers I know, were not actually all that silent.
Much like the Trump supporters of today, who seem to have very few issues with making their opinions known on the internet.
Of course, as Steven Shepard at Politico points out, this silent majority/cowardly voters phenomenon doesn't actually seem to be the case for Trump, noting that "[i]n the Republican primaries, he didn't outperform his poll numbers relative to his leading challengers — and, until he ran away with the nomination in late April and May, he performed significantly worse than the polls suggested."
WEIRD. Of course, it's totally possible that these Snuffleupagus voters just don't vote in primaries and will all come out of the woodwork and surprise us in the general election? And then we'll all be like "Oh gosh darn! We didn't realize how totally racist the Silent Majority was! Perhaps they have a point!" Maybe? Nah, probably not.
[Politico]
Robyn Pennacchia
Robyn Pennacchia is a brilliant, fabulously talented and visually stunning angel of a human being, who shrugged off what she is pretty sure would have been a Tony Award-winning career in musical theater in order to write about stuff on the internet. Follow her on Twitter at @RobynElyse