Donald Trump Would Never Disgrace Himself On TV Like Media Whore Mitt Romney
News
March 09, 2016 03:00 PM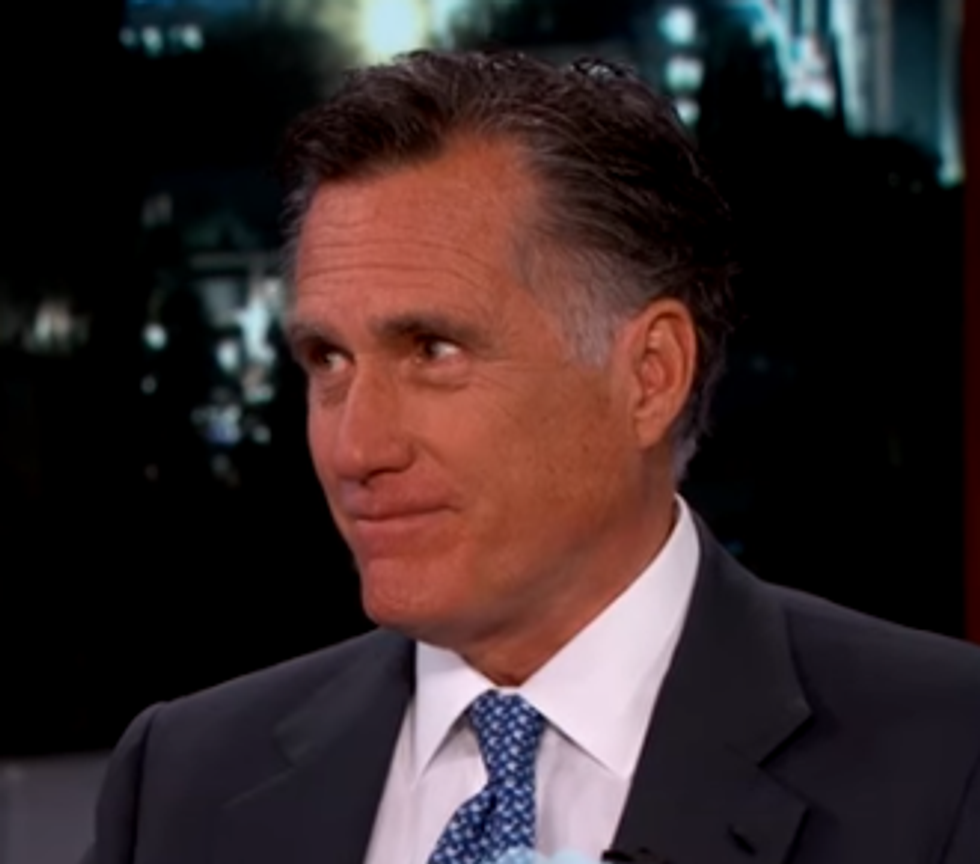 [contextly_sidebar id="AMoSo3KeJ5L6pcLlvm91Oldu98budBhz"]Ooh, that Mittens Car-Elevator Romney has gone and done it again! After suddenly
descending
from his perch to make proclamations about how Donald Trump is the worst and nobody should vote for him (not that Mitt Romney is running for president, but if you want to crown him president that's OK
he guesses
), Mitt has gone and
made fun
of Donald Trump on one of those late night joke shows! How embarrassing for Mitt Romney, according to Donald Trump!
Mitt went on the Jimmy Kimmel television funny hour, to read mean tweets sent by Trump and his taint-gobbler supporters. It was kind of funny! But Trump is not pleased:
---
I thought it was so terrible that Mitt Romney did that. It was false. But I'll tell you, he shouldn't have done what he did last night, he shouldn't have gone on that show.
No never, just like Donald Trump would never take a break from his tremendous businessman lifestyle to host a reality show, or go on the "Tonight Show" or the "Late Show With Stephen Colbert" or ... wait what's this please?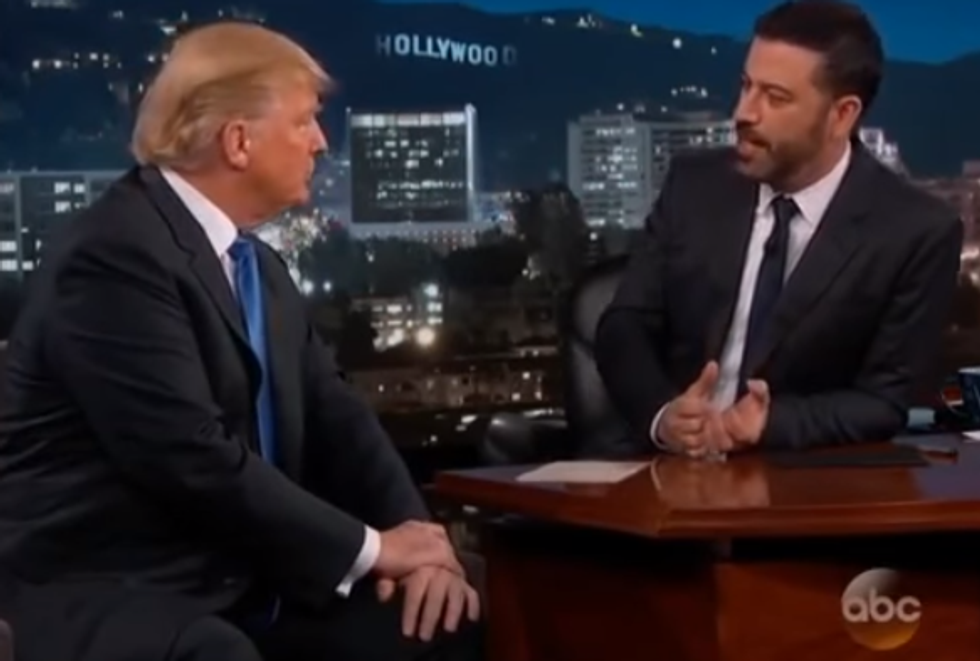 Oh. And that was in December, so it's not like Trump was FOR Jimmy like a hundred years ago back when he was FOR Hillary Clinton or something. We can tell because Jimmy is all hot and scruffy and skinny in the above pic, and he didn't used to be that, not really.
But Trump went on to clarify that actually he's not saying it's bad to go on TV -- if you're Donald Trump! -- and that actually "Jimmy is a great guy," but when Mitt Romney does it, it's just sad and not terrific at all:
I thought it didn't look good. Let's put it this way ... I don't think I would have done that. I don't think he should have been reading the tweets — the negative tweets. Why is he doing that? What's he doing? I thought it was demeaning. And nothing to do with me, I thought it was demeaning to him.
Donald Trump is concerned about Mitt's image, that's all.
We guess you will have to decide in the comments (which are not allowed) whether Duke Mittens Of Romney sullied his pure, luxurious image by doing knee-slappers with Sarah Silverman's ex-boyfriend, or whether Donald Trump is a fucking blowhard pussy who can't STAND being made fun of by the mean man with better hair, so he's lashing out, again, like he always does. Ayup, that's more like it.
Evan Hurst
Evan Hurst is the managing editor of Wonkette, which means he is the boss of you, unless you are Rebecca, who is boss of him. His dog Lula is judging you right now.
Follow him on Twitter RIGHT HERE.