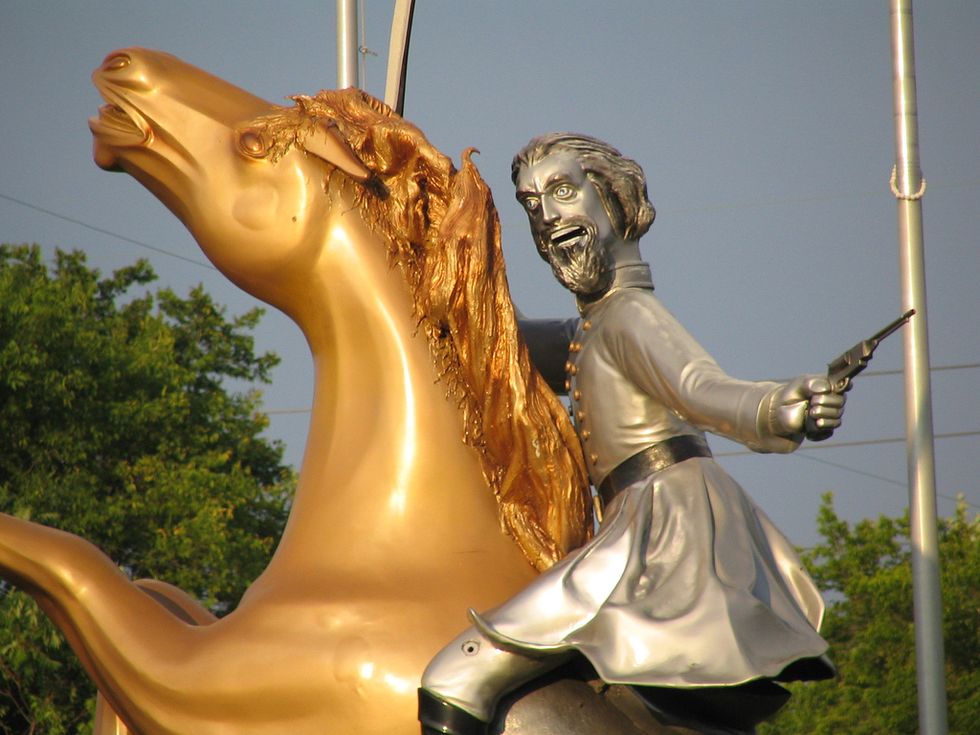 ---
It would be a damn shame if this fine monument to Confederate General Nathan Bedford Forrest was sacrificed on the altar of PC culture run amok! Obviously, this 25-foot likeness of the KKK's first grand wizard (no, really!) looming over the interstate in Nashville represents heritage, not hate! Just ask the artist Jack Kershaw, a Renaissance man who fashioned fiberglass monstrosities and distinguished himself as a lawyer representing James Earl Ray. Per WaPo,
"Somebody needs to say a good word for slavery," he once told The Times-Picayune of New Orleans.
Nope, no hate here!
Donald Trump hasn't taken up the cause of slavery. YET. But he is very sad that those dedicated young Civil War buffs in Virginia won't be able to take their evening history lessons as the soft glow of torchlight illuminates the great General Lee's likeness.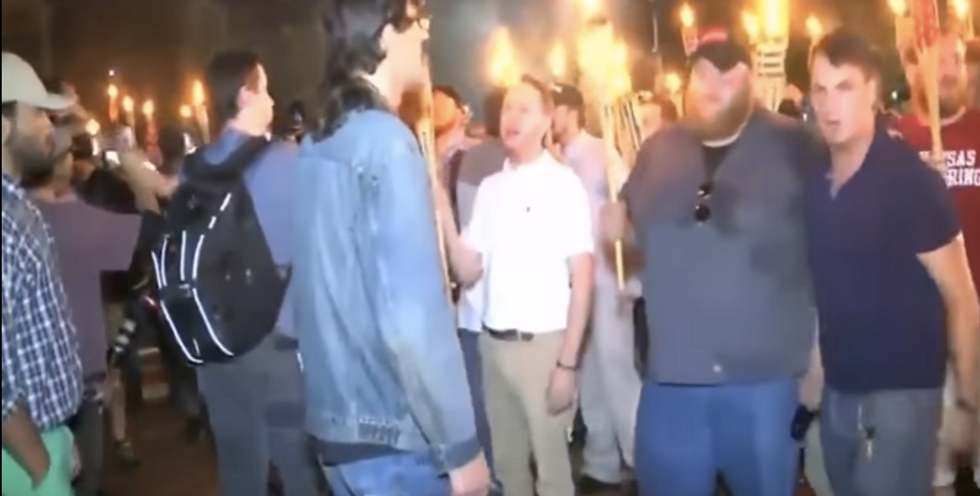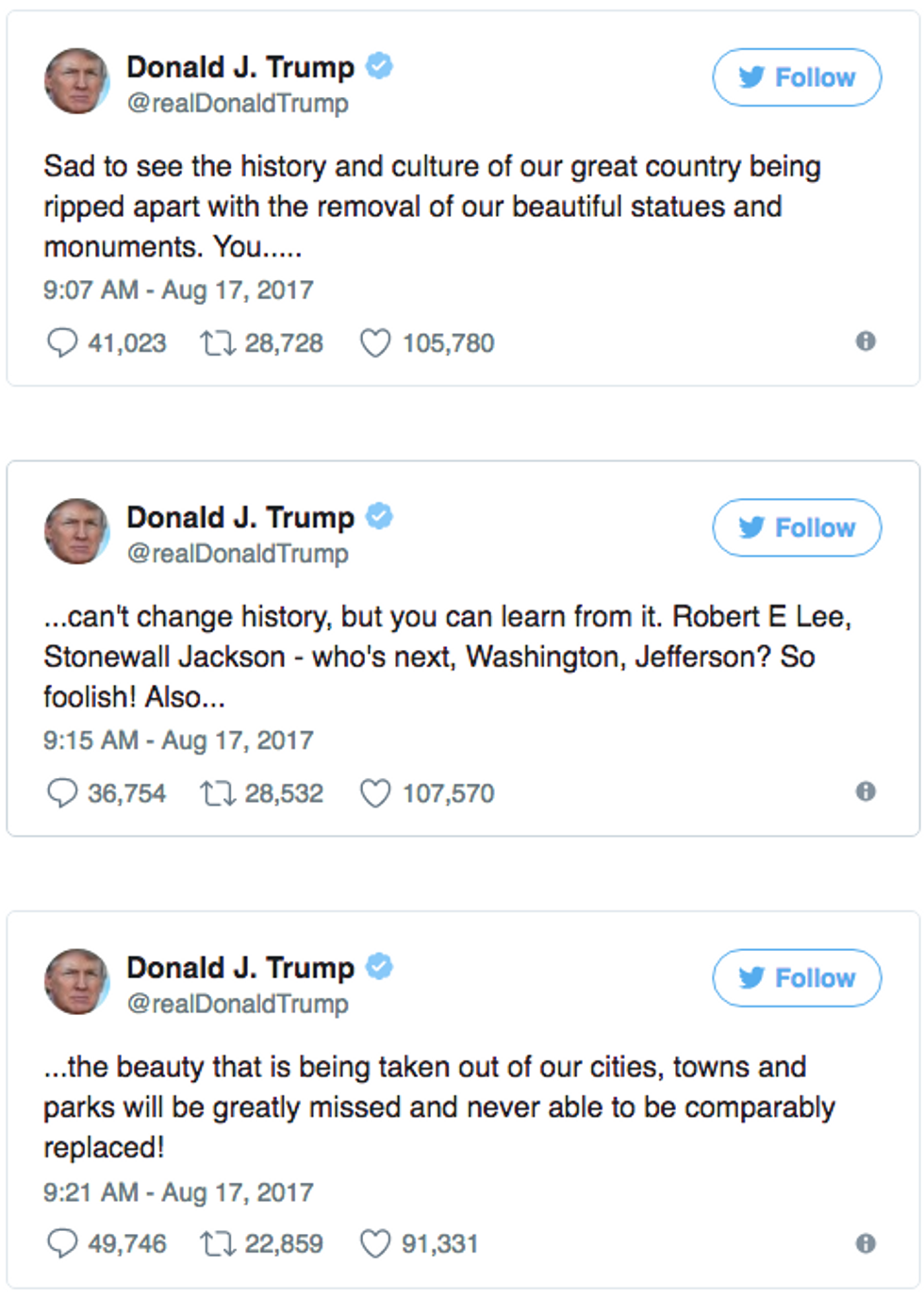 O RLY! The king of gilded garbage palaces is suddenly concerned about cultural preservation? The guy who signed an order to deaccession national parks?
It's not the hypocritical bullshit that's surprising. We all know damn well that Trump would tear down the Lincoln Memorial tomorrow if he could get a permit to build a slot emporium there. It's that for every occasion there's at least one hilariously terrible story in the archives to show what a shameless conman Trump has always been. You want Donald Trump calling up reporters pretending to be John Baron, fake historical markers, and real pictures of Donald Trump's giant ass in those ridiculous white golf pants? The New York Times has got you covered!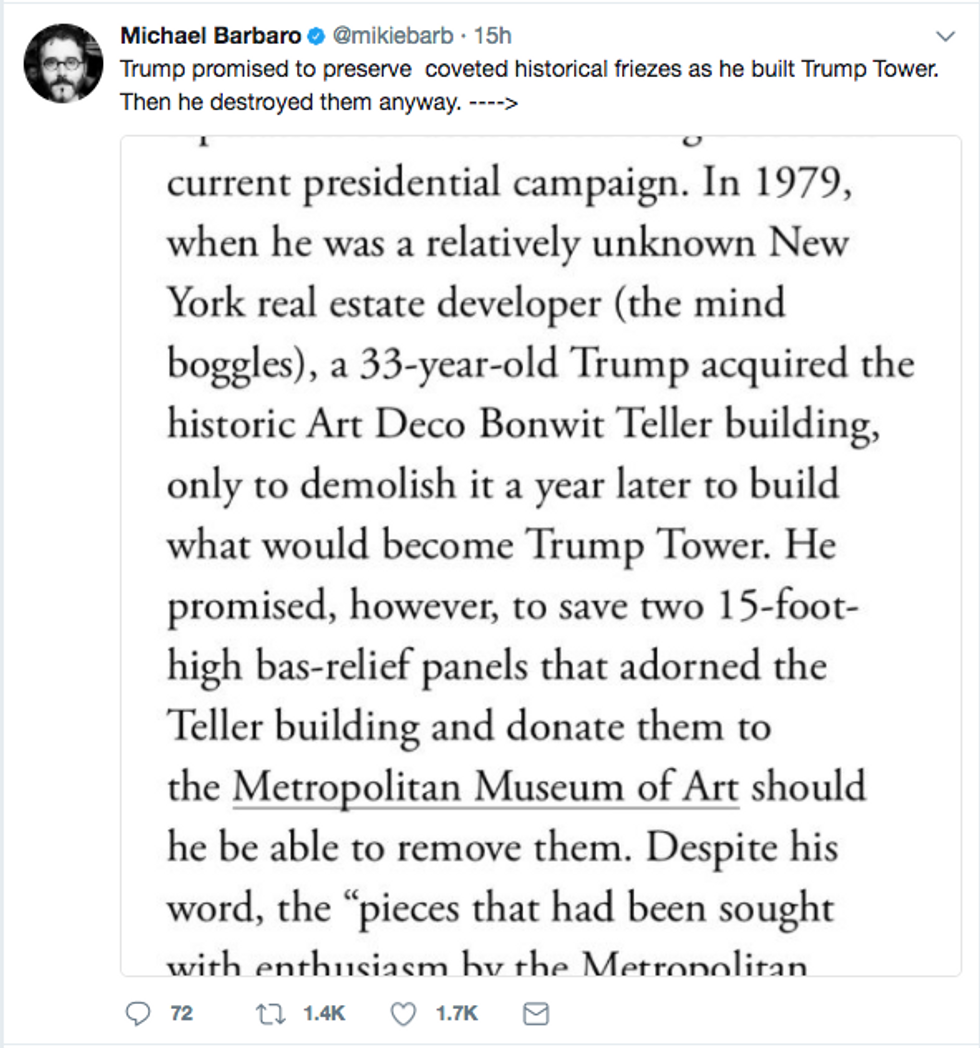 In 1980, Donald Trump had promised to salvage two iconic Art Deco friezes when he demolished the Bonwit Teller building in New York. The Metropolitan Museum of Art was looking forward to displaying the pieces in its department of 20th century art.
But John Baron, a vice president of the Trump Organization, said after the demolition yesterday that the company had decided not to preserve the sculptures because, "the merit of these stones was not great enough to justify the effort to save them."

Mr. Baron said the company had got three independent appraisals of the sculptures. These, he said, had found them to be "without artistic merit" and worth less than $9,000 in "resale value." He said it would have cost $32,000 to remove them carefully and would have delayed demolition work by a week and a half and perhaps longer because of the need for cranes and municipal permits.
Unfortunately, they had to you're fired that John Baron fellow for telling lies to the press. And for being entirely fictitious. Also, too the Met wasn't trying to saddle itself with two 15-foot tall concrete statues because they were "without artistic merit"!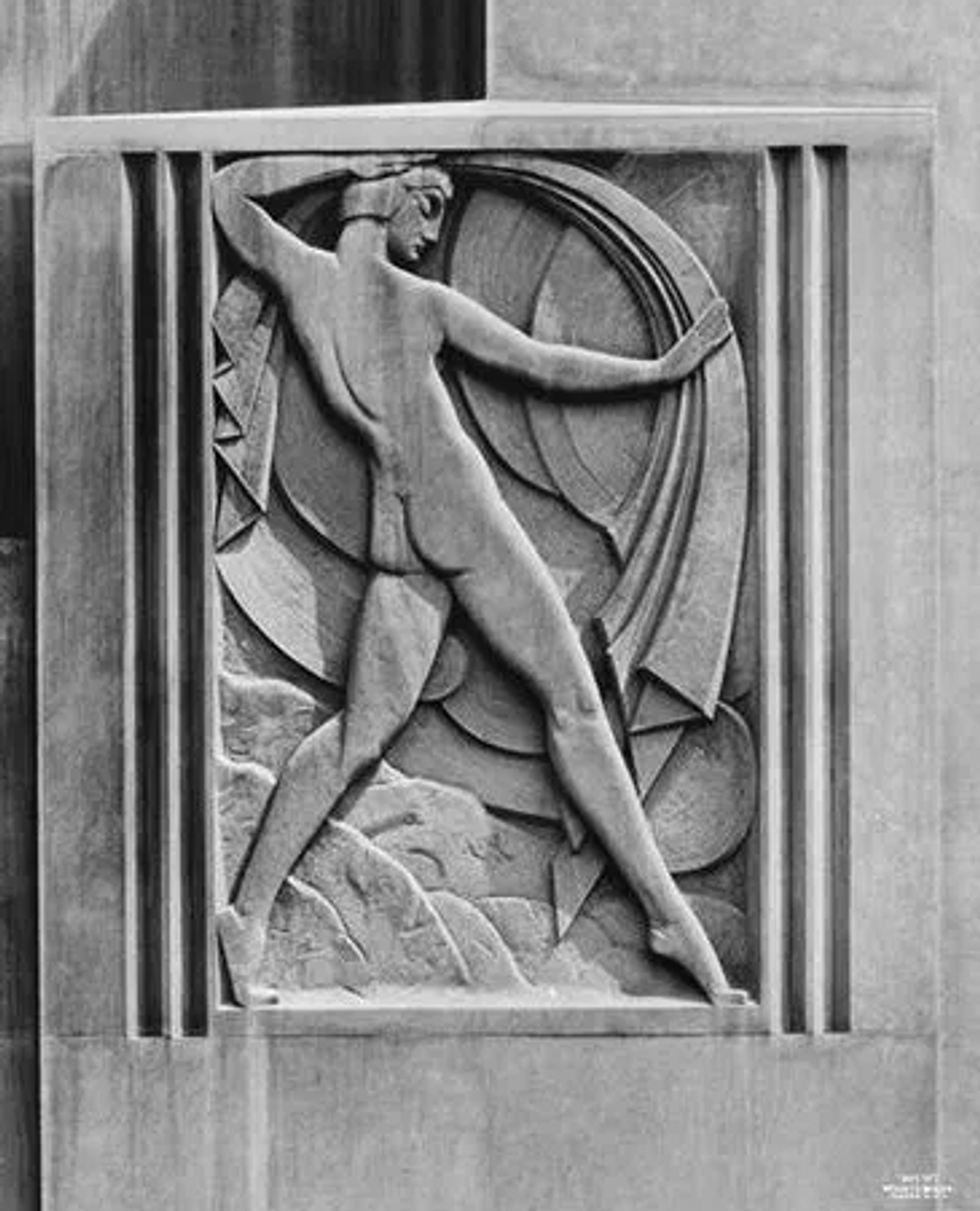 Yes, Donald Trump, who ordered his workmen to jackhammer this iconic sculpture into dust, is now lecturing America on the absolute necessity of having a green dude on a horse in every park in the country.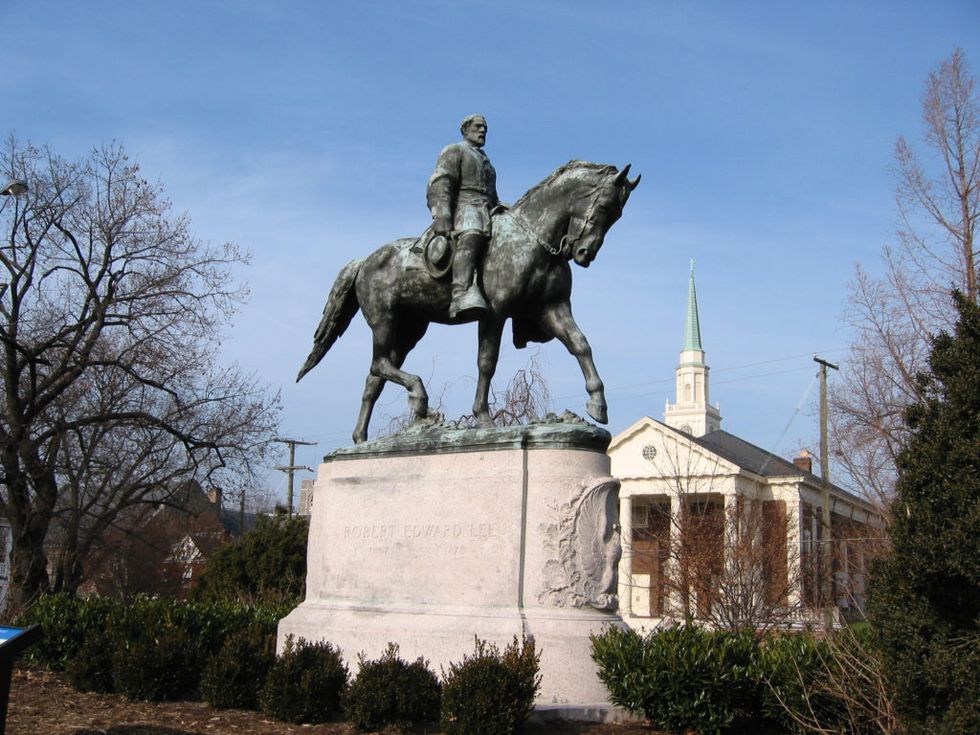 Here's the one the Nazis rallied around in Charlottesville. Looks just like the one in every other park in America.
At least Generals Forrest and Lee were actual historical figures. Trump put up this monument to a fake Civil War battle at his trash palace in Sterling, Virginia.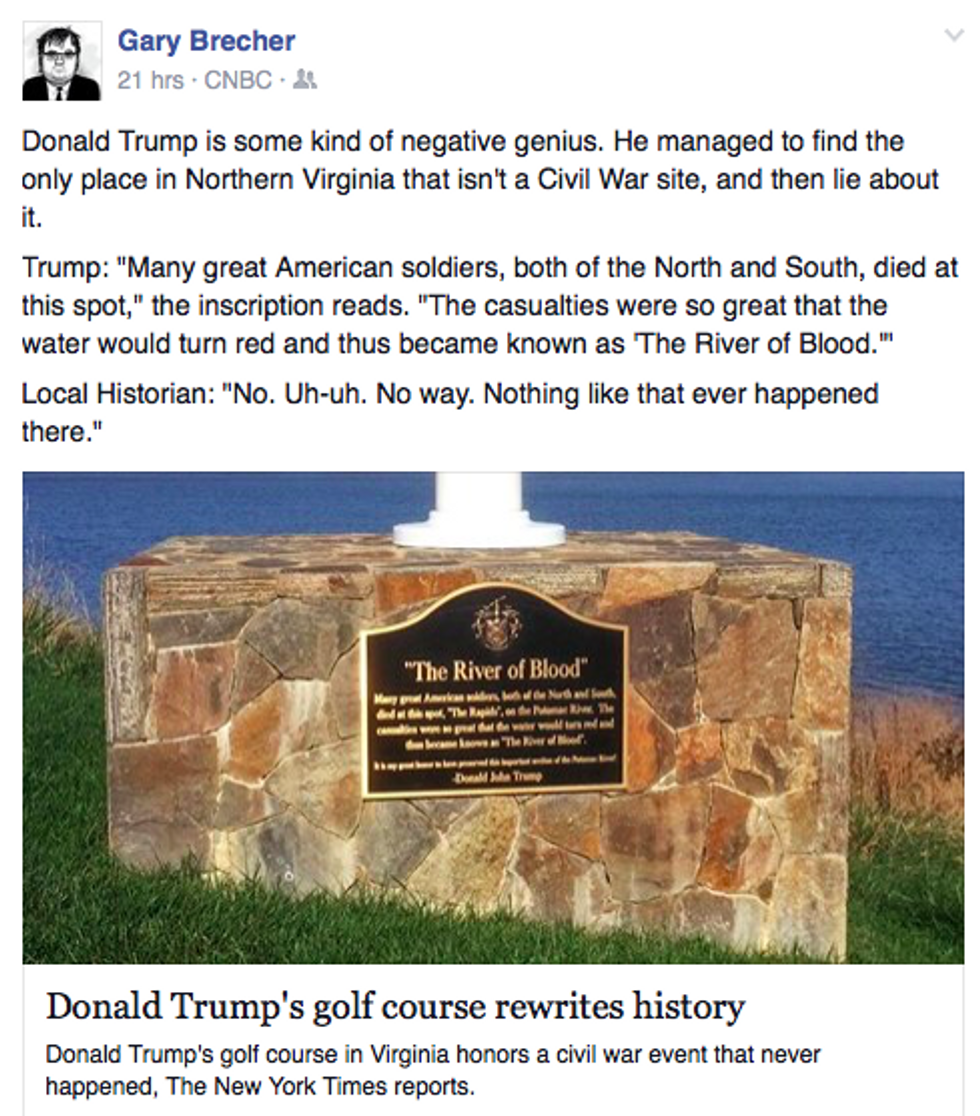 The New York Times reports,
"Many great American soldiers, both of the North and South, died at this spot," the inscription reads. "The casualties were so great that the water would turn red and thus became known as 'The River of Blood.' "

The inscription, beneath his family crest and above Mr. Trump's full name, concludes: "It is my great honor to have preserved this important section of the Potomac River!"
(Let's not get sidetracked with the fake "family crest," which Trump lifted from a Scottish family, swapping in his own name for the word integrity. Don't want to break the irony meter before lunchtime!)
Local historians agree that "The River of Blood" is as real as Donald Trump's honor.
"No. Uh-uh. No way. Nothing like that ever happened there," said Richard Gillespie, the executive director of the Mosby Heritage Area Association, a historical preservation and education group devoted to an 1,800-square-mile section of the Northern Virginia Piedmont, including the Lowes Island site.
To which Donald Trump replied,
"How would they know that?" Mr. Trump asked when told that local historians had called his plaque a fiction. "Were they there?"

Mr. Trump repeatedly said that "numerous historians" had told him that the golf club site was known as the River of Blood. But he said he did not remember their names.
Was it noted historians John Baron and My Pal Jim? Those guys would know better than any pencil pushing local nerd, because they were totally "there" and that river was bloodier than Megyn Kelly's wherever!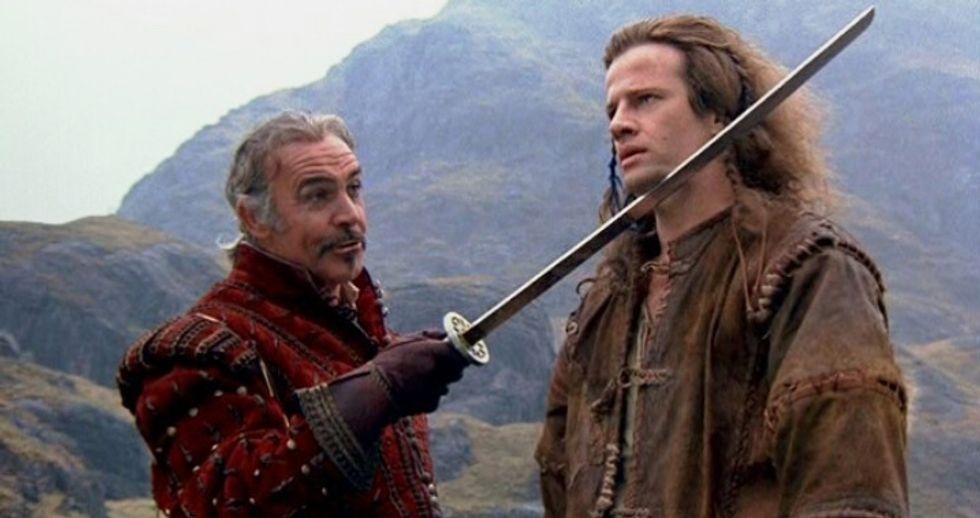 My Pal Jim and John Baron re-enacting the River of Blood at the 14th Hole.
See, Kids! Those who cannot remember the past are doomed to just make shit up in a futile attempt to appear classy.
We must NEVER FORGET that Robert E. Lee fought the Highlander to a draw in the River of Blood Massacre on the banks of the Potomac. Knowing there could be only one, the two men retired to the clubhouse to enjoy burnt Trump steaks with ketchup. As a sign of His covenant with Holy White America, God commanded that a commemorative statue be placed in every park in the land. And the Republic was saved! Amen.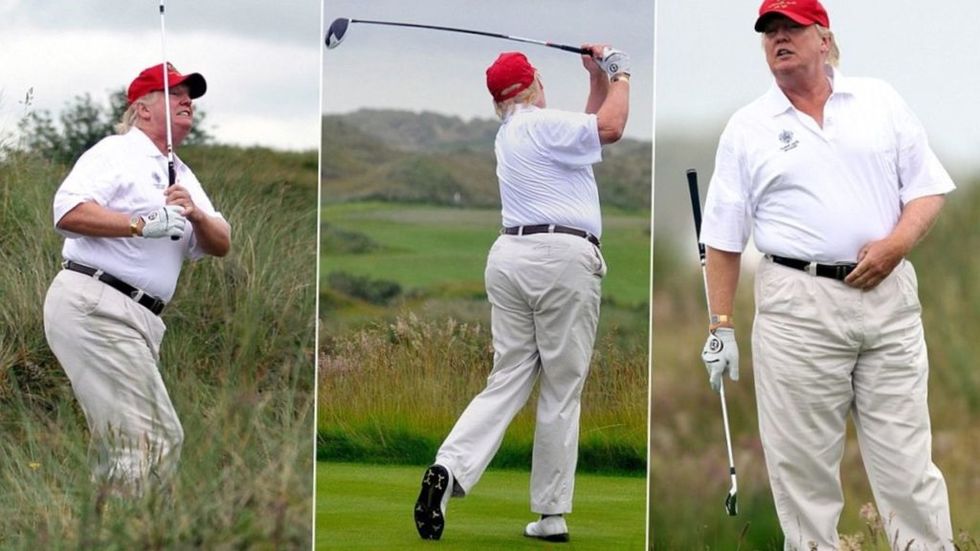 As promised, Trump's giant ass on the links!
[WaPo / NYTimes / NYTimes, again / HuffPo]
We love you, Wonkers! Please fund us so we don't have to go back to those gross ads like a common Dead Breitbart!
Liz Dye
Liz Dye lives in Baltimore with her wonderful husband and a houseful of teenagers. When she isn't being mad about a thing on the internet, she's hiding in plain sight in the carpool line. She's the one wearing yoga pants glaring at her phone.