Don't Mess With Tejas! State Rep. Gon' Shoot Messican Colleague Or Call La Migra On Him, Either One
Post-Racial America
May 30, 2017 12:08 PM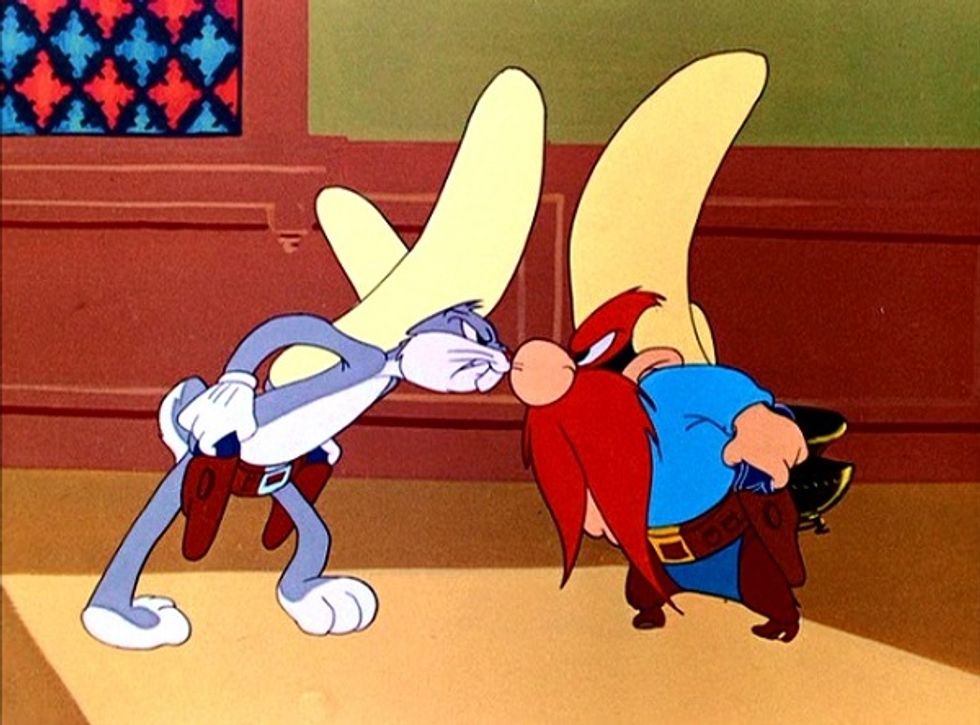 The Texas Legislature closed out its 2017 session Monday; the final day is usually only a ceremonial thing, but this time around it turned into a full-on foofaraw as a large group in the gallery chanted and waved signs protesting the state's brand-new ban on "sanctuary cities," which prompted a Republican lawmaker to call La Migra on them, since they were obviously a bunch of illegals. That pissed off Hispanic Democrats on the floor, who got all shirty with the Republican, state Rep. Matt Rinaldi. Words were exchanged, with Rinaldi claiming Rep. Poncho Nevárez threatened his life, so Rinaldi told Nevárez if he tried anything funny, he'd shoot Nevárez in self-defense. For his part, Nevárez denied he'd threatened Rinaldi, and Tweeted what may be the ultimate Texan denial/diss:
---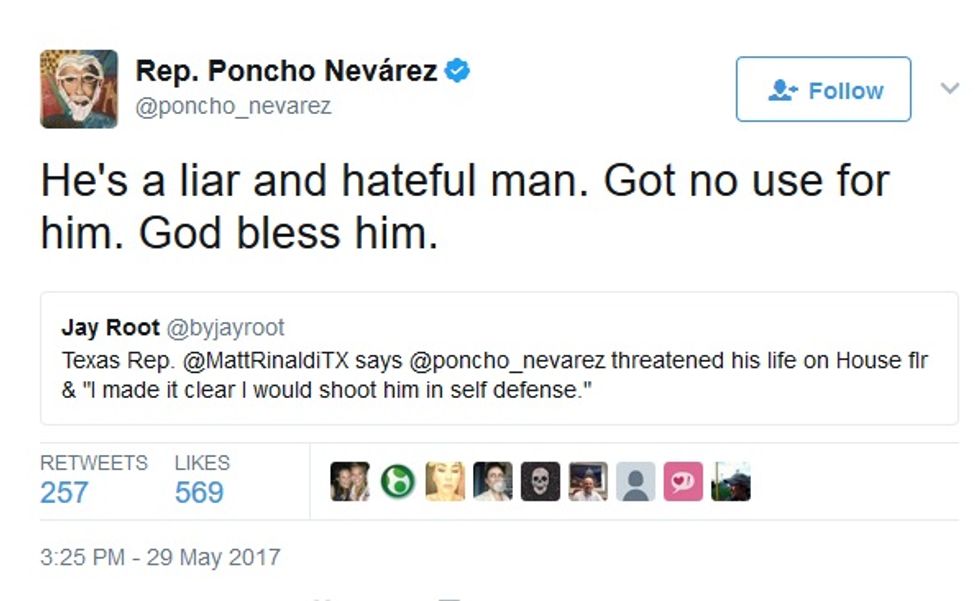 Somewhere in the Great Beyond, the immortal soul of Molly Ivins was presumably demanding a typewriter.
Not surprisingly, accounts of what happened differ. The protesters were actually cleared from the gallery by state troopers to restore order, but that wasn't enough for Rinaldi, who saw signs he didn't like, and decided it was time to bring in the Federales, as he explained in a statement on Twitter: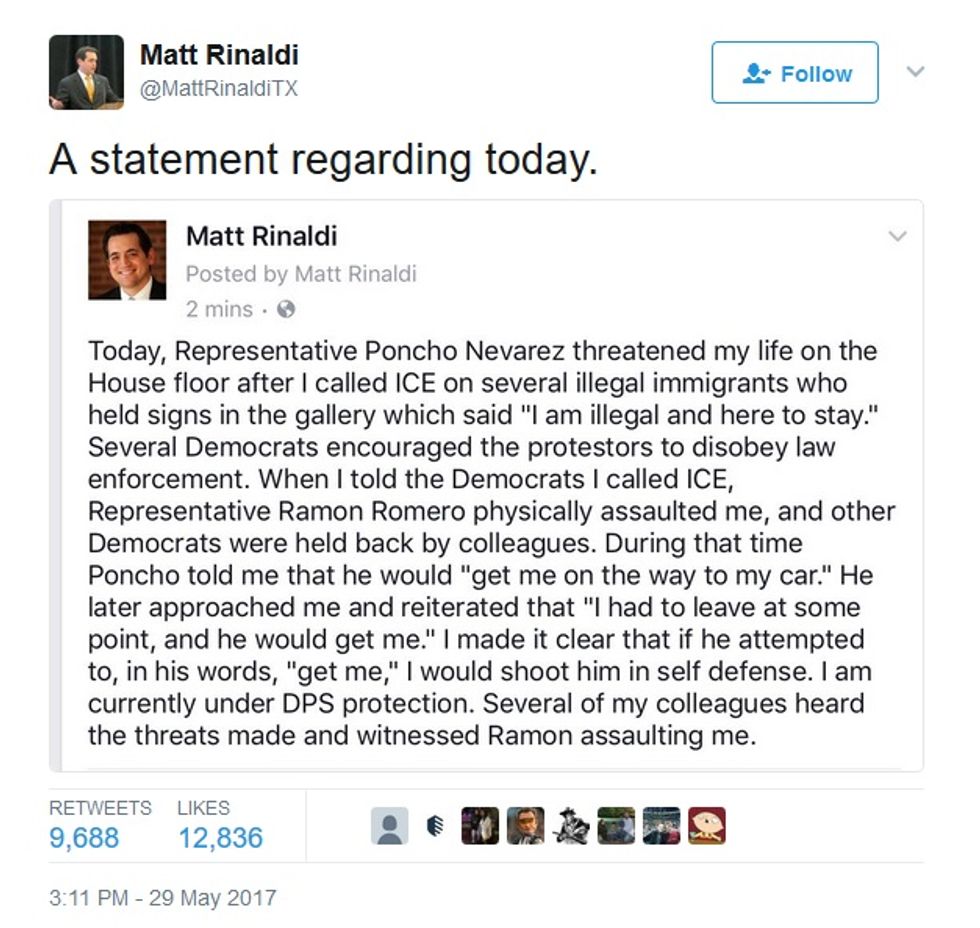 According to the Democratic reps, that's not exactly what happened:
"He came up to us and said, 'I'm glad I just called ICE to have all these people deported,'" said state Rep. César Blanco, D-El Paso, whose account was echoed by state Reps. Armando Walle, D-Houston, and Ramon Romero, D-Fort Worth.

"He said, 'I called ICE — fuck them,'" Romero added. Rinaldi also turned to the Democratic lawmakers and yelled, "Fuck you," to the "point where spit was hitting" their faces, Romero said.
The Texas Tribune has video of part of the fracas, shot (with a phone instead of a gun, for a change) by Nar Dorrycott, chief of staff for Rep. Ina Minjarez:
According to the Tribune, Rinaldi is at best sorta-kinda right about the Democrats "encouraging" the protesters -- as the gallery was being cleared (without resistance), a "handful of Democratic lawmakers looked up to the gallery and clapped," which sure sounds like a good reason to call for immediate deportations. We get the distinct impression that Rep. Rinaldi may be a bit of a douchebag:
Blanco said that at one point during the altercation, he pointed out that "Rinaldi" is an Italian name and that the Irish and Italians were once treated poorly in this country.

"He said, 'the difference between me and them is that I love this country,'" said Blanco, who added: "It's just disrespectful."

Rinaldi said he was angry because Democrats in the House were "bragging about how great it was and they were inciting them to break the House rules and break Texas law."

"I took issue with that," Rinaldi said.

"We jawed back and forth and one of them physically assaulted me and another threatened my life, actually," he said.
Following the altercation, Democrats held a presser at which Rep. Justin Rodriguez said Rinaldi was the one making threats:
There was a subsequent exchange between my brother Poncho and Representative Rinaldi and there was a threat made from Rinaldi to put a bullet in one of my colleague's head [... ] That kind of threatening language, he needs to be called out and held accountable for.
In his interviews about the event, Rinaldi repeatedly stressed that the protesters were "disrupting" the session and also "breaking the law," so really, what could he do but call ICE and then get in his Messican colleagues' faces since they, too, were encouraging breaking the law, by lawbreakers.
A spokesperson for ICE told the Texas Observer she wasn't certain whether her agency actually sent any agents to the Capitol after Rinaldi called.
SB 4, the law being protested, we should note, was already signed by Gov. Greg Abbott, and it sounds like even before it goes into effect, it's a recipe for a lawsuit:
Texas' new law requires police chiefs and sheriffs — under the threat of jail and removal from office — to comply with federal requests to hold criminal suspects for possible deportation.

Police also can ask the immigration status of anyone they stop. The bill was viewed as a crackdown on Austin and other "sanctuary cities," a term that has no legal meaning but describes parts of the country where police are not tasked with helping enforce federal immigration law.
Arizona's "Papers Please" law
that was largely struck down in 2010, does it? Litigation over the remainder of the Arizona law continued until last fall, when Arizona
agreed in a settlement
to not have law enforcement officers attempt to check detainees' immigration status. The state spent six years and a buttload of money defending the law, and now Texas can look forward to a whole new round of lawsuits. But now that America is being Made Great Again, there may be another outcome, and all the Messicans will just go away so sensitive snowflakes like Matt Rinaldi won't have to see their unpatriotic faces in his beautiful White Texas anymore.
Yr Wonkette is supported by reader donations. Please click the "Donate" clicky to send us money! We won't even threaten to shoot you if you don't.
[Texas Tribune / Texas Observer / Star-Telegram / LAT]