Dozens Of Deep Throats. Wonkagenda For Wed., Sept. 5, 2018
Russia
September 05, 2018 09:02 AM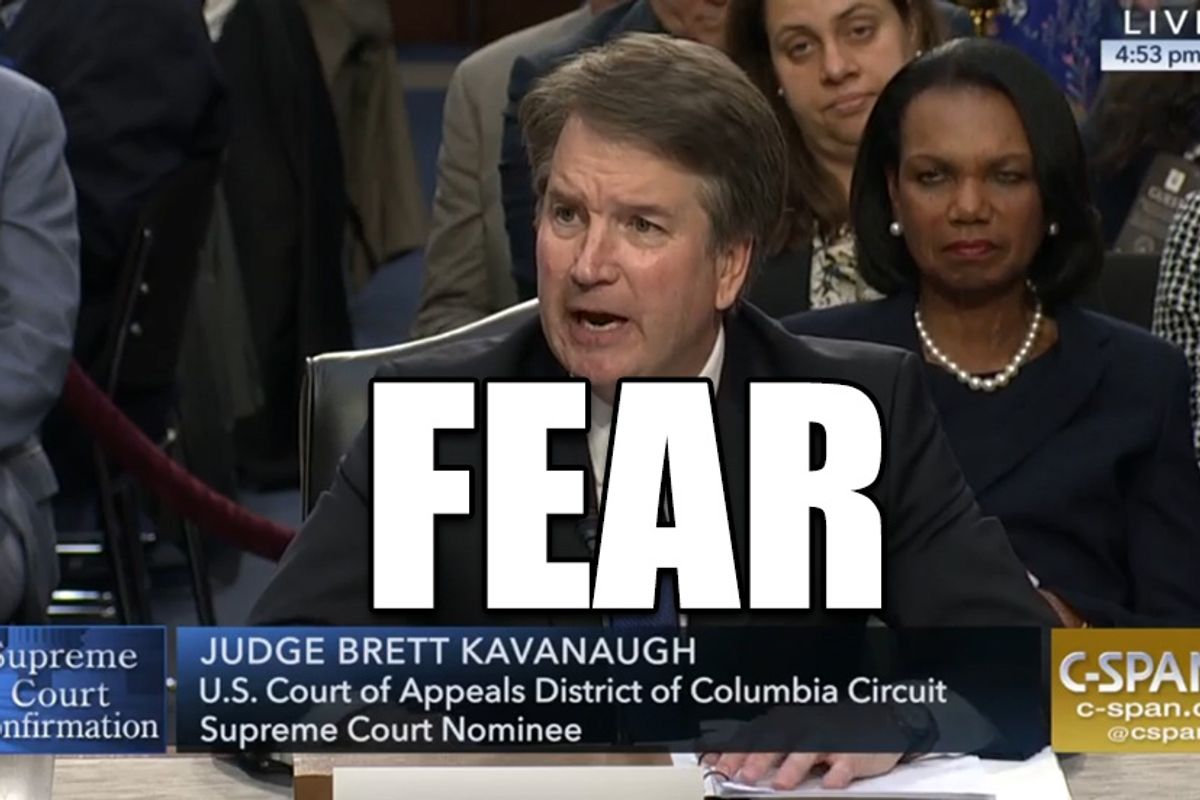 Morning Wonketariat! Here's some of the things we may be talking about today.
---
Robert Mueller says he'll let Trump sign his name to a bunch of questions about Russian fuckery Trump's lawyers will answer, so the chance of perjury is mildly decreased.

Trump's White House is in full damage control (again) as more revelations from Bob Woodward's book leak out. Curiously, Trump cabinet members and staffers have all signed remarkably similar statements pledging their unending love and support for God Emperor Trump, just like they did with the last two tell-all books. Woodward is standing by his reporting as the rest of Trump's White House hides under Trump's bed.
Trump gave an interview to the Daily Caller (again) to shit-talk Woodward's book and concoct some idiotic defense.
The first day of the Brett Kavanaugh hearings was a contentious shitshow that left Republicans rattled at the rare sight of Democrats growing a spine. Politico has some reporting on how the Democrats finally stood up for themselves after a weekend of phone calls, but a number of liberal groups are still calling Senate Minority Leader Chuck Schumer a coward for not doing more.
Fun Fact: 70 protesters were arrested during the Kavanaugh hearing. #RESIST
As Brett Kavanaugh got up to eat the souls of more Bush-era torture victims, Fred Guttenberg, whose daughter was killed in the Parkland massacre, attempted to shake Kavanaugh's hand but Kavanaugh immediately turned away and walked out. Trump White House Deputy Press Sec. Raj Shah tried to deny/play down the meeting in a tweet, so news outlets went to the Instant replay. In an appearance on CNN, Guttenberg talked about their brief meeting. [Video]
People are accusing former Trump White House staffer and Kavanaugh clerk Zina Bash of making the "white power" hand gesture during Kavanaugh's hearing, but the Anti-Defamation League isn't buying it as she was born in Mexico and her grandparents survived the Holocaust. Funny, we don't think that's case closed.
As red state Republican governors try to pick Obamacare apart in the courts, a new poll from the Kaiser Family Foundation shows that 72 percent of Americans really want to keep their Obamacare, and they're worried Republicans will use Brett Kavanaugh to kill protections on pre-existing conditions.
An EPA internal watchdog says former administrator Scott Pruitt failed to justify his $3.5 million security detail because there was never any indication that Pruitt was in danger when people called him an asshole in the airport.
This morning Trump denied calling Jeff Sessions "mentally retarded," or "a dumb southerner," presumably after realizing where his base lives, but senators from the South are so MAD Trump said mean things about the way he speaks that they stood up like a bunch of Spartacuses with mouths full of marbles to grunt and grumble.
Washington Republican Rep. Cathy McMorris Rodgers criticized Trump for his use of the term "mentally retarded" to insult Jeff Sessions, reiterating a statement she made earlier in the year after former Trump goon Corey Lewandowski did the same.
Boston City Councillor Ayanna Pressley unseated 10-term Rep. Michael Capuano in the Massachusetts 7th's Democratic primary. The Boston Globe has great video of the moment she won. Pressley is poised to become the first black woman Massachusetts has sent to Congress.
Politico has a SUPER COOL interactive infographic analyzing likely House, Senate, and gubernatorial races this morning. It's so pretty!
The corruption trial of California Republican Rep. Duncan Hunter won't start until Nov. 22, well after election day. Internal polling from Hunter's Democratic opponent, Ammar Campa-Najjar shows the two tied at 46 percent.
Iowa Republican Rep. Rod Blum seems to be neck deep in shit as the House Ethics Committee launches an investigation into why a top staffer failed to disclose Blum's ownership of a company that helps businesses hide inconvenient FDA safety warnings and bad internet search results. Blum is facing the lovely Abbey Finkenauer, and the race is currently a toss-up.
Virginia Republican Rep. Scott Taylor will have to testify about accusations that his staffers ALLEGEDLY (totally) falsified petition signatures to get a third party candidate on the ballot in order to siphon votes away from his Democratic opponent, Elaine Luria. Looks like Taylor's in the DANGER ZONE.
It's officially official: North Carolinians will still have to vote within their Republican-created gerrymandered districts this fall after a panel of federal judges ruled it impossible to draw new maps before Nov. 6.
The former Republican governor of Kansas, Bill Graves, has endorsed Democrat Laura Kelly over voter-fucking Kris Kobach for the state's gubernatorial race. HAAAAAAAAAA
Lawyers for a Pennsylvania couple who raised $400,000 to help a homeless veteran say that all the money mysteriously disappeared after they bought a house, and partied hard AF at the Grand Canyon, Las Vegas, and New York.
Police and protesters in Chicago will be staring each other down as jury selection in the murder trial for former CPD Ofc. Jason Van Dyke begins. In 2014 Van Dyke shot and killed 17-year-old Laquan McDonald, sparking a massive cover-up and bitter tension between police and communities. For more, listen to the special podcast "16 Shots" from NPR's WBEZ and the Chicago Tribune.

British authorities have charged two Russians in the attempted assassination of former spy Sergei Skripal and his daughter Yulia.
Russian authorities want the head of a Russian technician who screwed up while building an ISS module that sprung a depressurization leak last week. Nobody was hurt, and astro/cosmonauts already fixed the problem, but Putin's still going to kill that poor, drunk bastard.
The Economist is still inviting Steve Bannon to ooze his way onstage for their Open Future festival next week because, according to editor-in-chief Zanny Minton Beddoes, "This will expose bigotry and prejudice."
After being banned on Youtube and Facebook, a new review of public-facing traffic to Infowars shows that its readership has fallen by roughly half since being banned on Facebook and Youtube. Jones has called the bans a Chinese conspiracy, adding, "It is a panopticonic, total internet-of-things-integration, global-social-score, complete command-and-control system," from major security agencies blocking the "Trump resistance." Womp womp.
Gwyneth Paltrow's Goop has settled a lawsuit brought by the Santa Clara County District Attorney and nine other states after it told women to shove jade eggs up their vaginas to ride kegel rainbows. Namaste!
Facebook COO Sheryl Sandberg and Twitter CEO @Jack Dorsey will head to the Hill for a grilling later this morning by the Senate Intel Committee on Russian fuckery. Dorsey will then head to the House Energy and Commerce Committee to get bitched out by Republicans for censoring white supremacists. Which is funny because he doesn't!
Twitter CEO @Jack Dorsey and Twitter's legal and policy chief Vijaya Gadde tell Politico that nobody is immune from its banhammer, not even Trump, in a new PR plea with Politico that also reveals they've been in touch with Robert Mueller.
Mark Zuckerberg is leading a PR blitz this morning with an op-ed in WaPo that bullshits all the super happy fun-time things Facebook's done since that time it took a few thousand rubles to help elect Donald Trump. Note: He never says he's sorry.
This morning resident Russian troll hunter Nathaniel Gleicher tells CNN his job is SUPER hard, but they're trying not to make the tech war any worse by promoting genocidal mania, political despots, and disinformation.

Tesla's tech-broblicity hound Elon Musk is calling people pedophiles (again) in a new email to Buzzfeed News about the British national who helped rescue those kids trapped in a Thai cave.
And here's your morning Nice Time! Topi the Corgi!
Follow Dominic on Twitter and Instagram!

Dominic Gwinn
Dominic is a broke journalist in Chicago. You can find him in a dirty bar talking to weirdos, or in a gutter taking photos.