Wonkers, I have been here at Wonkette since May, and it has been fantastic! Everyone here is super nice, you all are super nice and Rebecca lets me yell about gross MRA dudes always and it is generally a great time all around. HOWEVER, I may be tempted to leave soon, if only because the best and most prestigiousest job in the history of internet writing has opened up, and it would, frankly, be quite irresponsible of me to not at least explore that option.
---
You see, Ivanka Trump is looking for an Assistant Editor for her site, IvankaTrump.com! Yeah, I bet you didn't know that the website for Ivanka Trump's clothing line -- which is not designed by her but by some other people who do not get maternity leave -- included a blog about said clothes, but it does! But what is she looking for? Let us see!
Assistant Editor

We are looking for a full-time assistant editor to join the editorial team at Ivanka Trump. This person will handle the majority of site content on IvankaTrump.com; conducting interviews, writing stories (and subsequent social media posts) and pitching new ideas. Prior editorial experience is a must, as is the ability to work effectively and efficiently on multiple projects under deadline.

The ideal candidate will be a skilled writer, a passionate team player, grammatically sound, good under pressure and fast on her (or his!) feet.

ROLES AND RESPONSIBILITIES

– Pitch, research and write content for IvankaTrump.com

– Create compelling social media posts to promote site content

– Assist on press inquiries, marketing requests and licensing projects as needed

– Oversee copy interns and edit intern work

– Work closely with the editorial director to maintain the brand voice across all channels

IDEAL QUALITIES AND EXPERIENCE

– 2-4 years editorial or writing experience

– Bachelor's degree

– Strong writer who can produce content in the brand voice, on tight deadlines

– Capable copy editor

– Highly organized

– Comfortable building relationships with interviewees on behalf of the brand

– Able and eager to wear many hats and collaborate with a small (but mighty!) team
Sounds super exciting! Especially if the hats are anything like THIS!

I took a quick look around the site to see what sort of journamalism they were doing over there, and was immediately intrigued by an article titled "3 Tips for Vintage-Shopping." Because hey! I used to work in a vintage clothing store, and was interested in what #TeamIvanka would have to say about the subject.
Behold! The whole article, basically!
START WITH ACCESSORIES

Jewelry is the best entry point for anyone who's new to vintage. It doesn't smell, there are few size issues and it's almost always fabulous. Bags and other accessories are great because you can easily incorporate them into your everyday style or save them for special evenings out.

SHOP WITH A PURPOSE

Flea markets and thrift stores can be overwhelming and chaotic. If you have a goal in mind ("beaded cardigan" or "Pucci scarves"), it's a lot easier to wade through the racks and bins and zero in on the good stuff.

MAKE FRIENDS WITH YOUR TAILOR

That frees you up to consider purchasing anything a size or two too big–especially if it's a deal. Having the garment altered will add to the total cost, but you'll end up with a one-of-a-kind piece.
Wow, that sure is some quality advice! Riveting, really! Move over Gwyneth Paltrow, Ivanka's coming for you!
Here, interestingly, is the most recent article on the site. Presented without comment!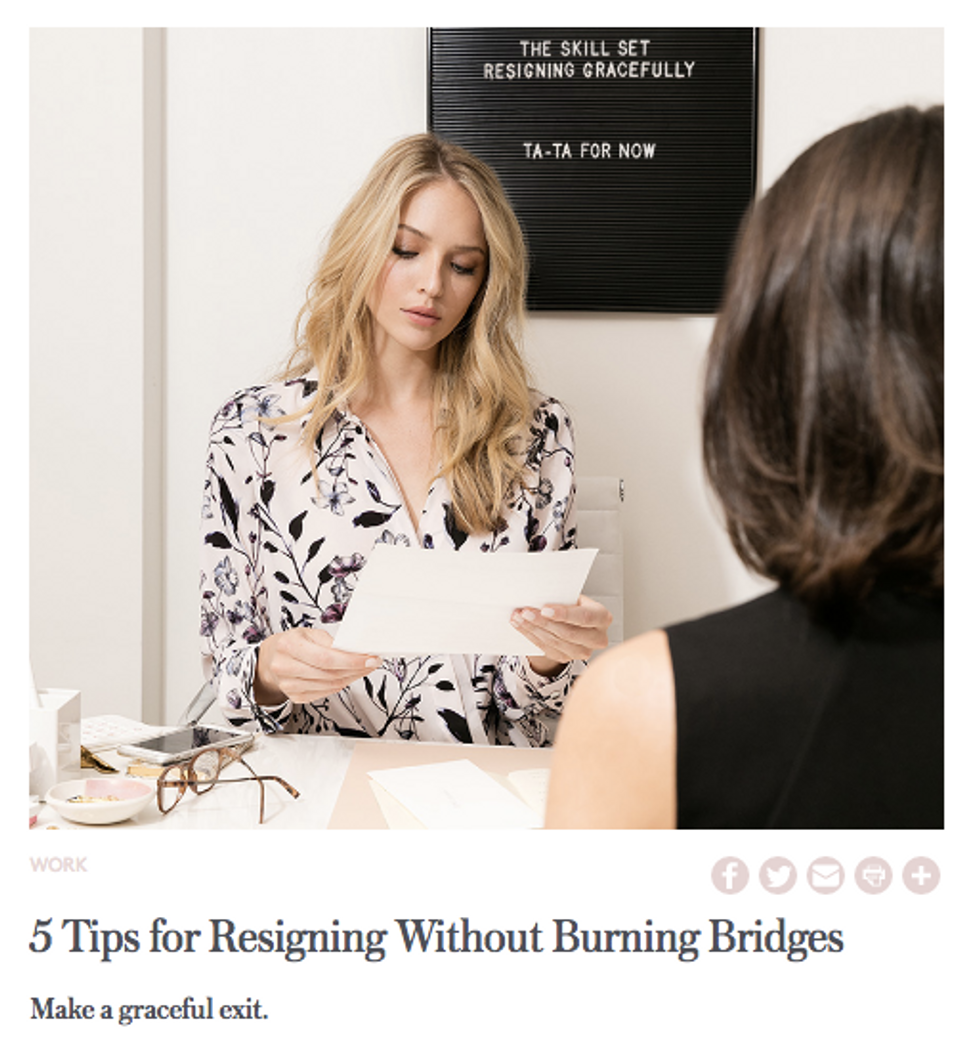 There are also many articles featuring Ivanka Trump "street style," showing off things like these shoes the line completely ripped off from luxury Italian shoe brand Aquazzura!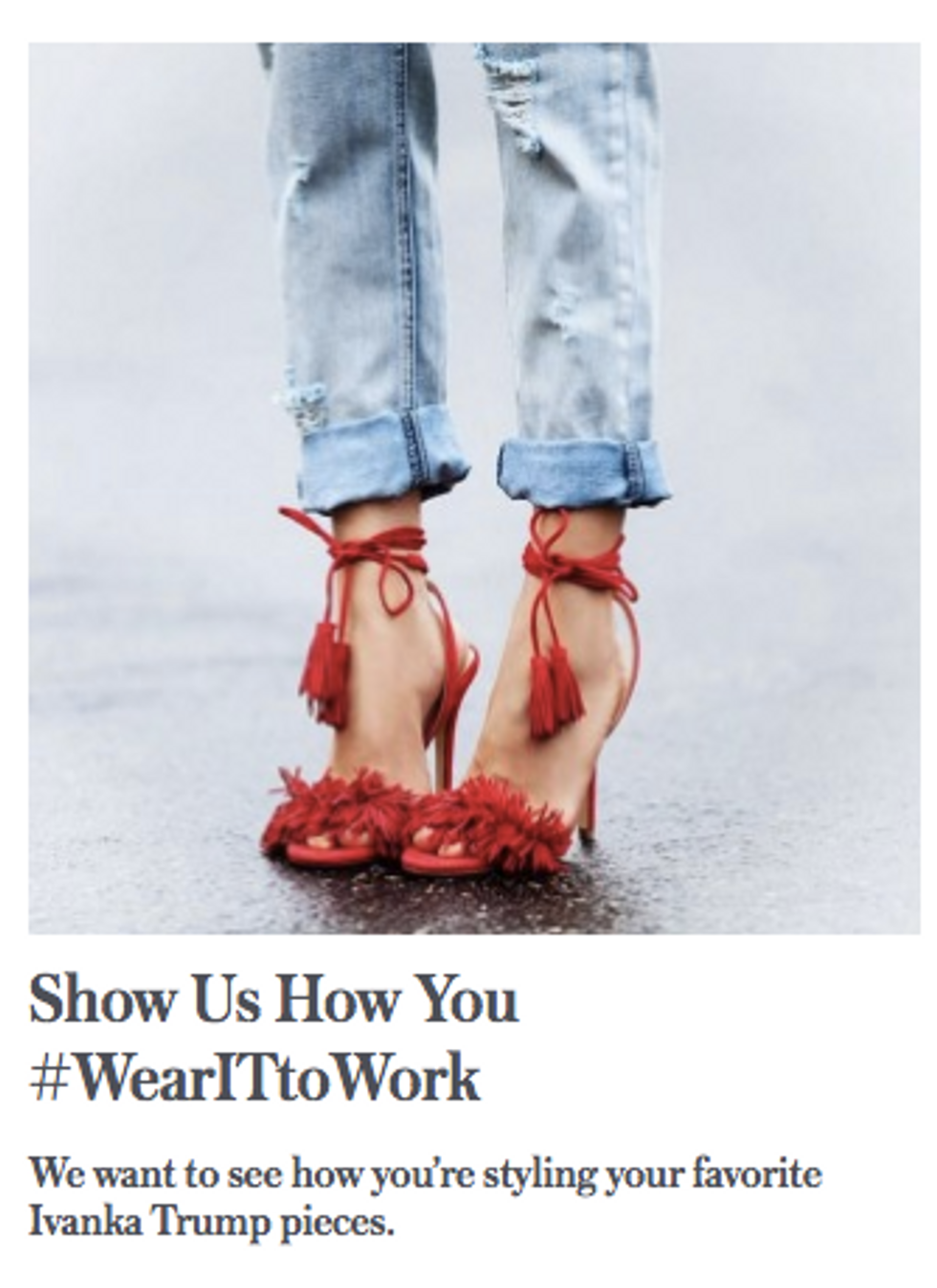 Personally, I think I've got a lot to bring to the Ivanka Trump brand. I've got THE BEST words, I actually know how vintage shopping works (LOL finding a real Pucci scarf in a bin at any place where the owner knows what they're doing), plus -- let's just say it -- the site could use more sex tips on there. And maybe some fun quizzes! Like, "Which pair of hideous rhinestone Ivanka Trump shoes that have been on sale at Marshall's for over a year now are you?" or servicey articles like "How to keep a straight face while saying your dad is totally into the idea of paid maternity leave when he definitely is not!" and the like.
I'm just saying, I think I could be an asset there. HIRE ME, IVANKA!
Robyn Pennacchia
Robyn Pennacchia is a brilliant, fabulously talented and visually stunning angel of a human being, who shrugged off what she is pretty sure would have been a Tony Award-winning career in musical theater in order to write about stuff on the internet. Follow her on Twitter at @RobynElyse