Enjoy Your Rest, Mr. Carter. You've Earned It.
News
February 20, 2023 08:55 AM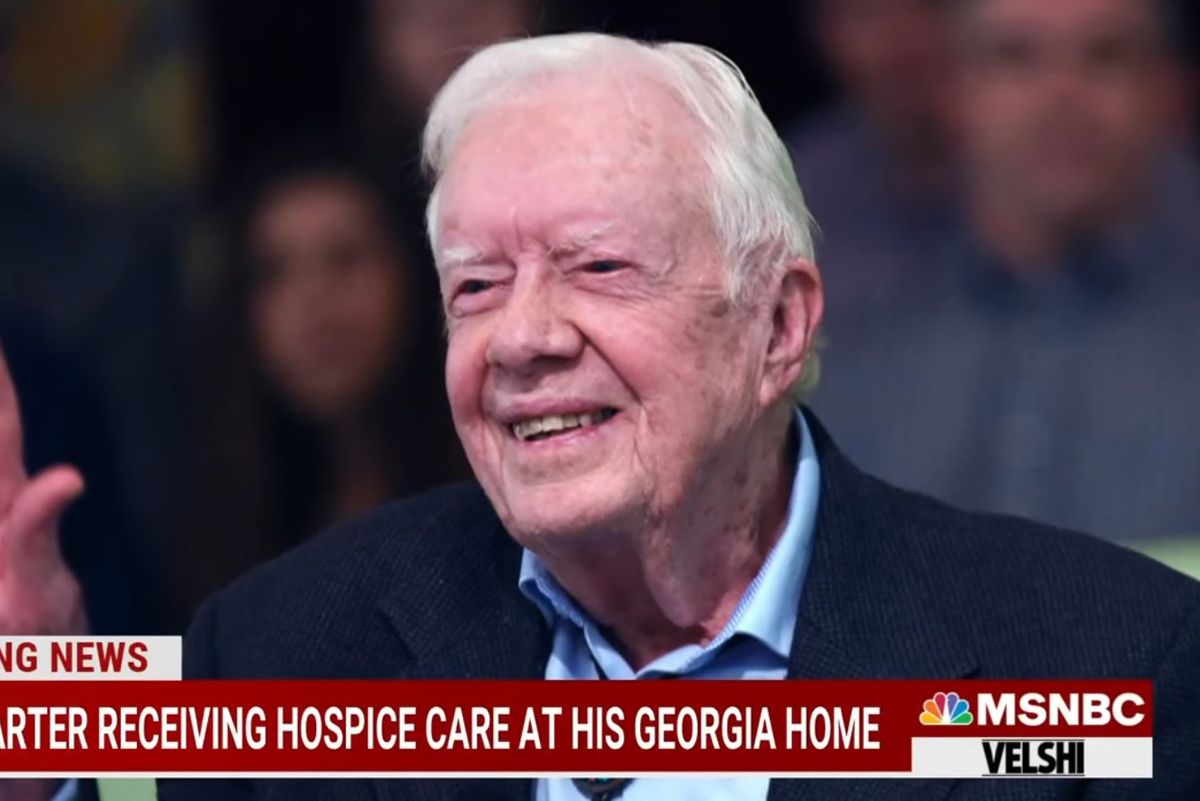 It's been a tough week for a Gen-X kid. Raquel Welch died. Bruce Willis was diagnosed with frontotemporal dementia, and Saturday, it was announced that James Earl Carter is entering hospice care at his home in Georgia. Before you get riled up, I'm not comparing the larger political impact of movie stars to the 39th US president. However, it's still sobering when so many figures from your own youth fade away.
The Carter Center posted the following statement on Twitter: "After a series of short hospital stays, former US President Jimmy Carter decided to spend his remaining time at home with his family and receive hospice care instead of additional medical intervention. He has the full support of his family and his medical team. The Carter family asks for privacy during this time and is grateful for the concern shown by his many admirers."
Hospice care is when terminally ill patients no longer seek further treatment but instead prioritize pain reduction and the alleviation of discomfort toward the end of their lives. Carter, who's 98, became the longest-living president in March 2019. He's outlived his two successors in the White House, Ronald Reagan and George H.W. Bush. The Nobel Prize winner currently lives with his wife, Rosalynn Carter, 95, in a Plains, Georgia, ranch house that the couple built in 1961. It's modest but rich in love, much like the Carters themselves.
One of my earliest memories is Carter losing the 1980 presidential election, so he's always had a relatable underdog quality to him despite having been the leader of the free world. Like his predecessor, Gerald Ford, Carter accepted his defeat graciously, which Americans took for granted until Donald Trump.

---
PREVIOUSLY:

Jeff Flake Flakes Out On Jimmy Carter For Calling Trump 'Illegitimate'

Happy Birthday Jimmy Carter, The Actual #BeBest
We can debate the relative successes of his presidency another time. My generation grew up in the shadow of his perceived failure, but we've come to appreciate the example he set after leaving the White House.
\u201cJimmy Carter installing solar panels on the White House. (Reagan took them down and gutted the research and development budgets for renewable energy)\u201d

— Robert Maguire (@Robert Maguire) 1676775608
Jimmy and Rosalynn Carter are longtime advocates for affordable housing. The couple first started working with Habitat for Humanity in 1984. They were more than just active fundraisers but hands-on construction volunteers. The Jimmy & Rosalynn Carter Work Project has helped 4,390 families move into safe, affordable homes in 14 countries. Over the decades, more than 104,000 people from across the world have volunteered to build homes, often directly alongside the Carters.
"Habitat provides a simple but powerful avenue for people of different backgrounds to come together to achieve those most meaningful things in life," Carter has said. "A decent home, yes, but also a genuine bond with our fellow human beings. A bond that comes with the building up of walls and the breaking down of barriers."
Like most men, Carter was flawed, but like few men — conservative, centrist, liberal, progressive alike — he acknowledged his flaws and admitted he didn't know everything. He was humble, which is not an especially prominent human trait.

Carter has many similarities with current Democratic President Joe Biden. Right-wingers smeared him as a gun-grabbing puppet of the globalist Left. White evangelicals who'd later rally behind Trump insisted the deeply religious man was not a "real" Christian because he wouldn't use religion as a blunt instrument against marginalized groups.
\u201cThe same 1976 newspaper quoted far right, Christian Reconstructionist theologian R.J. Rushdoony to "prove" that Carter, with his affinity for the Bilderbergers and other "globalists," was a strange (and wrong) kind of Christian.\u201d

— Seth Cotlar, mostly now at the other places (@Seth Cotlar, mostly now at the other places) 1676770290
Carter suffered several health setbacks in his later years. When he learned in 2015 that skin cancer melanoma had spread to his liver and brain, he thought he had just weeks to live.

"I assumed, naturally, that I was going to die very quickly," Carter said during a church service. "I obviously prayed about it. I didn't ask God to let me live, but I asked God to give me a proper attitude toward death. And I found that I was absolutely and completely at ease with death."

"It didn't really matter to me whether I died or lived," he said. "Except I was going to miss my family, and miss the work at the Carter Center and miss teaching your Sunday school service sometimes and so forth. All those delightful things."
While undergoing treatment, Carter continued to teach Sunday school at Maranatha Baptist Church in Plains. He beat the odds and later announced that he was cancer-free. He didn't hoard his remaining years, but treated them like a gift he'd continue to share with others less fortunate.
He fell at least three times in 2019, once breaking his hip. He always got right back up, and after one bad fall, he still returned to a Habitat for Humanity building project.
During the early days of the COVID-19 pandemic, the Carters promoted responsible mask wearing and sent a message to Carter Center donors politely asking them to redirect their generosity instead to local pandemic aid groups.
"I have one life and one chance to make it count for something," he's said. "My faith demands that I do whatever I can, wherever I am, whenever I can, for as long as I can with whatever I have to try to make a difference."
Jimmy Carter definitely made a difference. We can eulogize him fully when the time goes, but for now, he's earned his rest.
Follow Stephen Robinson on Twitter if it still exists.
Did you know SER has his own YouTube Channel? Well, now you do, so go subscribe right now!
Subscribe to the Wonkette YouTube Channel for nifty video content!
Click the widget to keep your Wonkette ad-free and feisty.
Stephen Robinson
Stephen Robinson is a writer and social kibbitzer based in Portland, Oregon. He writes make believe for Cafe Nordo, an immersive theatre space in Seattle. Once, he wrote a novel called "Mahogany Slade," which you should read or at least buy. He's also on the board of the Portland Playhouse theatre. His son describes him as a "play typer guy."