Ex-Detroit Mayor/Ben's Chili Bowl Aficionado Kwame Kilpatrick Going To Jail For Long, Long, Long Time
News
March 12, 2013 10:20 AM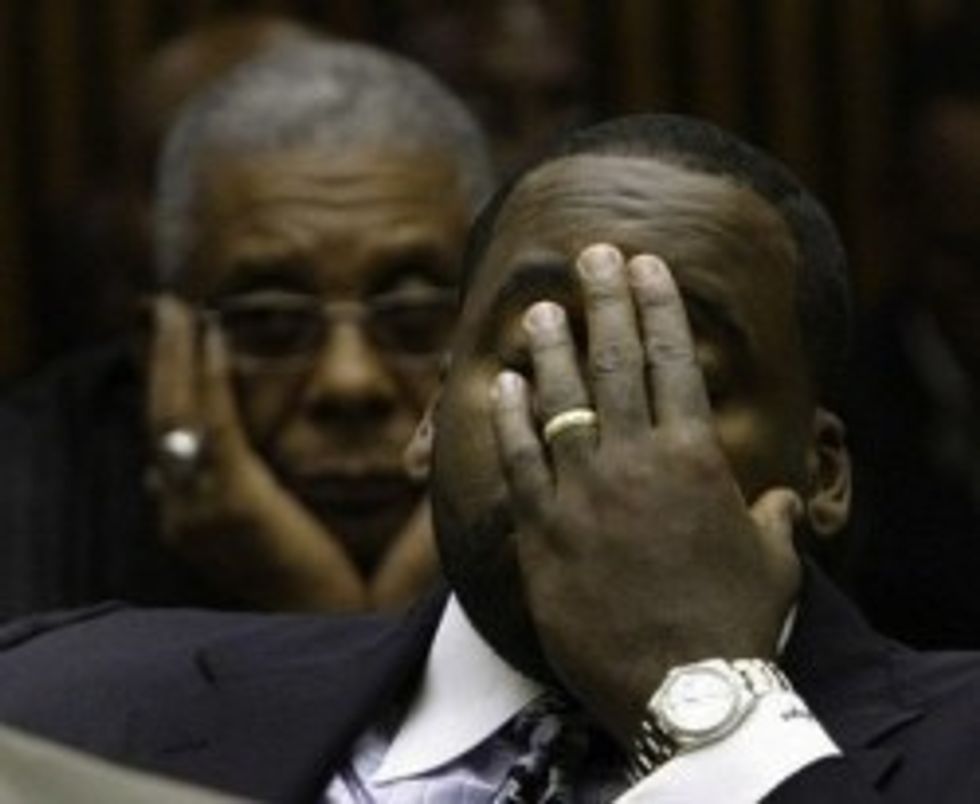 This is really sad, you guys. Just because a federal jury decided that you can't run a city like it was your personal organized crime family, former Detroit Mayor/convicted felonKwame Kilpatrick, a man Russell Simmons once called the "Hip Hop Mayor," may never again enjoys the epicurean delights of Washington DC landmark "Benz Chili Bowl."
---
You may remember that Kilpatrick enjoyed Washington DC's signature chilidog joint so much he delayed a visit to his Chief of Staff/mistress Christine Beatty, a woman who once wondered if there was a wrong way to fellate her mayor.
Kilpatrick was convicted on 24 of 30 federal charges, including racketeering and tax evasion. And since Kwame is now a two-time loser—he left office after pleading guilty to perjury charges in 2008 and ultimately served 18 months in jail—with a history of multiple parole violations, U.S. District Judge Nancy Edmunds was like: "No more fresh air for you. Go sit in jail until sentencing and think about what you've done." Then he was taken to the Milan Federal Correction Facility without the passage of go and without the collection of $200.
So that's it. No more sexy text messages, no more R. Kelly sing-alongs, no more lucrative kickbacks from city contractors, and no more delicious half-smokes. Even though a Ben's half-smoke is nowhere near as good at as a Detroit-style Coney Island, it's kind of sad Kwame Kilpatrick is denied a pre-sentencing purgatory to indulge in such pleasures because he's going to spend a long time in the hole. He will likely spend 15-20 years in prison.
But maybe you can help, dear Wonketteers. For as little as $39.95 you can send Kwame Kilpatrick "8, 16, 32, or 40-4 oz Spicy Half-Smokes, with Ben's Famous Chili Sauce enough for all," which he can cook using a jury-rigged desk lamp or something. And then enjoy with some prison wine.
Yr Wonket has no idea if prison officials will actually allow such a care package to make its way to RICO convict Kwame Kilpatrick, but if you'd like to try, send your meat correspondence to:
Convicted Felon Kwame Kilpatrick
FCI Milan
Federal Correctional Institution
P.O. Box 1000
Milan, MI  48160
Won't you please open your hearts to a humble public servant whose only real crime was committing acts of massive public corruption when someone noticed?