Exxon, You Dirty, Dirty Whore. Wonkagenda For Thursday, December 29, 2016
Guns
December 29, 2016 09:05 AM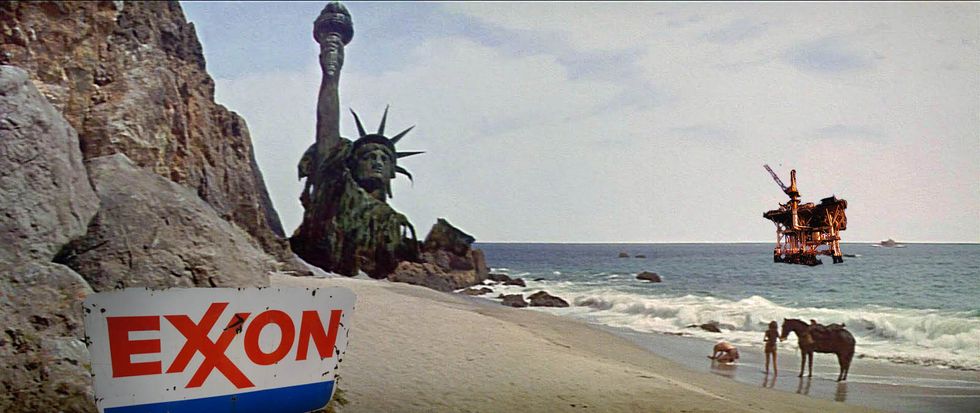 Good morning to you, Wonketariat! Here's some of the stories we may be talking about today!
---
Donald Trump is going to draft his own speech for the inauguration, but I don't think there is a presidential version of Mad Libs for him to call for (noun) on (place) to make the economy (verb) bigly.
Under Rex Tillerson ExxonMobil may have preached about stopping climate change, but it's really just fancy window dressing on dirty, soot covered glass. Meanwhile, John McCain is more mavericky and angry than usual because of Tillerson's bromance with Putin, but policy wonks are even more nervous about ExxonMobil running U.S. foreign policy.
George Bush's global war on terror will give Trump unchecked war powers to lock away all the spooky looking Ay-rabs and Messicans since Congress has never passed an official authorization for the use of military force.
Trump's transition team is spitballing ideas about privatizing the V.A. After all, nothing says "American made" like a homeless and mentally ill veteran holding a cardboard sign and an empty coffee cup that reads, "Will work for meds."
Obama will leave 40 people in GitMo so that Donald Trump will have a summer camp for terrorists to suck down slurry filled feeding tubes in a tropical island paradise. It's a good thing we can keep all of our "really bad dudes" in one place, just like we did with Camp Bucca!
Donald Trump wants you guys to seriously stop talking about Russia already because that stuff was, like, so long ago. Just get over it already. Nothing happened. Stop saying something happened. Believe me. NOTHING HAPPENED.
Donald Trump is desperately seeking Latinos to work in his administration, with speculation circulating around the agriculture secretary. You know, because Messicans like working in fields.
John Kerry outlined his idea on a two-state solution between Israel and Palestine, and it's gone over like a fart in church as Israeli Prime Minister Benjamin Netanyahu complained about being "lectured" on the continued segregation of territory in Palestine. Oh, the irony.
Fake News child prodigy James O'Keefe wants to get a job in a real newsroom where he'll undeniably drown in a sea of black coffee and deadlines before real reporters convince him to use a cheap pen to commit seppuku.
Someone on the Twitterazzi took a photo of Hillary Clinton eating and now everyone is gossiping about why Hillz is eating alone and looking all sad.
If you need a last minute holiday gift for that psychotic patriot in your life, check out the "Secret Ops of the CIA" calendar! It's got high-quality reproduction paintings of shadowy CIA scrums, like mujaheddin firing Stinger missiles at commie 'copters!
Obama created not one but TWO national monuments in Utah and Nevada in order to protect Native American lands from being repatriated by those faux-American gun humping sovereign citizens.
And, here's some special musical Nice Time because you're going to smile, damn it, even if we have to drag you dancing and singing through the rest of the week!

Finally, here's some Nice Time holiday kittens hanging around a fire place.
Dominic Gwinn
Dominic is a broke journalist in Chicago. You can find him in a dirty bar talking to weirdos, or in a gutter taking photos.